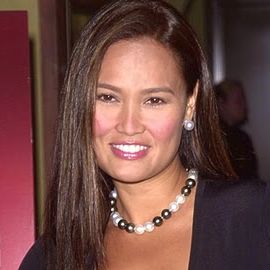 Tia Carrere is of Chinese, Spanish and Filipino descent, and she is known for her undeniably exotic beauty. Shortly after graduating from Sacred Hearts Academy, Carrere made the journey to Los Angeles in pursuit of a singing career. In 1985, she was a contestant on "Ed McMahon's Star Search," and although eliminated in the first round, she remained determined enough to land local modeling jobs. Later that year, Carrere made a brief appearance on the television series "Cover Up" as a beauty contestant,and landed a more substantial part on CBS' action series, "Airwolf."
Carrere then joined the cast of the daytime soap "General Hospital." The job turned out to be a mixed blessing when, after guest starring on an episode of "The A-Team" in 1986, Carrere was unable to accept an offer to join the fabled cast full time due to her commitment with the soap opera. Carrere's television work did not prevent her from landing her first feature film role, a bit part in the 1986 schlockfest, "Zombie Nightmare." Not long afterwards she would have a much more significant role in "Aloha Summer," filmed in her home state of Hawaii. After a string of appearances in various series such as "MacGyver," she was cast in two more features, Harley Davidson and the Marlboro Man" and "Showdown in Little Tokyo."
Her next role was in the smash comedy, "Wayne's World," a feature take on a popular "Saturday Night Live" skit. In order to audition for the part, Carrere had turned down an offer to join the cast of the syndicated series "Baywatch." It proved to be a wise decision, as the film with the tagline, "You'll Laugh! You'll Cry! You'll Hurl!" became a monster hit, garnering Carrere major recognition, as well as a chance to display her singing talents; most notably as she rocked out to "Ballroom Blitz." The following year, Carrere parlayed her "Wayne's World" success into a role alongside some of Hollywood's heaviest hitters in "Rising Sun." In 1993, Carrere reprised her role as Wayne Campbell's improbable soul mate, Cassandra, in "Wayne's World 2."
Carrere's star was definitely on the rise and would reach its apex in director James Cameron's massively successful action-comedy, "True Lies." As her upward trajectory began to level out, a welcome windfall arrived in the form of providing the voice of Lilo's older sister, Nani, in Disney's animated feature "Lilo & Stitch." Juxtaposing this kid-friendly turn was Carrere inexplicably posing nude in Playboy magazine in 2003. This move was surprising, considering she had previously required a body double for a nude scene in "Showdown in Little Tokyo" and had professed an aversion toward doing any kind of nudity earlier in her career. The work on "Lilo & Stitch" led to more voice work for Carrere, including reprising the role of Nani on "Lilo & Stitch: The Series," and in several episodes of Cartoon Network's "Duck Dodgers."
In 2006, Carrere joined the celebrity cast for the second season of ABC's "Dancing with the Stars" and performed admirably. Carrere closed out the decade with recurring guest spots on several episodic series, including Larry David's improvisational comedy "Curb Your Enthusiasm," "Warehouse 13" and "Combat Hospital." She next joined the cast of "Celebrity Apprentice," appearing alongside the likes of Clay Aiken, Lou "Hulk" Ferrigno and Arsenio Hall.
Related Speakers View all
---
Jamie Lee Curtis

Actress, Activist, Author; Best Known For Her Roles ...

Vera Wang

Fashion Designer; Former Editor at Vogue

Maggie Q

TV & Film Actress, Known for Lead Role in CW's "Nikita"

Chloe Bennet

Actress & Singer Known for Her Role in "Agents of S....

Tia Mowry

Actress & Celebrity Mom; Star of "Tia Mowry at Home"...

Hana Mae Lee

Actress, Model, Fashion Designer, Comedian Known for...

Arnold Schwarzenegger

Actor, Producer, Director, Writer; California's 38th...

Kimberley Locke

Singer / Television Personality

Lucy Liu

Actress, Model, Artist, Film Producer & Director

Cindy Crawford

Supermodel and Businesswoman

Connie Chung

Highly Recognized Diversity Advocate & Television Pe...

Halle Berry

Academy Award-Winning Actress, Producer & Philanthro...

Hayley Kiyoko

Pop Singer-Songwriter & Actress; Known for her Roles...

Priyanka Chopra Jonas

World-Renowned Actress; Named in Time's 100 Most Inf...

Chrissy Teigen

Model, Author & Television Personality

Jurnee Smollett

Actress & Singer

Garcelle Beauvais

Actress, Model, Author

Charlene Strong

Gay Rights Activist

Vanessa Williams

Grammy Nominated Singer; Actress; Known For "Soul Fo...

Molly Sims

Actress, Model & Lifestyle Expert; Environmental & O...
More like Tia