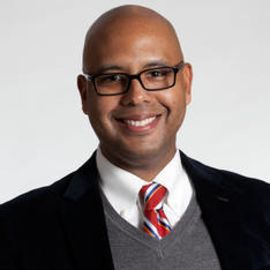 Tim King is founder, president and CEO of Urban Prep Academies, a nonprofit organization operating a network of public college-prep boys' schools in Chicago (including the nation's first all-male charter high school) and related programs aimed at promoting college success. 100 percent of Urban Prep graduates -- all African-American males and mostly from low-income families -- have been admitted to four-year colleges/universities. Tim also serves as an adjunct lecturer at Northwestern University and has contributed to the Chicago Tribune, the Chicago Sun Times, and the Huffington Post.
Tim was named ABC World News "Person of the Week," "Hero of the Year" and to Ebony Magazine's "Power 100" list; featured on "Good Morning America," "The Oprah Winfrey Show," and The Moth/USA Networks' Characters Unite series; and recognized by Presidents Barack Obama and Bill Clinton for his work with youth.
Tim has completed post graduate work in Kenya and Italy; holds the Doctorate Honoris Causa from the Adler School; and has received the Bachelor of Science in Foreign Service and Juris Doctor Degrees from Georgetown University. In 1996, Tim became the guardian of a former student orphaned when his mother died. That student was once homeless and now has graduated form college. Having a positive impact on this young man's life is the achievement of which Tim is the proudest.
Videos
---
News
---
Tim King: Hope in Change
Our changes must go beyond simple gun control; they must be thoughtful, comprehensive and persistent. Controlling the proliferation of guns is important, but ...