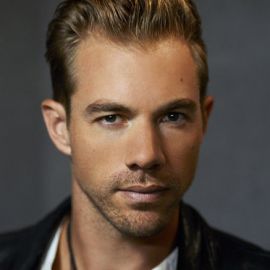 Tim Lopez
Tim Lopez / member of the popular band The Plain White T's best known for the number-one hit song "Hey There Delilah"
Plain White T's (read as "plain white tees") is an American pop punk band from Chicago, Illinois.
Formed in 1997 by high school friends Tom Higgenson, Dave Tirio, and Ken Fletcher, the group had a mostly underground following in Chicago basements, clubs, and bars in its early years, and underwent numerous personnel changes.
The band is best known for the number-one hit song "Hey There Delilah", which achieved platinum status in 2007 and earned two Grammy nominations,as well as "1, 2, 3, 4" and "Rhythm of Love", which were certified platinum in 2009 and 2011, respectively.
The Plain White T's formed in Lombard, IL in the fall of 1997. The group began as a trio, with Higgenson as singer and guitarist, Fletcher on bass and Tirio on drums
They played mostly local punk shows around Chicago's suburbs, eventually landing gigs at the famed Metro in Chicago's Wrigleyville neighborhood. As the band began to establish itself in the local scene, they recruited a fourth member, Steve Mast, who joined playing lead guitar and singing backup vocals.
Higgenson suffered a car crash in 1999, breaking several vertebrae in the accident, while driving the band's van. He was in a back brace for three months and had to learn to walk again.
Higgenson changed his song-writing process, choosing songs that meant more to him than he previously had, and the band began taking their music career more seriously.
In 2000, the band recorded their first album titled Come On Over. After the album's release, Steve Mast left the band and was replaced by Tim Lopez. In 2002, the band self-financed the recording of Stop, a full-length album that drew the attention of Fearless Records.
After signing to Fearless, the band took to the road in their van in support of Stop, and would spend much of the next four years touring the US and Canada. In 2005, Ken Fletcher left the band.
After adding bassist Mike Retondo and drummer De'Mar Hamilton, Higgenson began to focus mostly on vocals and Tirio moved from drums to guitar. The 2005 release All That We Needed was the first studio effort from the reformed lineup.
July 21, 2013 Plain White T's went to Fortwaye IN. at Jefferson Mall started at 1:30 pm & there where so many people there chearing them all for there music and being there fans!
Hey There Delilah was first released on their third album All That We Needed in 2005.
They recorded Every Second Counts that year, on which Hey There Delilah was added in order to allow it a chance on mainstream radio. Delilah would go on to reach #1 on the Billboard Hot 100 chart and hold the spot for two weeks.
The song was written for track star Delilah DiCrescenzo, whom Higgenson had met in 2002. The song earned two Grammy nominations, and Every Second Counts was certified Gold.
In early 2006, the band teamed with Motion City Soundtrack for a Winter/Spring tour.
In 2008, they released the album Big Bad World. The album had two hit singles: "1, 2, 3, 4" and "Natural Disaster". Both were on the AT40 at numbers 1 and 2 for three consecutive weeks.
By late 2008, the band had joined the Rock Band Live tour with Panic! at the Disco, Dashboard Confessional and The Cab.
Later that year, the band played at the Give It a Name festival in the UK.
In 2007, they performed the single Our Time Now on an episode of the Nickelodeon television series, iCarly.
Our Time Now was also the theme song on the ABC Family dramedy series Greek
The band's single Rhythm of Love was the first to be released from their 2010 album The Wonders of the Younger. The song reached number five on the Hot AC chart, and was in the top ten in 2010 as well.
In 2012, the band also covered The Ramones' "Pet Sematary" for the song soundtrack of the 2012 Tim Burton film Frankenweenie.
The band's new EP, released on April 9th, features 4 songs: Should've Gone To Bed, The Giving Tree, Helium, and Haven't Told Her
Videos
---
Related Speakers View all
---
Cassadee Pope

Singer-Songwriter; Winner of "The Voice" Season 3 & ...

Bastille

Bastille is an English band from London. First forme...

Sasha

Welsh DJ and record producer

Graffiti6

Graffiti6 is a collaboration founded in London in 20...

Dan Layus

Dan Layus / Member of the American Rock Band Augusta...

Woodkid

Woodkid is Yoann Lemoine, previously known for his c...

Mark Ronson

Award-Winning Music producer and DJ

The Avett Brothers

American Band from North Carolina Known for "I and L...

Toby Sebastian

Toby Sebastian is a British musician and actor

Chase Rice

Country Singer-Songwriter

Peter Wolf

Peter Wolf is an American rhythm and blues, soul and...

Share Ross

CEO at Video Rockstar University; Speaks on How to G...

Colin Munroe

Colin Munroe is a Canadian singer-songwriter and rec...

Samantha Jade

Samantha Jade Gibbs, known as Samantha Jade, is an A...

Verse Simmonds

Songwriter, recording artist, producer

K'Jon

R&B singer; 2009 solo debut album, I Get Around, rea...

Bethany Joy Lenz

Actress, Singer-Songwriter & Filmmaker; Known For "O...

Mason Jennings

Mason Jennings is an American pop-folk singer-songwr...

Walk The Moon

Indie Rock Band Known for Songs Like "Shut Up and Da...

Calvin Harris

Scottish DJ, Singer-Songwriter & Record Producer Kno...
More like Tim