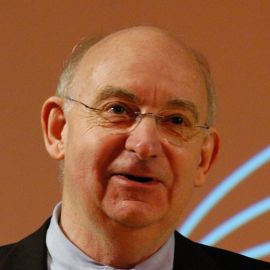 Tim Waterstone
One of the most astute and determined businessmen of recent years, Tim Waterstone is the founder of Waterstone's bookstores, and the Daisy & Tom children's department stores, and former Chairman of HMV Media Group plc.
Tim was born in Glasgow and worked for Allied Breweries before joining WH Smith in 1973. Tim founded the remarkably successful Waterstone's booksellers with #6000 of the redundancy money he received when he was sacked from WH Smith in 1982. He went on to raise #100,000 venture capital and set up Waterstone's Booksellers with its first shop in London's Old Brompton Road. Tim established Waterstone's reputation as 'the eponymous classy bookshop' and changed the face of British book retailing. Waterstone's was also one of the two or three largest and most successful venture capital entities of its time. Nine years later he sold the company to his previous employers for #47m, only to buy it back again together with EMI and Advent International in 1998!
Waterstone's now has over 200 stores, and is beginning to develop internationally. In September 1999 Waterstone's opened the largest bookshop in the world in London's Piccadilly. Having been founded by Waterstone, the company has benefited from a consistent strategy of combining the buying power and marketing muscle of multiple retailers with the high standard of service associated with independent book stores.
Tim is currently a non-executive director of Yale University Press, National Gallery Publications and FutureStart Venture Capital Fund of BT and Downing Classic Venture Capital Fund. He is an occasional guest lecturer at INSEAD, London Business School, and a novelist with three books published to date, as well as numerous published and broadcast articles and programmes in general, literary and business media.
Videos
---