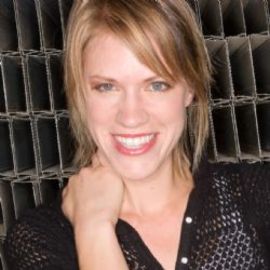 While working as an actor in Hollywood for over a decade, Tina talked with countless celebrities about their behind-the-scene lifestyles and realized 'these secrets' must be revealed to our teens. For the past 10 years, Tina has been sharing her pop culture message - Hollywood Exposed - to students and adults at school assemblies, conferences, music festivals, and many other events throughout the United States, Africa, South America and Canada.
Tina has worked on TV shows such as "Jimmy Kimmel Live," "Young and the Restless," "Lizzie Maguire," "Drake and Josh," and "Malcolm in the Middle" along with countless Hollywood movies. In addition, she was a National Trainer for L'Oreal Cosmetics, Limited Too's "Passion for Fashion" national tour emcee and a contestant in the preliminary Miss America pageant, and worked at the OSCARS. ABC's Dr. Keith Ablow Show and Alan Colmes National FOX Radio show are two of Tina's many interview appearances. She has opened for bands such as Third Day, Jeremy Camp, Jeff Deyo, Rotterdam November, The Museum, Chris August & Skillet.
During the show, Tina shares how celebrities shelter their own children from any violent, sex-saturated entertainment and how they preview the media entering their homes. She covers the top TV shows, Movies, Internet sites, Magazines and Music that's in the public eye today!
Besides the hundreds of schools that have invited Tina to speak, her highlight events include the National Speakers Association conference, Missouri School Counselor Association conference, Wisconsin Student Council Convention, a South Dakota prison, music festivals such as Crossover, Ichthus, Fishnet, Lifelight, Spiritfest and Lifest, the PATH (A Positive Approach to Teen Health) GALA, Momentum Youth Convention, several Mother-Daughter cruises with Focus on the Family and speaking at various schools and conferences throughout Africa and South America.
Tina's mission is to challenge you to live counter-culturally to what the critics claim is "harmless entertainment." This message is guaranteed to be a major eye-opening, life-changing experience.
Speech Topics
---
Sex & Abstinence in the Media
• Tina analyzes lyrics of some of the most popular so-called "role models" in today's entertainment industry.
• Tina discusses how many of these artists live the opposite lifestyle than what they promote in their music videos and music (huge EYE-OPENER!)
• Due to meeting many of these celebrities in person, Tina shares the true stories of the lives they really live.
• Using video clip interviews and quotes from these "stars," Tina supports her observations with facts coming straight from the celebrities themselves! A majority of this TRUTH has never been revealed in main stream media. (example: Eminem rewriting his lyrics for his own daughter to listen to and Usher believing virginity IS the best choice, etc.)
• Tina talks about her own personal choice to remain a virgin until marriage and the rise in popularity among teens with choosing abstinence. Secondary virginity is also promoted to help teens realize they can start over again if they have already engaged in sexual activity.
• The impact teen movies have on society is covered using the latest releases as prime examples
Violence in the Media
• Tina exposes some of today's hottest rappers/singers on how they promote violence and DO NOT show the consequences when violence is used to "solve" problems in real life.
• The affects of violent video games are discussed in detail. The description of how your brain doesn't fully develop until a person is in their early 20's is stressed. Therefore, anything pornographic or violent is literally burned into your mind.
• Tina gives examples of what teens have done with their valuable 60 hours of time in a pro-active manner than to engage in harmful entertainment.
• Tina shares stories of school shooters and the fact that violent video games played a major role in most cases. Several stories revolve around teens being sentenced to prison for life without parole.
• Ted Bundy's plea to teens to steer clear of pornography and how it has destroyed his life is exemplified in a short video.
Suicide & Cutting in the Media
• Current bands who promote suicide are discussed as Tina reads some of the lyrics within the songs. She challenges her audience to think about how these lyrics are impacting our minds as a result.
• A real-life suicide story is shared along with how negative entertainment played a major role in this teen's beliefs that suicide was his only option. (Tina receives countless emails from teens on how this information has impacted their hearts and caused many to receive counseling)
• Cutting affects close to 15% of our teens today. How cutting is promoted in pop-culture is analyzed and the real places we can get healing is revealed.
Alcohol & Drugs in the Media
• Tina analyzes a few of the hottest performers who glorify drinking and drugs without showing the consequences.
• Following is a story of a young girl who was a victim of a drinking and driving accident. She survived the crash, but two of her friends died and she's had over 40 operations. (Very impactful!! Many teens inform Tina that they will NEVER drink and drive after seeing this footage)
• This section is wrapped up by a presentation of the physical effects of crack cocaine and the meth epidemic. Tina shows a pictorial timeline of a person who was on crack cocaine and died while in prison. The subject's physical appearance greatly diminishes over a short period of time and once again, teens' eyes are opened to the truth!
• Tina shows video clips that convey how Hollywood DOES NOT show the deadly-consequences of what they promote – HUGE EYE OPENER!
Parent & Adult Media Presentation
Tina uses the same show format as the other topics listed. In addition, she answers the top questions many parents have:
How do I stay updated on the latest media influences on my family?
What are some positive entertainment choices for my children?
How can I protect my family from the negative entertainment?
How can I set house guidelines?
• Tina gives the latest positive entertainment available – TV shows, movies, magazines, books, websites, etc.
All About Abstinence
the lack of abstinence education & how the media portrays abstinence is revealed
• Tina's personal decision to wait to have sex until marriage
• The top celebrities who were virgins before they wed!
• Top celebrities who are saving sex until marriage
Related Speakers View all
---
Tia Mowry

Actress & Celebrity Mom; Star of "Tia Mowry at Home"...

Dr. Jennifer Ashton

Leading Women's Health Expert & Chief Medical Corres...

Dustin Nickerson

Standup Comedian & Host of "Don't Make Me Come Back ...

Mindie Barnett

Author & Co-Parenting Expert

Paris Jackson

Model, Actress, Singer & Daughter of The Late Michae...

Shannon Purser

Actress Known for "Stranger Things" & "Riverdale"

Teena Jain

Teena Jain is the founder of Depression-Guide.com an...

Anna Akana

Actress, YouTube Star & Filmmaker

Barbara Greenberg, Ph.D.

Clinical Psychologist & Expert on Parenting and Teens

Dr. James D. Huysman, LCSW, CAP

Senior Clinical Advisor for the Caron Treatment Cent...

Mike Long

One of America's Foremost Pro-Life Communicators

Rachel Campos-Duffy

Parenting Expert, Author, Political Analyst & Fox Ne...

Pamela Paul

Journalist And Author of "Parenting, Inc."

Troian Bellisario

Stars as Spencer Hastings in the ABC Family Series "...

Kiernan Shipka

Actress Best Known for "Chilling Adventures of Sabri...

Robin Quivers

Radio Personality; Author; Actress; News Anchor & Co...

Desi Lydic

Actress & Comedienne Known for MTV's "Awkward;" Corr...

Sophie Turner

English Actress Known for Her Roles as Sansa Stark i...

Charlie Alejandro

Motivational Speaker, Writer, Actress & Radio Talk S...

Dirk Been

"Survivor" Cast Member; Abstinence Advocate
More like Tina