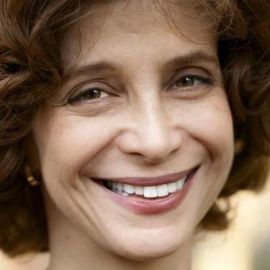 According to award-winning author and journalist Tina Rosenberg, we could all benefit from a little peer pressure. A journalist for more than 25 years, Rosenberg has spent her career covering some of the world's greatest problems. One of the founders of the Solutions Journalism Network, Rosenberg now wants journalists to do more than just point our society's failings – she wants them to cover how people are responding. Her popular New York Times column, "Fixes," focused on exploring solutions to major social problems, including the healthcare crisis and widespread poverty, and examines different strategies across a range of communities and organizations. A winner of the National Book Award and the Pulitzer Prize, Rosenberg's book, "Join the Club: How Peer Pressure can Transform the World," takes readers around the globe to show them the power of positive peer pressure.
Rosenberg's perspective is truly a global one. Through her speaking and writing, she displays what can be learned from the political and social experience of countries all around the world. Her other two books, "Children of Cain: Violence and the Violent in Latin America" and "The Haunted Land: Facing Europe's Ghosts After Communism," dive into issues of global democracy, and ultimately how nations do - and should - deal with a repressive past. A compelling presenter, Rosenberg gives audiences the opportunity to engage with her on these issues.
With solutions journalism, Rosenberg is trying to change journalism to change the world. As elegant a speaker as she is a writer, Rosenberg relays her belief in social justice and change through thought-provoking stories from her years of experience. Her speeches challenge audiences to question their ingrained perceptions that peer pressure can only lead to negative outcomes. Instead, she offers a bright new way of changing the world for the better. With a news cycle that constantly bombards us with dark messages of society's failures, Rosenberg's message serves as a motivating light, encouraging audiences young and old to do their part in making the world a better place.
Speech Topics
---
Changing Journalism to Change the World
Each day in the news, we see stories about how society is failing. Now imagine if alongside those stories you saw solutions journalism -- stories about how people are combating these failures. So while some public schools are failing the poor, there are many schools across the U.S. that are giving underprivileged youth a great education. How they do it is a story journalists should be telling, covering the solutions as well as the problems -- without fluff, advocacy or public relations. Tina Rosenberg knows that in order to change, society first has to find out what works. These stories are what readers want -- and what society needs.
Harnessing Peer Pressure for Behavior Change
Conventional efforts to promote healthier or greener living, more civic involvement, and stronger communities rely on giving people information - or warning them of the consequences of behavior as usual. These tactics usually fail. It is very human to be quite aware of the consequences of our behavior yet not apply that information to ourselves. How do we make that step to real behavior change? Through identifying with our peers. Peers are the messenger, but they're also the message; if you want people to recycle more, for example, research shows the most effective thing to say is "your neighbors are recycling." Tina Rosenberg draws on academic research and stories from her own reporting for her book and her New York Times "Fixes" column for a fresh, surprising, and inspirational talk that will transform the way you think about behavior change.
Transforming America's Health & American Healthcare - with Peer Pressure
Chronic disease is robbing us of our health and costing us billions of dollars. But successfully managing chronic conditions requires behavior change. This isn't a job for doctors - it's a job for positive peer pressure. Giving people information - especially scary information - doesn't work. People need a reason to act on information, and the most powerful motivator is identification with a new peer group. Tina Rosenberg draws on academic research and stories from her own reporting to show why our usual health strategies are not only wrong, they're making things worse. She provides fresh ideas about how to design and deliver effective behavior change.
The Power of the Group to Help Our Children Learn
In one four-year period, the University of California at Berkeley had 29 black students who got an A or B in calculus. 29! Over the next four years, there were 125. How did Berkeley so dramatically raise calculus achievement for minority students? By using positive peer pressure. Berkeley founded a program in which minority students work in small groups on extra-hard math problems, teaching each other. Today, that program has spread to universities around the country and has greatly increased the number and achievements of minorities in calculus - and therefore the number successful in hard-science majors. Tina Rosenberg draws on academic research and her own reporting for her recent book, Join the Club: How Peer Pressure Can Transform the World, and her New York Times "Fixes" column to provide fresh ideas about how positive peer pressure can help all students to learn.
Beyond Overhead: A New Way to Measure Effective Giving
Individual charitable donors look at overhead because overhead is something we can measure. But anyone who works in philanthropy knows that percentage spent on overhead is a misleading - and at times actively harmful - test. A new movement seeks to measure the effectiveness of charity in different ways. Organizations in Britain and the US are ranking charities by how much it costs them to reach their goal: What do they spend to provide someone with a year of health? A year of education? A year without hunger? These attempts to put numbers on charitable effectiveness are still new - and extremely controversial. Tina Rosenberg draws on reporting from her New York Times "Fixes" column to examine this new trend - and what it means for you, and how you can use this research to make your philanthropic dollars go much farther.
Related Speakers View all
---
Laura Gassner Otting

Best-Selling Author, Entrepreneur, Executive Coach &...

Tyrone McKinley Freeman

Author & Professor of Philanthropic Studies

Priya Vulchi and Winona Guo

Founders of the Racial Literacy Non-Profit CHOOSE & ...

Christen Brandt

Feminist, Activist, Author & Co-founder & Chief Prog...

Amber Melanie Smith

Founder of Activate Good

Diane McWhorter

Pulitzer Prize-Winning Author of "Carry Me Home: Bir...

Amanda Messer

Co-Founder of "Because I Said I Would" & Author

Shariff Abdullah

Director of Commonway Institute

Douglas Blackmon

Pulitzer Prize-Winning Author of "Slavery by Another...

Allyson Kapin

Founder of Women Who Tech; Founder of web agency Rad...

Emily Baxter

Advocate, Director of We Are All Criminals Non-Profit

Becca Tieder

Peace seeker w/ a propensity for profanity. Mama, Wi...

Paulo Coelho

Brazilian Lyricist and Novelist; Best Known for "The...

Wayne Kramer

Founder, Jail Guitar Doors USA

Aaron Hurst

CEO of Imperative, Expert on the Science of Purpose...

Manal al-Sharif

Saudi Women's Rights Advocate

Elijah Ezendu

Award-Winning Business Expert & Software Architect +...

Bob Langert

Senior Sustainability Associate, The Context Network...

Jose Antonio Vargas

Journalist, Filmmaker & Immigration Activist

Cheryl Saban

Dr. Cheryl Saban is a writer, social activist, psych...
More like Tina