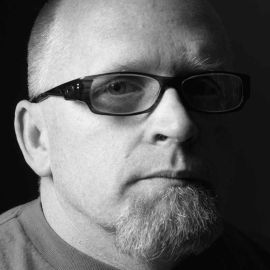 TJ Leyden
TJ Leyden along with his wife Julie founded StrHATE Talk Consulting in 2001. StrHATE Talk is an organization that combats hate, bigotry, intolerance and discrimination through education.
How can a man who covered his body in Nazi symbols, advocated for the death of Jews, and recruited teenagers into the hate movement become one of the nation's most compelling advocates for the importance of diversity and cultural appreciation?
BIO
TJ Leyden along with his wife Julie founded StrHATE Talk Consulting in 2001. StrHATE Talk is an organization that combats hate, bigotry, intolerance and discrimination through education.
As you may be aware, one of the most challenging messages to give people in todays society is the message of tolerance and racial understanding.
From his unique perspective, TJ Leyden, a former neo-Nazi skinhead can take you on the tough but fulfilling journey from a world of hate into a world of hope. As a leading recruiter, organizer and propagandist for the white supremacist and neo-Nazi movement, Leyden spent 15 years promoting hate, bigotry and racism.
After turning his back completely on the white power movement, Leyden worked for 5 years with the Task Force Against Hate at the Simon Wiesenthal Center.
TJ was the first skinhead to leave the racist movement and voluntarily give up information about the inside workings of the neo-Nazis and their recruitment methods. He is the leading authority on the neo-Nazi skinhead movement, with over 29 years of experience in this field.
TJ Leyden was a featured speaker at the Clinton White House Conference on Hate in Washington D.C. and was a major contributor to California Governor Gray Daviss report Governors Advisory Panel on Hate Groups. Leyden has trained members of the Pentagon, FBI, military, law enforcement (from 5 different Nations), educators, and over 850,000 students. He has also worked with the Department of Justice and other District Attorneys offices on hate crimes cases where all defendants have been found guilty.
TJ has been seen on the History Channels Gangland Series (Hate Nation and Basic Training) and was a Technical Adviser for the FX hit show Sons of Anarchy, season 2. TJ worked with Dr. Phil as a subject matter expert. TJ was also featured in Time Magazine and in over 1000 other publications.
In 2008, TJ Leyden helped co-author the book SKINHEAD CONFESSIONS from Hate to Hope, the autobiography of his life.
In 2010 TJ started his non-profit Hate to Hope Inc. and the IWGIA (International White Gang Investigators Association).
Videos
---
Books
---
Related Speakers View all
---
Charlie Alejandro

Motivational Speaker, Writer, Actress & Radio Talk S...

Jesse Miller

Topics focus on Social Media Awareness & Education, ...

Tonisha Pinckney

Empowerment Beyond Victimization - Author of I AM MO...

Devin Hughes

Devin C. Hughes-The Chief Inspiration Officer

David Hyner

Professional Speaker, "The Massive Goal Principle"

Geoffrey Canada

Inner-City Youth & Education Advocate

Joseph Covelle

Speaking From the Heart To Help Change Minds

Alex Banayan

Author & World's Youngest Venture Capitalist

Tina Marie Jones

Connecting with the audience through the style of a ...

Jackson Katz

Anti-Gender Violence Activist, Author

Jean Bailey Robor

Jean Bailey Robor, award-winning author and inspirat...

Patrick Kasper

POSITIVE MOTION "Movement with a Message"

Andy Mouncey

Ultra-distance Athlete, Author, Goal-Setting Expert

Roberto Alas

Reaching and identifying the potential in every sing...

Paul Figueroa

Founder of Peace Enforcement LLC, Trainer, and Facil...

Paul Carrillo

Co-founder and Executive Director Southern Californi...

Lori La Bey

Driving Change How Caregiving is Perceived, Received...

Carey Lohrenz

First Female F-14 Fighter Pilot in the U.S. Navy, T...

Jalen Rose

ESPN Analyst & Former NBA Player

Mo Stegall

Global Brand Ambassador, Motivational Speaker, Bests...
More like TJ