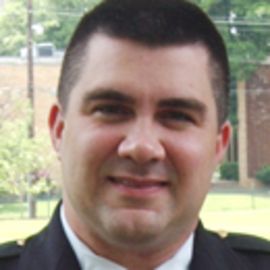 Tom Bowen
Served with the Search & Recovery Teams at the World Trade Center
September 11, 2001 is a day that will live in the hearts and minds of men, women, and children around the world. Out of such heart-ache and brokenness, God delivers hope for our future through His messengers. One such messenger of hope is Tom Bowen.
Tom Bowen served with the 9/11 Search & Recovery Teams at the World Trade Center under the auspices of FEMA US&R in September and October 2001 and at the memorial site closing in May 2002. He received honorable service citations for work performed at the Trade Center disaster site and received another commendation in June in New York City.
Currently, Tom serves at a local fire and rescue division in West Virginia. In addition to fire and rescue duties, he assists with CISM debriefings to local fire departments after traumatic events.
Using his skills and knowledge of handling crisis and traumatic events, Tom developed and led a local non-profit Crisis Response Team, designed to provide immediate, professional care to schools in the event of a crisis. This team is ministry based and implements Critical Incident Stress Management techniques and utilizes trained individuals with various areas of expertise.
Youth for Christ has been a focus of Tom's energy for 9 years. Presently, Tom serves as the Executive Director for Youth for Christ in West Virginia. "God has been gracious to allow me to see thousands of teens come to Him through this ministry. He alone deserves the credit for that!" He has also served on the Youth for Christ National Crisis Intervention Team.
Understanding the needs of his community, Tom founded a local Youth Workers Network. Working together with his team, Youth Workers Network develops strategies for Churches to impact local school campuses. Tom has lead various seminars designed to motivate and equip the local Church to be active in reaching outside the Church walls. Special topics include: identifying community needs (needs assessment surveys), cross-cultural training and developing strategies to impact community needs. Additionally, Tom is working to provide appropriate training for qualified people throughout the United States. This training will better equip these individuals to respond to local, regional, and national emergency events. Tom is working to provide a step-by-step training manual for developing and training these local response teams.
Sympathetic to youth in crisis, Tom founded West Virginia Juvenile Justice Project, a federally funded program that matched juvenile offenders with mentors. Program details are extensive, additional information available upon request.
Additional organizations that Tom served with include:
Served on 20+ Multi-Disciplinary Teams for at-risk youth. Served on Cabell County Board of Education Strategic Planning Committee. *Mayor's Task Force on Juvenile Crime and Delinquency, two terms of service
Related Speakers View all
---
Jorge L. Valdes, Ph.D

From corruption of the drug underworld to transforme...

David Aikman

Best-selling author & former TIME Magazine Sr. Corre...

Darrell Scott

Father of Rachel Joy Scott, A Victim at Columbine High

Jim Morris

Known for His Brief MLB Career & Subject of Disney's...

Dave Dravecky

Former Professional Baseball Player; Cancer Survivor...

Michael O'Brien

Host of "Tour De Romance," Faith-Based Event for Mar...

River Jordan

Novelist & Playwright Known for "Praying for Strangers"

Jim Wallis

Theologian, Writer, Political Activist

Mosab Hassan Yousef

Hamas Whistleblower, Star of the Film The Green Prin...

Mike Yankoski

Author of Under the Overpass

Lisa Bentley

Author/Speaker, Co-found of Harmony Outreach

John Everett

Fought Fires at the Pentagon on September 11th

James Ryle

Founder of TruthWorks Ministries

Bob Hamer

Former FBI Undercover Agent, Author of The Last Unde...

B.J. Weber

New York Fellowship Founder - Former Yankee Chaplain

Nick Vujicic

Motivational Speaker, NY Times Bestselling Author, F...

John Trent

Author, Speaker, & Relationship Expert

Cal Thomas

Syndicated Columnist, Pundit, Author & Radio Comment...

Dennis Swanberg

America's Minister of Encouragement; Host of "The De...

Ken Mansfield

US Manager of Apple Records and personal liaison for...
More like Tom