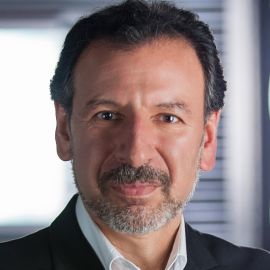 Tom Koulopoulos
Chairman & Founder, Delphi Group; Business Author, Visionary Leader & Authority on Changing Technology
Tom Koulopoulos is Chairman and founder of Delphi Group, a 30-year-old Boston-based think tank named one of the fastest-growing private companies by Inc. Magazine. He is also the author of 13 books, an Inc.com columnist, the past Executive Director of the Babson College Center for Business Innovation, the past director of the Dell Innovation Lab, and a professor at Boston University.
His insights have received wide praise from luminaries such as the late Peter Drucker, the father of modern management; Dee Hock founder of Visa International, and Tom Peters, who called his writing, "a brilliant vision of where we must take our enterprises to survive and thrive."
Koulopoulos' thirteen books include his most recent, "Reimagining Healthcare," "The Bottomless Cloud," "Revealing the Invisible," "The Gen Z Effect," and "Cloud Surfing."
According to Koulopoulos' mentor Peter Drucker, his writing "makes you question not only the way you run your business but the way you run yourself."
Speech Topics
---
Reimagining Healthcare
Healthcare is on the precipice of enormous transformation brought on by an aging global demographic and the exponential advance of technology. However, healthcare is also at another precipice—one that threatens to send it, and its promise, plummeting into an economic black hole.
Tom takes a hard, honest, and practical look at how we can bend the arc of healthcare towards a system that improves outcomes, drives out friction, and provides a patient-centered model that becomes a role model for every nation.
Artificial Intelligence
Fascinating, engaging, and incredibly timely, this keynote explores one of the most dramatic shifts in history: the transition from an industrial society to one that is based on a deep understanding of an entirely new form of knowledge capital, behavior—our behaviors as well as those of the intelligent machines that we are building. Tom will entertain and educate your audience on the future of AI and how it will profoundly transform every aspect of our lives.
Generation Z
While every new generation has faced its share of disruption in technology, economics, politics and society, no other generation in the history of mankind has had the ability to make sure that every human being (and every "thing" ) on the planet is connected to each other, fully educated, and economically engaged. What might this mean for the way in which we build our businesses, markets, and institutions for education in the future?
The Cloud
The Cloud is the hottest topic since the advent of the Internet. And nobody can speak to it with more insight, energy, and humor than Tom. It's why HP, Microsoft, Gartner, Intel, Cisco and many others have asked Tom to keynote their organizations' cloud events. Drawing on his book, Cloud Surfing, Tom paints a powerful picture of how The Cloud will change the way we live, work and play.
Innovation
Come prepared for an enlightening and life-changing discussion about the importance of innovation and get ready to take a hard look at how issues of culture, generations, and leadership impact the way we innovate. Tom's approach is insightful and cutting-edge, but be forewarned, at times unorthodox. It's the reason Forbes.com called him a Business Visionary with an incisive view of world trade and why, in the words of his long time mentor Peter Drucker, "Tom makes you rethink not only your business but yourself."
Cybersecurity
Few things create as much risk for today's organizations as cyber threats. However, cyber risk isn't just a tech problem. Yes, you need need hardened systems and talented people on the front lines, but the greatest cyber risks begin and end in the c-suite. In this hard-hitting, fast-paced keynote Tom looks at the critical role that leadership plays in creating a culture for a cyber-aware organization, and setting the course for how companies will deal with the inevitability of breaches and cyber attacks.
Digital Disruption
The single most significant shift in business is underway – Digital Business Ecosystems. Simply put, Digital Business Ecosystems are at the heart of successful high growth companies such as Uber, Airbnb, Tesla, Google, Amazon, Netflix, Alibaba, Samsung, Nest, and GE. In this leading edge keynote, Tom looks at how Digital Disruption, Transformation and Business Ecosystems will be critical to the success of every business in every industry over the decades to come.
Healthcare on the Precipice
COVID-19 has brought healthcare to the verge of systemic failure as hospitals struggle to keep up with the enormous and fast accelerating demands being placed on them. Vital equipment needed by healthcare workers has been quickly depleted. Delays in viral testing have exposed millions and made it especially difficult to project the trajectory of COVID-19. Burdened by administrative costs that account for over 30% of all healthcare spending, the steady disappearance of community hospitals which are the first and often only line of defense for most of the population, and a severe shortage of primary care physicians, healthcare has been teetering on the edge of catastrophe for decades. While this isn't the wake up call any of us would have hoped or asked for, COVID-19 is an opportunity to finally reimagine the sort of healthcare system we need. Reimagining Healthcare takes a hard, honest, and practical look at how we can bend the arc of healthcare towards a system that significantly improves outcomes, drives out administrative friction, and provides a patient-centered model that can be scaled into the next century to become a role model for every nation. Based on his upcoming book, Reimagining Healthcare is powerful, honest, and eye-opening keynote that offers solutions and hope for the future of healthcare.
Navigating Uncertainty
A certain world may be what we want and what we wish for but it is not what we need and it is not what we have. Uncertainty itself is not the enemy. Rather, history bears out that a climate of uncertainty creates some of the greatest opportunities and periods of innovation, which are quickly followed by periods of high prosperity. Many of today's most successful companies, such as FedEx, Apple, Microsoft, and Amazon, were found or forged in times of high socioeconomic uncertainty. Consider that Apple's iPod and iPhone were launched in 2001 and 2007, two of the worst economic periods in recent history. Often it takes a crisis of extreme proportions to bring us to the brink of breakthrough opportunity. Ironically, uncertainty often spurs creativity that is impossible to find in times of prosperity. It is a human condition that we do not feel the hunger of innovation as keenly when our bellies and wallets are full. In this keynote Tom will provide both a context for understanding uncertainty and a tool set to use in navigating it. This topic can be delivered as a webinar, keynote, or interactive workshop. The material can be customized to the specific set of needs and issues of the audience or organization. Tom will use a methodology for scenario-based planning that he has use across industries with executives, leaders, and boards of directors to help them build confidence and new product or services with which to navigate period of high uncertainty.
Related Speakers View all
---
R "Ray" Wang

Founder, Chairman & Principal Analyst at Constellati...

Josh Linkner

Five-Time Tech Entrepreneur; Hyper-Growth CEO; NY Ti...

Richard Florida

Leading Urbanist, Economist & Author of "The Rise of...

Erik Qualman

Top Digital Transformation Expert, Futurist & Bestse...

Dr. Michio Kaku

World-Renowned Futurist & Theoretical Physicist

Mike Walsh

CEO of Tomorrow; Global Nomad & Futurist; Bestsellin...

Brian Solis

Digital Analyst, Futurist & Author of "What's the Fu...

Afdhel Aziz

Leading Expert on Brand Purpose & Marketing Innovati...

Mitch Lowe

Former Co-founding Executive of Netflix; Former Pres...

Dr. Joel Selanikio

Award-Winning Physician, Health & Technology Activis...

Daniel Burrus

Technology Futurist, Business Strategist & Hall of F...

Uri Levine

Entrepreneur & Co-Founder of Waze

Peter Diamandis

Founder & Executive Chairman of the XPRIZE Foundatio...

John Rossman

Former Amazon Executive, Author & Expert on Digital ...

Daymond John

"Shark Tank" Investor; Founder & CEO of FUBU; Presid...

Jeremy Rifkin

Leading Global Technologist, Futurist, Authority on ...

Jacob Morgan

Business Futurist & Bestselling Author of "The Futur...

Rohit Talwar

Global Futurist, Award-Winning Keynote Speaker, Auth...

Ben Pring

Widely Acknowledged IT Futurist & Thought Leader; Co...

Marc Randolph

Entrepreneur, Netflix Co-Founder, National Best-Sell...
More like Tom