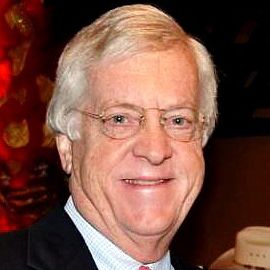 Tom Schieffer was the U.S. Ambassador to Australia and Japan after thriving careers as a state representative, lawyer, and businessperson. A highly successful diplomat, Schieffer's management skills were repeatedly cited and awarded by the State Department throughout his almost eight year diplomatic career. During his tenure, he received many honors from intelligence agencies for his work in strengthening and reforming the intelligence cooperation between the United States and Australia, and the United States and Japan. He was also twice a finalist for the best non-career ambassador in the world, and the Office of the Inspector General recognized him for exemplary service in leading and managing the 1000-plus personnel of the American Embassy in Japan. Tom Schieffer's extensive work in Asia poses him as an authority to discuss the U.S.-Japanese relationship. He also addresses leadership, based on his experiences running a major league baseball franchise and two highly successful embassies.
The Global Political Landscape. Following Secretary of State Colin Powell and Deputy Secretary of State Rich Armitage's recommendation, President Bush appointed Schieffer the U.S. Ambassador to Japan in 2005. While there, Schieffer was a principal negotiator on the Force Transformation Agreement, which was the most substantive revision of the Security agreement between the United States and Japan since 1960. Schieffer was also actively involved in the Six Party Talks over North Korea's attempts to become a nuclear power. Schieffer attended five summits while serving in Japan, including the G-8 Summit in Hokkaido. Upon leaving Japan in 2009, the distinguished Nikkei columnist Tsuyoshi Sunohara said that Schieffer's public speaking and media skills made him perhaps the most effective American Ambassador to Japan in post-war history. Secretary of Defense Robert Gates awarded Schieffer the Distinguished Public Service Award, the highest civilian award the Pentagon has to offer, for his work in strengthening the U.S.-Japan Alliance.
President George W. Bush appointed Schieffer as the U.S. Ambassador to Australia in 2001. After 9/11, he was involved when the Australian government invoked the ANZUS Treaty for its first time to come to the aid of the U.S. Schieffer was also very involved in the negotiations that resulted in the signing of a Free Trade Agreement between the two countries. Schieffer received the Order of Australia, the highest award that can be presented to a foreigner by the Australian government, for his work in strengthening the Australian-American Alliance.
The Texas Baseball Club. Due to the success of his law practice and business career, Tom Schieffer was invited to join an investment group, led by George W. Bush and Edward (Rusty) Rose, that purchased the Texas Rangers Baseball Club in 1989. Schieffer became the Partner-In-Charge of Ballpark Development a year later, touring ballparks around America and negotiating a public-private partnership with the City of Arlington. This agreement became the model for cooperation between cities and private entities in development projects nationally. Schieffer was named President of the Rangers in 1991, and in 1994, the Ballpark in Arlington opened, having been built on time and on budget. The Bush-Rose partnership sold the franchise in 1998.
Videos
---
Speech Topics
---
The US-Japanese Relationship: Past and Future.
How will Japanese politics impact American security and trade? Over the last fifty years with only a nine month exception, Japan has been ruled by the Liberal Democratic Party (LDP). In September last year the Democratic Party of Japan (DPJ) came to power and it is having a huge impact on Japan's relations with the United States, China, and South Korea. Tom Schieffer, the former U.S. Ambassador to Japan, provides a detailed look at that impact and forecasts its long term effect on America and North East Asia. A veteran of the Six Party Talks, Schieffer also examines the evolving security relations in the area, and the chances for greater trade between the US and Asia.
Leadership Lessons.
From running a major league baseball franchise to running a 1,000 person embassy, Ambassador Tom Schieffer has learned a thing or two about creating a rock-solid team. Schieffer reveals how managers can get people to buy into the proposition that being on a team makes a difference in their personal lives and the success of the institution. He talks about the strategies he used to be an advocate and deal with the media both in the government and private sectors.
Related Speakers View all
---
Virgie Tovar

Author, Activist and One of the Nation's Leading Exp...

Inky Johnson

Sports Motivation Expert & Author; Former Collegiate...

Randi Zuckerberg

CEO & Founder of Zuckerberg Media; Bestselling Autho...

Colton Underwood

Television Personality, Philanthropist, Former NFL T...

Nikki Giovanni

Poet, Educator & Best-Selling Author

Dr. Antonia Darder

Scholar, Artist, Poet, Activist & Public Intellectual

M. NourbeSe Philip

Award-Winning Poet, Novelist & Essayist

Poet Ali

Communications Expert, Catalyst Human Connection, So...

Carvens Lissaint

International Award-Winning Poet, Actor & Singer

Dessa

Rapper, Singer & Spoken Word Artist, Member of the I...

Propaganda

Poet, Political Activist, Academic & Emcee

Roxy Azari

Spoken Word Artist, Slam Poet & Social Justice Activist

Andrea Gibson

Poet and Activist

Robert Earl Price

Award Winning African American Poet, Playwright & Sc...

Aisha Fukushima

Educator, Singer & 'RAPtivist'

Tullian Tchividjian

Grandson of Billy Graham & Bestselling Author of "Je...

Dr. Gary Chapman

Pastor, Speaker & Author of "The 5 Love Languages"

Laura Story

Singer-Songwriter & Author of "When God Doesn't Fix It"

Clayton King

Pastor, Founder & President of Clayton King Ministries

David Nasser

Pastor, Speaker & Author; SVP for Spiritual Developm...
More like Tom