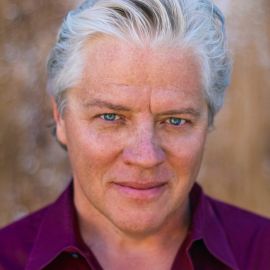 Tom Wilson
Tom Wilson is an artist, actor and comedian. He's performed on various late night shows and appeared in films like "Back To The Future" and on shows like "Freaks and Geeks" and "Two and a Half Men."
After studying fine art photography at U.C.L.A., he followed the path from photography, to mixed media works, until he finally found a home in color and canvas. Tom studied drawing and painting at the Art Academy of Los Angeles, as well as the California Art Institute, followed by extensive study in painting with the noted abstract painter Rene Amitai, as well as the renown California impressionist Arthur Bjorn Egeli. His career in the arts began on the stage, as an actor, comedian, and writer who has shared the stage and screen with a whos who of the entertainment industry, making hundreds of television appearances around the world, including "The Today Show," "Good Morning America," "CBS This Morning," "The Tonight Show with Jay Leno," "Late Night with David Letterman," "Good Morning, Great Britain," and "Tonight Live in Australia," as well as a televised royal premiere for the benefit of the Princes Trust, where he was received and congratulated by Princess Diana herself.
His career on stage began in the theatre, studying in New York, which led down an unusual path of starvation and opportunity to the stages of comedy clubs, where he performed for many years, headlining across the country. After moving to Los Angeles, he was accepted as a regular at the world famous Comedy Store, performing with the Comedy Store Players, improvising onstage with Richard Pryor, Robin Williams, and Jim Carrey when he was 21 years old. He was soon cast in episodic television shows, commercials, and eventually was cast as Biff, Michael J. Foxs beefy nemesis, in the classic "Back To The Future" trilogy of films. A long string of movie roles followed, with the opportunity to work with legendary directors such as John Frankenheimer, Stuart Rosenberg, Taylor Hackford, Robert Zemeckis, Steven Spielberg, and Steve Oedekerk. He has appeared as a recurring guest star on the television series "Ed," "Do Over," "Freaks and Geeks," "Titus," "Fired Up," and "Maggie," as well as "Boston Public," "Two and a Half Men," and many, many others.
As a writer, his fiction has been published in the literary magazines Amelia, West Word, Ipsissima verba, and nonfiction and editorial writing have appeared in The New Yorker, Envoy, Us, P.C. Games, and on the PBS.com website as part of the Frontline series. Hes been a development writer under contract at Disney, Universal, and Film Roman studios, and his writing recently appeared in the anthology, "Sacred Passages," by Bert Ghezzi, published by Doubleday.
Videos
---
Related Speakers View all
---
Pauly Shore

Stand-up Comedian and Actor

Jerry Seinfeld

Comedian, Actor, Writer, & Television/Film Producer

Larry Miller

Actor / Comedian / Humorist

Dave Coulier

Stand-Up Comedian, Impressionist & Television Person...

Adam Christing

Emcee, Author, Comedian, Corporate Magician & Entert...

D.L. Hughley

Award-Winning Stand-Up Comedian, Political Commenta...

Rudy Ruettiger

Motivational Speaker, Author & Inspiration for the A...

Joseph Gordon-Levitt

Founder of HitRecord & Actor Known for "Inception" &...

Brad Stine

Clean & Conservative Comedian Dubbed "God's Comic" B...

Ben Stein

Political Economist, Commentator, Author & Actor

Jim Morris

Known for His Brief MLB Career & Subject of Disney's...

Elon Gold

Comedian and Actor; Starred in FOX's "Stacked"

Ken Davis

Author, Inspirational & Motivational Speaker

Terry Bowden

Football Coach & Analyst

Bobby Bowden

Legendary Former Head Football Coach for Florida Sta...

Josh Peck

Actor & Social Media Influencer

Dan Harmon

Creator & Executive Producer for the NBC Television ...

Jamie Masada

FOUNDER AND CEO, LAUGH FACTORY, INC.

Steve Hytner

Actor and Comedian; Known for Playing Kenny Bania on...

Simon Helberg

Actor & Comedian; Best Known for Role of Howard Wolo...
More like Tom