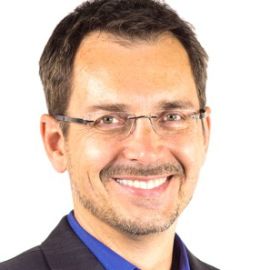 Tom Wujec
Fellow at Autodesk; Innovation and Global Leader in 3D Design, Engineering and Entertainment Software
Many leading organizations have adopted visual thinking as a principal tool to foster innovation. Tom Wujec is teaching them how to do it. In interactive talks, he literally shows you the power of visual clarity by demonstrating how simple images can solve complex problems.
Tom Wujec speaks internationally on innovation: why it matters, why it is a vital engine of economic growth (especially today), and how to foster it. Wujec works with Fortune 100 companies to create innovation practices at all stages, from strategic planning to design and implementation. He is also the leading advocate of making work visible within a company, of transforming ideas into images that enhance clarity and engagement and which lead to intelligent and successful new products, services and processes.
Thanks to Wujec, revolutionary companies are creating profound new ways of understanding their employees, customers, markets, and products. As a Fellow at Autodesk—the Oscar-winning industry leader in 3D computer animation technology, and one of the world's largest software companies—Wujec has worked with a diverse range of clients, from the largest automotive and consumer product manufacturers to the visual effects and gaming companies establishing billion dollar industries. He has brought several award-winning products to market, and has published a handful of influential books, including Return on Imagination, Five Star Mind and Pumping Ions, which have been translated into over a dozen languages. Tom Wujec's newest book Imagine Design Create was released at TED 2011 to rave reviews.
Videos
---
Speech Topics
---
Visualizing Business Strategies : Using Images to Think, Innovate and Drive Business
There is a behind-the-scenes business revolution happening around the world. Creative leaders in the shrewdest companies are using a constellation of new tools to make work visible. Visualization-- thinking and communicating with images-- is rapidly becoming the principal tool to foster innovation and business success. It's also a powerful new tool for leadership which can provide dramatic gains in productivity, cost reductions, and corporate confidence. With interactive visuals, Tom Wujec shows you how teams at the world's leading companies are using simple images to build visual models that create profound new ways of understanding their employees, their customers, their markets, their products, and their competitors. With high spirits and deep authority, he leads you through exactly how to formulate, implement and measure the effectiveness of this new strategy. Teams come to see the real dynamics of their business: they discover patterns, they build new relationships, and they see their real impact on the company's overall direction. If we are going to work smarter in the information economy, Wujec says, we need easy-to-use approaches and tools that help us clarify what's important, focus on how to get there, and ignore the rest. We need the power of visual clarity at the heart of this talk.
The Marshmallow Challenge
Innovation speaker Tom Wujec's "Marshmallow Challenge" is a design experiment that reveals surprising lessons about teamwork, collaboration, and project management. Tom's experiment sounds simple enough: teams try to build the tallest freestanding structure they can out of 20 sticks of spaghetti, 1 yard of tape, 1 yard of string and a marshmallow. What makes it difficult, though, is the need for teams to organize, prototype and finally build the structure in the short time frame. The results are astounding—children tend to outperform MBA students, due to their ability to redesign on the fly rather than plan a rigid structure and execute, even if the structure is doomed for failure. Through his "Marshmallow Challenge," which he has presented at TED, Wujec has helped countless groups learn the value of true collaboration. And unlike a lot of other teamwork exercises, it's actually fun!
Disruptive Innovation: How Accelerating Technologies Are Radically Transforming...Everything
A new process called RIP, MOD, FAB will disrupt every industry where physical things are made. The fantastic evolution of digital tools is equipping designers with a simple, yet powerful new approach to making things. In this talk, Wujec illustrates how design is being transformed by a RIP, MOD, FAB method; ripping or sampling physical objects into useful digital models; modding or improving the models with analysis and simulation tools; and fabricating the models back to the physical world. Think of it as a digital "read, understand, and write" approach to design. It's not's only changing the way we create cars, shoes, buildings, movies, and furniture, it's fulfilling the democratization of design.
The implications are staggering. Rip, Mod, Fab will produce new business models. It will demand new skills and team capabilities. It's scary. But there's a lot of potential. And it will give an advantage to those who understand and frame the changes. It's an incredibly exciting time to be a designer, a producer, and a consumer, and Wujec serves as an invaluable guide to this burgeoning world.
Return on Imagination
Why is innovation so important to growth? And how can we innovate more effectively and efficiently? In this customizable talk, Wujec answers these questions through striking images and practical lessons learned from his award-winning work with Fortune 100 companies. Wujec's talk is a rare chance to see innovation at work—to see how the great companies come up with new ideas and bring them to market. Wujec shares proven approaches that encourage exploration, customer engagement, prototyping, and innovation testing. And importantly, he illustrates simple ways to measure the return of innovation success. he leaves audiences with principles that any company can use immediately: principles whose brilliance lies in their powerful simplicity.
Books
---
Related Speakers View all
---
Sir Ken Robinson

Internationally Acclaimed Expert on Creativity and I...

Dan Ariely

Behavioral Economist, Professor at Duke University, ...

Sean Gourley

Physicist, Political Advisor, TED Fellow and Expert ...

Alan Siegel

Founder and Chairman Emeritus, Siegel+Gale and Champ...

Clay Shirky

Expert on New Technology and Social Media, and How T...

Simon Sinek

World-Renowned Leadership Expert & Best-Selling Author

John Maeda

Design Partner, Kleiner Perkins Caufield & Byers; W...

Peter Diamandis

Chairman and CEO, X PRIZE Foundation; Author

Bill Gates

Co-Founder of Microsoft; Co-Chair of the Bill & Meli...

Robert Tucker

Best Selling Author "Driving Growth Through Innovation"

Guy Kawasaki

Chief Evangelist of Canva; Former Advisor of Motorol...

Graham Hill

Founder of Life Edited & TreeHugger.com

Eric Schmidt

Executive Chairman &d Former Chief Executive Officer...

Daniel Kraft, M.D.

Physician, Scientist and Entrepreneur

Jonathan Klein

Jonathan Klein runs Getty Images, a stock photo agen...

Josh Linkner

Founder and CEO of HelloWorld, a Digital Promotions ...

Sheryl Sandberg

COO of Facebook

Jacqueline Novogratz

Founder & CEO of Acumen Fund

Catherine Mohr

Director of Medical Research Intuitive Surgical, Inc.

Dean Kamen

Inventor and Entrepreneur; President, DEKA Research ...
More like Tom