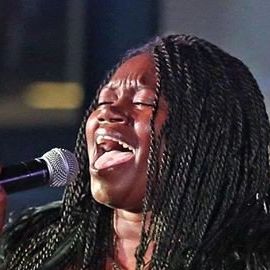 The blues world has opened its arms to embrace this lovely young lady, adopting her to carry on the legacy of her late grandfather Willie Dixon. Tomiko's career began in 2009 when she began working with producers & bands. In 2010 she successfully launched herself as an artist and founded her own Publishing Company Grand Blues Music & GBM Services.
Following her auspicious start Tomiko has worked tirelessly to support others in the music world. A familiar figure of the entertainment scene she is also Partnered with Jay B Ross & Associates(one of the top Entertainment Law offices in the City of Chicago)& Brand Ambassador, a Financial Advisor of TransAmerica /World Financial Group( WFG) and Vice President of The Windy City Blues Society & Producer of The Windy City Blues Festival.
Ever the workhorse Tomiko is an official Grammy Voting Member assisting with finding eligible new members for The Recording Academy Chapters and an active Supporter & Member of worldwide Blues Foundations & Societies.
Tomiko has had the opportunity to partnered with, work, mentor, record, arrange, produce, write and perform with some of the most talented and well known artists in the music business.
In October 2016 Tomiko was the youngest person/artist to be inducted in The Official Blues Hall of Fame in Chicago and again on New Year's Eve 2018 as Brand Ambassador (worldwide).
Videos
---
Speech Topics
---
Life, Music, Entertainment, LGBT