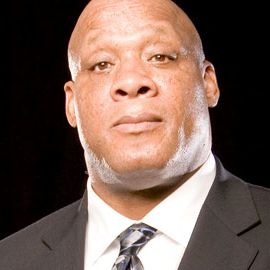 Tony Atlas
Anthony White was born April 23, 1954 and better known by his ring name "Tony Atlas" is a , bodybuilder, powerlifter, and professional wrestler who has held multiple titles and championships in each sport.
Tony Atlas (born 1954) started wrestling in 1974 as "Mr. USA" Tony Atlas because he was a "Mr. USA" bodybuilder prior to entering professional wrestling. He started in the National Wrestling Alliance (NWA) and immediately feuded with the anti-American Ivan Koloff and the Iron Sheik.
During his career, Atlas worked for World Championship Wrestling (WCW), the NWA's Jim Crockett Promotions, the World Wrestling Council (WWC), World Class Championship Wrestling (WCCW), the American Wrestling Association (AWA), and the World Wrestling Federation (WWF). Among his regular partners were Tommy Rich (as "TNT"), Dick Murdoch, and Rocky Johnson. He was also known as the first person ever to cleanly pin Hulk Hogan.
During his time with the NWA, Atlas captured the NWA Georgia Tag Team Title with Tommy Rich. He later teamed with Mr. Wrestling II, Thunderbolt Patterson, Kevin Sullivan, and Rocky Johnson. In the WWF, Tony teamed with Rocky Johnson to defeat The Wild Samoans to win the Tag Team Titles becoming the first team of African-American descent to do so. In 1987, Tony teamed with Skip Young to win the World Class Texas Tag Team Title. In 1990, Tony again wrestled in the WWF as Saba Simba. In 1992, he wrestled in WCW, and in 1994 for the American Wrestling Federation (AWF). Tony Atlas and Rocky Johnson together were known as "The Soul Patrol."
Tony currently runs his own promotion throughout the New England area called Atlas Pro Wrestling. He is a Certified Personal Trainer and trains at Fitness World in Lewiston, Maine. Tony Atlas's signature move is the gorilla press slam.
On April 1, 2006, Tony Atlas was inducted into the WWE Hall of Fame by Special Delivery Jones.
Videos
---
Books
---
Related Speakers View all
---
Gene Okerlund

Eugene Mean Genee Okerlund was born November 29, 194...

Jim Duggan

James (Jim) Duggan (born January 14, 1954 in Glens F...

Tito Santana

Merced Solis was born May 10, 1953 and better known ...

Bob Backlund

Author & Former Two-Time World Wrestling Federation ...

Bret Hart

Former Professional Wrestler; Best Known as "The Hit...

Thaddeus M. Bullard

WWE Superstar "Titus Oneil" and Former Football Player

Adeline Gray

US 2014 World Champion Female Wrestler

Daniel Bryan

Retired American Professional Wrestler

Rob Russen

President/Founder at IWA Championship Wrestling and ...

Fallon Fox

Professional Mixed Martial Arts Fighter

A.J. Lee

Former WWE Diva's Champion

Phil Davis

MMA who currently fights as a Light Heavyweight for ...

Heath Slater

Professional Wrestler with WWE

Rachel Collins

Microbiologist and Professional Wrestler Known an Ms...

Nate Parker

Actor Known for "Red Tails," "The Secret Life of Bee...

Cody Rhodes

Professional Wrestler; Triple Crown Champion

Dolph Ziggler

WWE Professional Wrestler; 2013 World Heavyweight Ch...

Kory Puderbaugh

Paralympic Silver Medalist

Darren Young

First WWE Wrestler to come out as gay

CM Punk

WWE Professional Wrestler
More like Tony