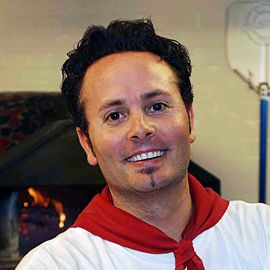 Tony Gemignani
Chef/Owner/Master Instuctor
Born and raised on an apricot and cherry orchard farm in Fremont, California, Gemignani's childhood was filled with boisterous, family dinners. Growing up, he spent much of his time cooking alongside his mother, who would only use the fruits and vegetables that came straight from the family farm. This culinary philosophy of utilizing only the freshest ingredients has stayed with Tony throughout his life and is reflected throughout his menus.
Gemignani has had a passion for the pizza industry since 1991. His humble beginnings began at his brother's acclaimed Pyzano's Pizzeria in Castro Valley. Fresh out of high school, Tony took on the task of a pizza thrower and soon began entertaining the restaurant crowds with his wily tricks. A few years later, he entered into his first pizza throwing competition in Las Vegas and quickly became the top pizza thrower in the world.
Since his days at his brother's pizzeria, Gemignani has received a number of accolades for his impressive pizza making and throwing skills. He is president of the World Pizza Champions; the first and only Triple Crown winner for baking at the International Pizza Championships in Lecce, Italy; and, his most prestigious title to date, the 2007 World Champion Pizza Maker at the World Pizza Cup in Naples, Italy, where he was the first American and non-Neapolitan victor. He has appeared on popular shows like The Tonight Show with Jay Leno, Good Morning America, and is a regular on Food Network. Gemignani also received his Master credentials from the Scuola Italaina Pizzaioli and is the proprietor of the International School of Pizza where he certifies chefs from around the world. His most impressive accolade to date is being named the official U.S. ambassador of Neopolitan pizza by the city of Naples, a prestigious title only given to three people in the entire world. In 2011 and 2012 Tony won two world titles in cooking, making him an 11 time world champion.
In an effort to share his talent and passion with aspiring connoisseurs, Gemignani collaborated with acclaimed cookbook writer, Diane Morgan, on his first cookbook PIZZA, which was showcased on Emeril Live and The Rachael Ray Show. Following the success of PIZZA, he wrote his first children's book, Tony and the Pizza Champions, a fictionalized telling of a pizza team's journey to compete in the international Pizza Lovers competition. Tony was also inducted into the Guinness Book of World Records twice for creating the largest pizza, as well as the most consecutive rolls across the shoulders, a unique throwing trick which involves rolling the pizza dough along the back of the shoulders.
In 2009, Gemignani fulfilled his lifelong dream by opening Tony's Pizza Napoletana in San Francisco's North Beach neighborhood. At the eponymous restaurant, Tony hand-crafts his award-winning pizzas utilizing the same Cirigliano wood-burning oven used to win in Naples. The pizzeria also offers several styles of pizzas, including Classic American, Italian, Sicilian and Neapolitan pizzas artfully made with artisan flours, an array of authentic sauces, and seasonal ingredients and finished in seven different, regionally-specific ovens. The restaurant was met with immediate success upon opening and was named the best pizzeria by USA Today and top pizza restaurant by the Travel Channel.
In 2010, Tony opened the adjacent Tony's Coal-Fired Pizza & Slice House next door to his flagship pizzeria, serving an array of authentic pizzas by the slice, in addition to classic sandwiches. The following year, Pizza Rock in Sacramento opened with nightclub entrepreneur George Karpaty, a creative new concept that pairs gourmet pizzas with specialty cocktails. Tony now owns five pizzerias across and the country and lives with his wife of 12 years in San Francisco.
Videos
---
Related Speakers View all
---
William Murphy III

Father, Pastor, Worshipper

Jennifer Morrison

Actress, Model & Film Producer; Known For "House" an...

Asante Blackk

Actor; Best Known for Portraying Young Kevin Richard...

Joy-Ann Reid

MSNBC Correspondent, Political Author & Former Host ...

Jeanne Reidy

Lean In, Operations.

Aurora Perrineau

Actress & Model

Jarome Iginla

Retired NHL Right Wing

Michael Schwartz

James Beard Award-Winning Chef & Owner of The Genuin...

Eric Hutcherson

Executive Vice President, Chief Human Resources Offi...

Shawn Harper

Former NFL Football Player, Successful Businessman &...

Nat Ware

Social Entrepreneur, Economist, and International De...

Emilie Aries

Author, Podcaster, Founder & CEO of Bossed Up

Ryan McCarty

Co-Founder of Culture of Good, Inc.

Jason Young

Former Senior-Level Manager at Southwest Airlines & ...

Liz Nead

Executive Business and Life Coach

Candace Reese

The CEO Pundit: Empowerment Speaker, Inspirational C...

Rachael Denhollander

Lawyer & Advocate for Sexual Abuse Victims

William Sadler

Film & Television Actor

Nicole Yeary

Founder & CEO of Ms.Tech

Haydn Shaw

Expert in Generational and Cross-functional Roles, C...
More like Tony