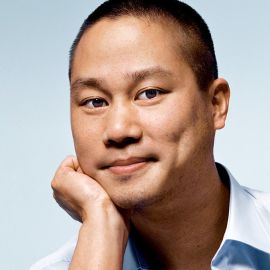 Tony Hsieh was the CEO of Zappos and an internet entrepreneur. He retired in 2020, and founded a trailer park community "Llamapolis" which is made up of tiny homes and Airstream trailers.
In 1999, at the age of 24, Hsieh sold LinkExchange, the company he co-founded, to Microsoft for $265 million. He then joined Zappos as an advisor and investor, and eventually became CEO, where he helped Zappos grow from almost no sales in 1999 to the multi-billion dollar company it is today. Back in 2009, the company was acquired by Amazon in 2009 in a deal valued at $1.2 billion on the day of closing. Hsieh has remained as CEO of Zappos, which operates independently of Amazon, and continues to help build Zappos as a company dedicated to customer service, company culture, and community.
Hsieh's book, "Delivering Happiness: A Path to Profits, Passion, and Purpose," was published in 2010 and outlines his path from starting a worm farm to life at Zappos. Hsieh shows how a very different kind of corporate culture is a powerful model for achieving success and happiness. "Delivering Happiness" debuted at #1 on the New York Times bestseller list.
In addition to his responsibilities as CEO of Zappos.com, Hsieh helped start Downtown Project, a group committed to helping transform downtown Las Vegas into the most community-focused large city in the world. This transformation includes the relocation of the Zappos offices from Henderson, Nevada, to what was the old City Hall in downtown Las Vegas.
Hsieh currently lives in an Airstream on half a city block right in the middle of downtown Las Vegas.
Speech Topics
---
Zappos / Delivering Happiness / Downtown Las Vegas
Culture is to a company as community is to a city: it's about values, innovation, serendipity, participation, upward mobility, and attraction of smart startups and the creative class. Tony is applying his very successful Zappos corporate culture model (recognized multiple times by FORTUNE as one of the top 100 best places to work) to help build the most community-focused large city in the world in the place you would least expect it: Downtown Las Vegas. Research has shown that every time the size of a city doubles, productivity and innovation per resident increases by 15%, but when companies get bigger, productivity per employee generally goes down. With his new $350 million Downtown Project, Tony is creating a unique hybrid of corporation, community, and city to drive productivity and innovation both for Zappos as well as the city itself.
Delivering Happiness: A Path to Profits, Passion and Purpose
Tony Hsieh will discuss the different ingredients used by Zappos.com to build a long-lasting enduring brand, including the importance of customer service and company culture. Tony will talk about how focusing on delivering happiness to customers and employees has enabled the company to expand beyond selling shoes to clothing, bags, and other product categories.
News
---
Zappos: Tony Hsieh : NPR
Computer scientist Tony Hsieh made millions off the dot-com boom. But he didn't make his mark until he built Zappos — a customer service company that ...