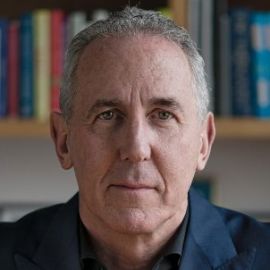 Tony Schwartz is the CEO and founder of The Energy Project, a global consultancy focused on the internal human factors that stand in the way of organizational transformation and sustainable high performance.
An award-winning author and former journalist, Tony has written extensively for the Harvard Business Review and the New York Times and contributed to Forbes, the Washington Post, the Guardian, New York, Esquire, and Vanity Fair. His books include "The Power of Full Engagement: Managing Energy, Not Time" with Jim Loehr, which spent 28 weeks on the New York Times best-seller list, and "The Way We're Working Isn't Working," a New York Times and Wall Street Journal bestseller.
Tony has delivered keynotes and trainings to leaders of companies around the world, including Google, Unilever, Apple, Facebook, Whole Foods, Ahold Delhaize, Ernst and Young, Microsoft, Coty, the Los Angeles Police Department, the National Security Agency, and Save the Children.
He was named as a "Hero of Conscious Capitalism" by Conscious Capitalism® International for his contributions toward realizing a world in which business is both practiced and recognized as a force for good.
Videos
---
Speech Topics
---
Manage Your Energy, Not Your Time
Demand in our lives is increasing relentlessly. Our capacity isn't keeping pace. We're trying to operate in the same way that computers do: continuously, at high speeds, for long periods of time, running multiple programs at the same time. It's a prescription for burnout, disengagement and failure. Human beings are at our best when we move between periods of expending energy and intermittently renewing our energy. The better we manage our energy, the more value we're capable of creating.
In this talk, Tony Schwartz shares the four energy dimensions you need to fuel in order to perform at your best and a scientifically-based paradigm for how to work (and live) in a way that is more productive and more satisfying.
Leaders: Change Yourself, Change Your World
Leaders who are determined to make outward change in the world cannot do so without also looking inward at today's unhealthy and unsustainable work environment. In practice, the mission-driven leaders who have the most effective and sustainable professional lives—and in the long-run are likely to make the biggest impact—are those whose plans for the world align with their own behaviors and the behaviors they cultivate inside their organizations. But all too often, a laser-like focus on the mission comes at the price of a leader's own health and wellbeing, as well as that of their team.
In this talk, Tony Schwartz breaks down the delicate balance between building an organization that is right for the world and building a work environment that is just right—and how focusing on one without the other is unsustainable.
Related Speakers View all
---
Clay Shirky

Expert on New Technology & Social Media, & How They ...

Gary Vaynerchuk

Co-Founder & CEO of VaynerMedia

Simon Sinek

World-Renowned Leadership Expert & Best-Selling Author

Robert Kriegel

Expert in Sports & Performance Psychology

Benjamin Zander

Conductor of the Boston Philharmonic Orchestra; Cele...

Michael Treacy

Best-Selling Author, Entrepreneur & Business Adviser

Tim Sanders

Bestselling Author, Technology Pioneer, Expert on Co...

Jones Loflin

Internationally-Recognized Author & Speaker on Chang...

Scott Klososky

Enterprise Social Technology Expert, Start-Up Pionee...

Adrian Gostick

Founder of The Culture Works & Bestselling Author of...

Chester Elton

#1 Bestselling Business Author, Organizational Cultu...

Jim Cathcart

Sales & Marketing Hall of Fame Speaker

Dan Ariely

Behavioral Economist; Professor at Duke University; ...

Charles Denham, MD

Founder and Chairman of Texas Medical Institute of T...

Guy Kawasaki

Chief Evangelist of Canva & Executive Fellow of the ...

Josh Linkner

Five-Time Tech Entrepreneur; Hyper-Growth CEO; NY Ti...

Troy Hazard

Troy Hazard is the recent Global President of the el...

Mark C. Thompson

Executive Coach & Author

Erik Wahl

Internationally Recognized Graffiti Artist, Entrepre...

Art Turock

Authority on Breakthrough Performance and Achieving ...
More like Tony