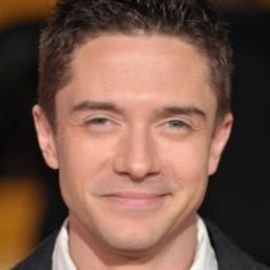 Topher Grace starred in "That '70s Show." During the show's long run, Grace made a memorable film debut as a supporting player in the ensemble cast of director Steven Soderbergh's Oscar-winning "Traffic" (2000). The actor reunited with Soderbergh to make a cameo in the director's vibrant rehash of "Ocean's Eleven." After a brief turn amid the female-centric cast of "Mona Lisa Smile" and a return for the sequel "Ocean's Twelve," Grace took on a prominent supporting role in the '50s-esque romp "Win a Date With Tad Hamilton."
In 2006, "That 70s Show" wound down to an end, giving Grace a much needed break from the grind of television, not to mention a healthy bank account and a chance to show new colors on the big screen.
Making the huge jump to big budget star, Grace saw a serious rise in profile when he was cast as the parasitic Venom in "Spider-Man 3," director Sam Raimi's highly-anticipated and possibly final sequel to the phenomenal comic book franchise. Sticking with features, Grace was part of the large ensemble cast for Garry Marshall's romantic comedy misfire "Valentine's Day" before playing a doctor in a ragtag group stranded on an alien planet who are hunted down by a race of "Predators."
He returned to television for the critically acclaimed cable movie "Too Big to Fail."