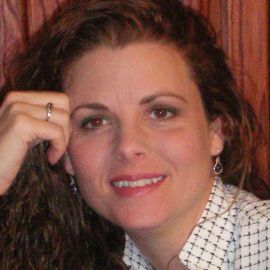 Tracy Lewis, a wife, mother, and author, brings life-changing messages to all her audiences. She shares riveting stories about her marriage, or trials, triumphs, frustrations, and successes of raising a very unorthodox family of yours, mine and ours.
She is someone who loves life and laughter but has also walked roads of fear, depression and grief. She hears the voice of God, yet sometimes gets lost in the darkness. An everyday person, with flaws and quirks, and the tendency to wonder at times if shes making a difference at all. She founded Mercy and Grace Ministries, a ministry that was born from her past experiences and her desire to teach Gods children that they can overcome any situation. She has taught numerous bible studies, garnered speaking engagements around the state and in Uganda, Africa. Her heart is to teach women to love God and how to get to know His heart.
Gods Word says we are fearfully and wonderfully made. So its helpful to remember that in our weakness, He is strong. Without Him, we have nothing. With Him, we have life. Without Him, there is desperation. With Him, there is a destiny and a purpose for everything, including failures and trials. We were born to know Him, be with Him and become like Him. An unattainable feat if we attempt it on our own, but incredibly possible when He holds our hand.
There is room for you on this journey with love and acceptance along the way. Come walk with me through the joys and trials of life, and together we will discover His incredible plan and experience His unfailing love. Come just as you are, for I too am just an ordinary woman who loves an extraordinary God!
Videos
---
Related Speakers View all
---
Louis-Philippe Loncke

European Adventurer 2016, Explorer, Motivational Spe...

Svetlana Kim

Speaker, Radio Talk Show Host, Author, Certified Hyp...

Stanley J. Reynolds

Your audience will enjoy a new innovative approach f...

Tina Marie Jones

Connecting with the audience through the style of a ...

Igor Beuker

World Authority on Marketing and Media

Jean Bailey Robor

Jean Bailey Robor, award-winning author and inspirat...

Kanya Balakrishna

Co-Founder & CEO of The Future Project

Adora Svitak

Author, Speaker, Youth Advocate & Child Welfare Prof...

Colette Carlson

Human Behavior Expert; Hall of Fame Motivational Spe...

Salt-N-Pepa

Grammy Award-Winning Hip-Hop & Rap Girl Group Known ...

Nicole Yeary

Founder & CEO of Ms.Tech, A Company That Aims to Sup...

Paul Robinson

Author to 14 works in Human potential growth & Manag...

Joseph Covelle

Speaking From the Heart To Help Change Minds

Sarah Maizes

Author, Humorist, and Parenting & Lifestyle Expert

Fredrik Haren

Idea Generation • Creativity • Innovation • Vision •...

Laura J. Mansfield

Empowering and guiding ordinary women to achieve ext...

Devin Hughes

Devin C. Hughes-The Chief Inspiration Officer

Charlie Alejandro

Motivational Speaker, Writer, Actress & Radio Talk S...

Nichelle N. Pace

Social & Integrated Marketing Thought Leader, Speake...

Debra Peppers

Emmy Award-Winning TV Host; Motivational Speaker and...
More like Tracy