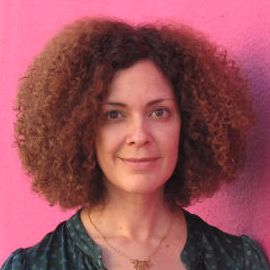 Tracy McMillan is from Minneapolis. Her childhood involved foster care, prison visits and multiple moms that gave her lots of opportunity to interface with some of the darker aspects of human nature. People ask her how she survived, and Tracy says she thinks that it comes down to 1) Finding pretty much everything funny. And 2) Being willing to get a paper route. In winter. In Minnesota.
Naturally, her dramatic childhood led to a rather eventful adulthood, involving multiple cities, husbands, spiritual paths, and careers. If you want all the gory details, read her memoir, "I Love You and I'm Leaving You Anyway." But here are the broad strokes: She wrote television news for 15 years, she got married a bunch, she had a beautiful, amazing kid, and she transitioned into writing film, television, and books.
Her big television credit is "Mad Men," but Tracy's also written on other shows like "United States of Tara" and "Necessary Roughness." She was also a matchmaker on NBC's "Ready For Love," a dating reality show.
In 2011, Tracy wrote "Why You're Not Married," which is now the most-viewed article on the Huffington Post ever. Time magazine named it one of the Top Ten Opinion Pieces of 2011. It's about everything she's ever learned in relationships, which is a lot. Especially about what chicks do wrong — since she says she's done so much of that herself — and also what to do right, since she's done a lot of that, too. This piece led to her book, "Why You're Not Married...Yet."
Videos
---
Related Speakers View all
---
Lane Moore

Award-Winning Stand-Up Comedian, Writer, Actor, Host...

Marlo Wright

Entrepreneur, Author, and Motivational Speaker

Mandy Hale

Blogger and New York Times Bestselling Author; Known...

Michelle McKinney Hammond

Bestselling Author, Speaker, Singer & Television Pre...

Dr. Jenn Berman

Psychotherapist, host and lead therapist on VH1's Co...

Joe Quirk

Humorist / Author of It's Not You, It's Biology

Tariq Nasheed

Author, Film Producer Known for "Hidden Colors" Series

Patti Stanger

Founder of the Millionaire's Club and Star of Bravo'...

Anna David

Sex, Dating, Relationship, & Recovery Expert; Editor...

Margie Warrell

Global Thought Leader in Human Potential & Brave Lea...

Vanessa "The Hebrew Mamita" Hidary

Actress / Performer / Writer / Director

Jessica Weiner

Social Entrepreneur, Culture Expert, Bestselling Aut...

Bonnie Eaker Weil, PhD.

Relationship expert and the author of "Make Up Don't...

Andrew Trees

His most recent book, Decoding Love, explores the la...

Dr. Phil McGraw

"Dr. Phil" Host, NY Times Bestselling Author, Psycho...

Carolyn Kepcher

CEO of Carolyn & Co; Former Co-Star of NBC's "The Ap...

Rachel Greenwald

Bestselling Author & Renowned Matchmaker

Barbara De Angelis

Renowned Relationship and Personal Development Expert

Randy Cohen

Writer, Known for "The Ethicist"

Dr. Laura Berman

Sex Educator, Therapist & Researcher
More like Tracy