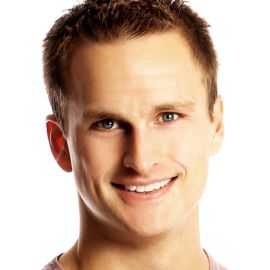 Travis Johnson
CEO & Co-Founder, foodjunky.com
Travis Johnson is the CEO & co-founder of foodjunky. A self-described foodie, Travis came up with the original idea while completing a business plan assignment during his studies at University of Colorado-Boulder. Upon graduation, he moved back home to Chicago and began work at Gamon International, an in-store marketing agency. While at Gamon, Travis led product development and sales, patenting five different products; including the IQ MaximizerTM, which is used by Campbell's Soup.
In 2011, after spending many years eating the same meal during every meeting at his corporate job, Travis decided to reignite his old business plan. It was finally time to pursue his passions for both tech and food. After officially launching at Built in Chicago in early 2013, Travis and foodjunky excitedly moved to Detroit to join the Quicken Loans Family of Companies. foodjunky.com is currently the fastest growing food ordering site in the country. The University of Colorado, Travis's alma mater uses foodjunky.com as a case study within the business school.
In addition to being the centerpiece of a successful startup, Travis also runs the local chapter of Bootstrappers Breakfast, a nationwide meet-up for entrepreneurs. Outside of work, he enjoys mentoring local youth groups, training for triathlons, and, of course, eating.
Speech Topics
---
Social Media a Net Negative
Social Media strategies from the perspective of a startup to a fortune 500 company and the pitfalls that everyone falls into.
Bootstrapping through Funding
Bootstrapping as a means to raise capital is not an oxymoron. Discussion covers the importance bootstrapping startups prior and after multiple rounds of funding.
Disruption & New Growth Verticals
Talk centered around what it takes to build a disruptive business model and the fallacy that their are no new growth verticals left to discover.
Corporate Culture Building
A talk on the importance of building and maintain culture within any organization. Discussion includes best practices, examples of good and bad cultures, and the impact they have.
News
---
Case Study: How HR Software Improved Employee Engagement at 5 Companies
Travis Johnson, founder and CEO of foodjunky, would rather not look at or smell deep-dish, Chicago-style pizza ever again. Without fail, his former employer would order the same pizza on Tuesdays and Thursdays every week, which Johnson indulged in for almost 10 years. But as he grew tired of it, the lunchtime monotony also gave him an idea.
Embracing the Pivot
Based in Detroit, Michigan, four-year-old company foodjunky.com is poised to take on the big competition in the on-line food order/delivery arena. With restaurants scraping out a living on 13.5% margins, the food-order referral business is in hot water. When founder Travis Johnson first launched foodjunky.com, he followed the (lunch) crowd and set his business model on charging restaurants a 5% fee for on-line lunch orders from crabby, hungry professionals. Hey, cash-rich GrubHub charges as much as 30%; why shouldn't a fledgling start-up? Not surprisingly, foodjunky.com failed to sign up restaurants and generate revenue. So, two years after their first launch, Johnson and his team completely revamped their business model and website. At the end of 2015, foodjunky.com is adding new restaurants across the country at a rate of 1,000 per month.
Automation equals gazelle growth for Detroit's foodjunky
Imagine trying to run a business where your team had to manually enter the information for each new client. Now imagine doing that as a tech startup.
That wasn't exactly the point where Travis O Johnson was living the entrepreneurial dream. But it was the dark time before the dawn of rapid growth for his company, foodjunky.com.
Related Speakers View all
---
Nicole Yeary

Founder & CEO of Ms.Tech

Ryan Steelberg

President at Veritone, Inc.

Louis-Philippe Loncke

European Adventurer 2016, Explorer, Motivational Spe...

Danny Mekić

Technology Expert, and "most successful Dutch young ...

R "Ray" Wang

Founder, Chairman & Principal Analyst at Constellati...

Igor Beuker

World Authority on Marketing and Media

Derek Lidow

Global CEO, Entrepreneur, Author & Princeton Professor

Falon Fatemi

Founder & CEO of Node.io; Youngest Person Google Eve...

Morris Chang

Founder, Chairman & CEO of Taiwan Semiconductor Manu...

William Mougayar

Investor, Researcher, Blogger, and Best-Selling Auth...

Somto Okeke Charles

Somto Okeke Charles is a vibrant & innovative young ...

Laura J. Mansfield

Empowering and guiding ordinary women to achieve ext...

Brian Chesky

Co-Founder, CEO & Head of Community at Airbnb

Jeff Taylor

Founder of Monster.com & Eons.com

Artem Goldman

CEO, Visabot

Annie Tsai

Co-Founder of EdioLabs

Everette Taylor

CMO of Artsy

Philip Anschutz

Entrepreneur; Known for Circle A Drilling and the L....

Chris Heivly

Entrepreneur, Co-Founder MapQuest, "The Startup Whi...

Jim Estill

CEO of Danby Appliances
More like Travis