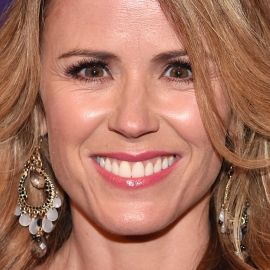 After her appearance on The Bachelor, Trista was selected to be featured in the gender-reversed spin-off The Bachelorette. As part of her participation in The Bachelorette, Trista was paid $1 million by ABC for affording the network the right to televise her December 6, 2003 marriage to Ryan Sutter, the bachelor she selected to marry on the show. The televised wedding drew over 26 million viewers, or one in ten Americans, making it one of the most-widely viewed episodes in the history of reality television.
Prior to her rise to reality television fame, Trista attended Indiana University and the University of Miami, where she obtained a master's degree in physical therapy. She was a Miami-based physical therapist and a dancer for the Miami Heat.
Trista was the first celebrity contestant to be voted off season one of the television show Dancing with the Stars.
The Sutters now live in Eagle County, Colorado, where Ryan is a firefighter in Vail, Colorado.
Videos
---