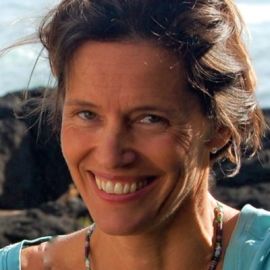 Tundi Agardy
Marine Conservationist & Founder of "Sound Seas," Research and Policy Project to Help Protect the Oceans and Ocean Life
Tundi Agardy is a marine biologist, activist and founder of Sound Seas, a group that works with marine research and policy to help protect the oceans and ocean life. Sound Seas conducts evaluations of environmental programs such as the MacAruthur Foundation's Population, Consumption, and Environment Programm, the United Nations Development Programme, and the United Nations Environment Programme.
Just out of school, Agardy led an Endangered Species Management Program in the Virgin Islands in cooperation with the US Fish and Wildlife Service. After returning to graduate school to earn her Masters and Ph.D, she joined the Coastal Resources Center. She also worked on the Man and Biosphere Reserve Programme of UNESCO and the International Union for the Conservation of Nature and Natural Resources. She was a Senior Scientist for World Wildlife Fund, and has written two books about Marine biology and research.
Agardy was selected as one of the fifty most promising young leaders in America by TIME in 1995, and was given the Award for Excellence in Research by the URI Alumni Association in 1996. She was awarded the Civic Scientist of the Year Award by the Earthwatch Foundation in 1998.
Videos
---