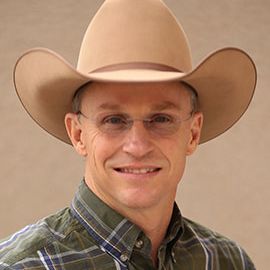 Ty Murray is an American nine-time World Champion rodeo cowboy. He is an inductee of the ProRodeo Hall of Fame in Colorado Springs, Colorado, in the all-around event. He is one of the co-founders and a board adviser of the Professional Bull Riders (PBR). He also provides color commentary during the PBR's Built Ford Tough Series events on CBS Sports Network.
Murray won the World All-Around Champion title seven times (1989–1994, 1998), being the top money-earner in bareback, saddle bronc, and bull riding events for those years. Additionally, Murray won the PRCA World Bull Riding Championship title in 1993 and 1998. In 1994, Murray broke Mahan's and Ferguson's record of six titles and tied Ferguson's record of having won six titles consecutively. In 1998, Murray won his seventh title, surpassing both of them and holding the record for all-around titles at seven titles (his record was surpassed in 2010). That's when they started calling Murray "King of the Cowboys." Murray won his titles in bull riding, saddeback bronc riding, and bareback bronc riding, and no one else has won as many all-around titles in those three events.
After tearing ligaments, first in his right knee and later in his left, Murray had both knees reconstructed in 1995. He was out of rodeo for a year. In 1996, six weeks after his return to rodeo, he damaged his shoulder. Surgery laid him off for another year, costing him a major sponsor. His comeback in 1997 was astonishing — then he broke his shoulder at the PBR Bud Light Cup Series event in St. Louis, Missouri, laying him off for another year. After a total of three years off, Murray came back in 1998 to win the PRCA World All-Around Championship for the record seventh time, as well as his second PRCA World Champion Bull Rider title. He also qualified for the PBR Finals in 1998 and finished 20th in the PBR world standings that year.
Murray joined the PBR full-time in 2000 (after dividing his time between the PBR and PRCA in the years prior). He qualified for the PBR World Finals from 1994–96 and 1998-2002, but did not compete at the finals in 1995, 1996, and 2002 due to injuries.
Murray was the Reserve World Bull Riding Champion in the PBR from 1999 to 2001. In April 2002, after a neck injury during the PBR's BFTS (formerly called Bud Light Cup Series) event in Billings, Montana, Murray officially retired from bull riding, and rodeo competition altogether. At the 2002 PBR World Finals, Murray was inducted into the PBR's Heroes & Legends Celebration: Ring of Honor.
Videos
---