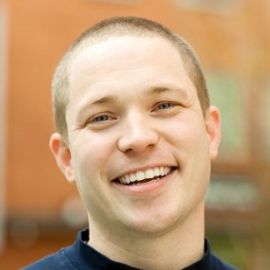 Tyson Wooters
Tyson Wooters believes in the strength of humble leaders, the awesome power of servanthood, and your organization's ability to harness those forces.
Tyson Wooters believes in the strength of humble leaders, the awesome power of servanthood, and your organization's ability to harness those forces. He also believes in his life's mission: to educate people through humor and shared experience about the phenomenal power of taking real accountability and ownership in every aspect of life.
Tyson learned to lead while wearing white pants and standing on a ladder, but he admits that those elements aren't necessarily required in the cultivation of every good leader. His formative leadership experience was as drum major of his high school marching band, a position that launched him not only into the glamorous, high-stakes world of college marching band, but taught him the value of putting service to an organization above personal glory.
Along with earning his teaching degree in music education from the University of Oregon (as well as unofficial minors in "trampoline performance" and "mascot studies"), Tyson has spent the last decade working in the US and around the world. He considers himself a teacher first and foremost, though his definition of what it really means to "teach" often doesn't require a blackboard or a textbook.
Tyson began speaking and presenting in 1998, and has apprenticed with the nationally-recognized Challenge Day organization, Mike Robbins, The Ovation Company,and other highly sought-after motivational speakers. He has worked with corporate, scholastic, and civic groups ranging in size from dozens to thousands of people, including Merit Contractors' Alliance, Rotary International, and university and public school groups around the country.
Tyson lives in Portland, Oregon, where he curates an impressive Hawaiian shirt collection and rides his moped on sunny days. He enjoys travel, scuba diving, and spending time with his niece who is his favorite person in the whole wide world.
Videos
---
Related Speakers View all
---
Alex Banayan

Author & World's Youngest Venture Capitalist

TJ Leyden

TJ Leyden along with his wife Julie founded StrHATE ...

Mike Dilbeck

Founder of the RESPONSE ABILITY Project Chair of RES...

John Izzo, PhD

Leadership Expert & Bestselling Author

Garrison Wynn

Comedian & Motivational Business Expert

Mark Sanborn

Leadership, Teamwork & Performance Expert; New York ...

Benjamin Zander

Conductor of the Boston Philharmonic Orchestra; Cele...

Erin Gruwell

Founder & Executive Director of the Freedom Writers ...

Charlie Alejandro

Motivational Speaker, Writer, Actress & Radio Talk S...

Paul Figueroa

Founder of Peace Enforcement LLC, Trainer, and Facil...

Sheldon Yellen

CEO, BELFOR

Hypnotist The Incredible BORIS

Award-winning Motivational Hypnotist and Keynote Spe...

Jalen Rose

ESPN Analyst & Former NBA Player

John Wood

Founder & Board Co-Chair of Room to Read; Former Mic...

Shawn Achor

Harvard Professor, Researcher, Positive Psychology E...

Jackson Katz

Anti-Gender Violence Activist, Author

Paul Vitale

President at Matt Birk and Company & Author

Afterburner

US Fighter Pilots & Team-Building Experts

Pat Williams

Motivational Speaker & Sports Executive; Senior Vice...

Erik Wahl

Internationally Recognized Graffiti Artist, Entrepre...
More like Tyson