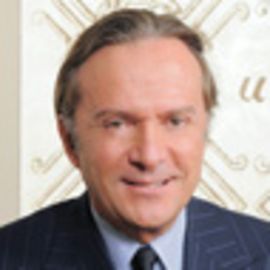 Umberto Angeloni
Founder Uman
Umberto Angeloni, former Chief Executive Officer of Brioni and current partner of Caruso, is the founder of Italian luxury line Uman. Launched in 2009, the concept collection is designed to complement the lifestyle of today's affluent intellectual man--from his work and passions to his social concerns. Since its inception, Uman has been known for its commitment to fit and construction, working with Alvanon--owner of the largest database of consumer body measurements in the world--to perfect the collection.
Following an early career in corporate banking, Mr. Angeloni joined Brioni Group in 1983 as Marketing Director. After seven years at that post, he served the next 16 years as Partner and Chief Executive Officer. In 2009, he joined Italian suit maker Caruso as Partner and Chief Mr. Angeloni has been a longtime supporter of the "Made in Italy" mark, having held positions as President of Classico Italia from 1995 to 1998 and President of Ente Moda Italia from 1997 to 2000. He has served as a Professor of Microeconomics at Loyola University in Rome, Regional Advisor for London Business School, and is a member of several associations including the Ford Motor Group advisory board, Comitato Leonardo, Altagamma and the Rotary Club International.
A prolific author, Mr. Angeloni has written several books on fashion and style, including: The Boutonniere: Style in One's Lapel; Single Malt Whisky: An Italian Passion; Seducing the Senses: Spa Visions of a Bon Vivant; Fluxuations; and his latest, Uman: The Lexicon.
Mr. Angeloni holds an M.A. in economics from Rome University and an M.B.A. from the University of Western Ontario.