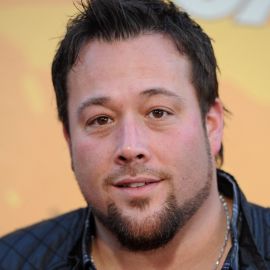 After DJing for his hometown friend Kid Rock, Uncle Kracker stepped out from behind the turntables to release his debut solo album, Double Wide, in 2001. Uncle Kracker had performed alongside Rock since 1994, and they both favored a combination of funky, post-grunge rock with a hip-hop aesthetic. Double Wide also sported a polished pop single entitled "Follow Me," and the album went double platinum on the strength of that top ten hit.
One year after its release, Uncle Kracker returned with a sophomore album named No Stranger to Shame, scoring another top ten hit with a faithful rendition of Mentor Williams' "Drift Away." Taking much from the inspiration of early-'70s rock, he issued Seventy Two & Sunny in late June 2004. Kracker renewed his hit-making credentials by co-writing Kid Rock's popular single "All Summer Long."
He returned to the solo game in 2009 with Happy Hour. The first single from the album was "Smile." The next year, Uncle Kracker followed up with the EP Happy Hour: The South River Road Sessions, which featured country remakes of songs from Happy Hour. Uncle Kracker's next full-length album, his first for Sugar Hill after leaving Atlantic, was the Keith Stegall-produced Midnight Special, which appeared in the fall of 2012.