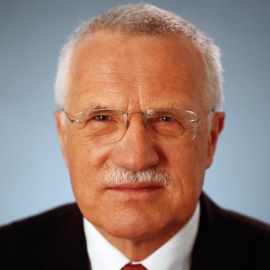 The former President of the Czech Republic, Vaclav Klaus is as a free-market economist and co-founder of the Civic Democratic Party. Considered one of Eastern Europe's most influential post-Communist leaders, he was previously Finance Minister in the former Czechoslovakia, presiding over revolutionary economic reforms.
Klaus started out as an economist after obtaining his university education at the University of Economics, Prague. He took advantage of the relative liberalization in the then Czechoslovakia in order to study in Italy and the US and served as a research worker at the Institute of Economics of the Czech Academy of Sciences where he earned a PhD in Economics.
In 1970 he abandoned his research career for political reasons, and left to work at the Czechoslovak State Bank, but returned to academics at the Prognostic Institute of the Czech Academy of Sciences.
Immediately after the events of November 17, 1989, Klaus entered politics, but did not lose contact with the world of economic science. He continued to lecture and publish occasionally, and was engaged as a lecturer at Charles University in the field of economics. In 1995 he was appointed professor of finance at the University of Economics, Prague.
He embarked on his political career in December 1989, when he became Federal Minister of Finance. In 1991, he was appointed vice chairman of the government of the Czechoslovak Federal Republic after he had become the chairman of the then strongest political entity - the Civic Forum. Following its demise, he co-founded the Civic Democratic Party, and served as chairman until 2002. He won a parliamentary election with this party in 1992 and became Prime Minister of the Czech Republic. In this role he shared in the "Velvet Divorce" of the Czechoslovak Federation and the foundation of an independent Czech Republic. He successfully defended his post as Prime Minister in election to the Chamber of Deputies. He resigned in 1997 following the collapse of the governing coalition. After a forced general election in 1998, he became chairman of the Chamber of Deputies of the Czech parliament for a four-year period. On February 28, 2003 he was elected President of the Czech Republic, a term he served until 2013. Following his presidency, he was named a Distinguished Senior Fellow at the Cato Institute.
He has published over 20 books on general social, political and economic themes, and has been awarded a number of international prizes and honorary doctorates from universities all over the world.
Videos
---
Speech Topics
---
Economic Transformation in the Czech Republic: Challenges Faced & Lessons Learned
Growth in a Mature Europe
Related Speakers View all
---
Muhammad Yunus

Nobel Peace Prize Laureate & Founder of Grameen Bank...

Parag Khanna

Leading Geo-Strategist & Author

Joseph Stiglitz

American Economist, Professor at Columbia Universit...

Marvin Zonis

Political Economist & Consultant

Cesar Gaviria

Former President of Colombia

Xavier Sala-i-Martin

Chief Economic Advisor to the World Economic Forum

Daniel Altman

Sports Analytics & Strategy Expert

Jeremy Rifkin

Leading Global Technologist, Futurist, Authority on ...

Todd Buchholz

Former White House Director of Economic Policy & CNB...

Ian Bremmer

Political Scientist, Author, Entrepreneur, Lecturer

Jacques Attali

French Economist, Business Leader

Harry Markopolos

The Bernie Madoff Whistleblower

Mahathir Bin Mohamad

Former Malaysia Prime Minister

Robert Bryce

Energy Expert, Veteran Journalist & Acclaimed Author

Ralph Nader

Former Presidential Candidate for the Green Party, C...

Anil Gupta

Leading Expert on Strategy, Globalization and Emergi...

Rye Barcott

Co-Founder & CEO of With Honor, Veteran and Author o...

Ana Palacio

Former Foreign Minister of Spain

Raj Patel

Award-Winning Writer, Activist & Academic

Haiyan Wang

Managing Partner of China India Institute; Renowned ...
More like Vaclav