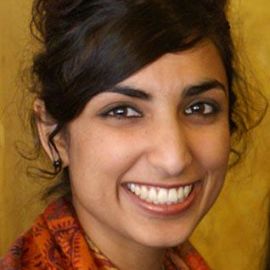 Valarie Kaur
Civil Rights Activist, Lawyer, Entrepreneur & Award-Winning Filmmaker; Best Known for the "Divided We Fall"
Valarie Kaur is a civil rights activist, lawyer, award-winning filmmaker, media commentator, educator, entrepreneur, author, and Sikh American justice leader. Her new venture, the Revolutionary Love Project at the University of Southern California, champions the ethic of love in an era of rage.
Kaur has made award-winning films and led national campaigns on civil rights for 15 years. Her activism focuses on hate crimes, racism and profiling, gun violence, immigration, solitary confinement, LGBTQI equality, and Internet freedom. She is the founder of Groundswell Movement, America's largest multifaith online organizing community of 300,000+ known for "dynamically strengthening faith-based organizing in the 21st century." She also founded the Yale Visual Law Project where she trained students at Yale Law School to make films that change policy. Kaur recently served as the Media and Justice Fellow at Stanford Law School's Center for Internet and Society, where she co-founded Faithful Internet to equip faith leaders in the fight for Internet freedom. Now as the Scholar-in-Residence at Middle Collegiate Church and Senior Fellow at Auburn Theological Seminary, she speakers on #RevolutionaryLove as a public ethic — a political and moral response to injustice and wellspring for social action.
Kaur has been a regular television commentator on MSNBC and opinion contributor to CNN, NPR, PBS, The Washington Post, The Huffington Post, The Hill and The New York Times. She has addressed audiences at the White House, Pentagon, the United Nations, the Parliament of the World's Religions, and on more than 250 U.S. college campuses. She has also traveled with the U.S. State Department as a keynote speaker throughout Burma, aiding its transition from dictatorship into democracy. In 2016, she became a co-creator and keynote speaker of the Together Tour in 6 U.S. cities.
Kaur's first film Divided We Fall with director Sharat Raju toured in 200 U.S. cities, won a dozen international awards, and became known as the go-to documentary on post-9/11 hate crimes. The Divided We Fall Campaign inspired dialogues on 100+ campuses and communities in the 2008 and 2016 election seasons. Since then, Kaur and Raju have continued to make documentary films together on social justice issues: Alienation, a short film, follows families swept up in immigration raids; Stigma, a short film, chronicles youth encounters with stop-and-frisks; The Worst of the Worst: Portrait of a Supermax, a documentary on the practice of solitary confinement, helped win policy change in Connecticut and is now used by activists around the country; and Oak Creek: In Memorium, a viral short film on the 2012 mass shooting at the Sikh Temple of Wisconsin, helped the Sikh community win historic federal policy change on hate crimes. In 2016, Kaur and Raju created Seva Productions to support entertainment and social justice projects.
In 2016, she became the youngest person to receive an alumni award from Harvard Divinity School.
Speech Topics
---
"Millennials and a Life of Meaning"
"Building a Groundswell for Justice in a Multifaith America"
"Revolutionary Love: The Call of Our Times"
"The Sikh Faith: Walking the Path of Spiritually-Grounded Service"
"A New Generation of Women's Leadership and the Meaning of Success"
"The Quest for Civil Rights: from 9/11 to Guantanamo"
"Breaking the Walls: Inside U.S. Prisons and Solitary Confinement"
"Divided We Fall: Race, Religion, and Ending Hate in America"
"The Law as Sword and Shield: Pursuing a Life of Public Service"
"Innovating on the Frontier: A Free, Open, and Democratic Internet"