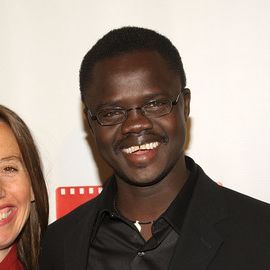 Valentino Achak Deng
Surviving Lost Boy of Sudan, Co-Founder of the VAD Foundation, & Author of "What is the What"
Valentino was born in southern Sudan (now South Sudan), in the village of Marial Bai. He was seven or eight years old when he fled the civil-war stricken Sudan in the late 1980s during the second Sudanese civil war, when his village was destroyed by murahaleen—the same type of militia that currently terrorizes the Darfur region of Sudan.
Deng spent nine years in Ethiopian and Kenyan refugee camps, where he worked for the UNHCR as a social advocate and reproductive health educator. He walked to Ethiopia with 30,000 children but was forced to flee again to a refugee camp in Kenya, one of only 10,000 children to survive the journey. In 2001, he resettled to Atlanta, GA, one of the last lost boys allowed out.
Deng has toured the United States speaking about his life in South Sudan, his experience as a refugee, and his collaboration with author Dave Eggers on What Is the What, the novelized version of Deng's life story. As a leader in the South Sudanese diaspora, Deng advocates for the universal right to education.
In 2006, Deng and Eggers established the VAD Foundation to help rebuild South Sudanese communities by increasing educational access. In 2015, he was the Minister of Education for Northern Bahr el Ghazal and oversaw more than 800 state-run schools in addition. Now, in addition to running the VAD Foundation's secondary school (Marial Bai Secondary School), Valentino is the Vice President of Corporate Social Responsibility for Black Rhino (The Blackstone Group).
He is a highly requested speaker at schools and colleges, churches, civic originations, and religious institutions, sharing a message of character, perseverance, faith, and hope. He was also featured on CNN's Inside Africa.
Speech Topics
---
What Is the What: An Evening with Valentino Achak Deng
With perspective and humor, Valentino Deng uses his extraordinary life to illuminate the lives, and the struggles, of millions. With storytelling grace, he takes you from the senseless tragedies of his early life (civil war in Sudan, refugee camps in Kenya) to his time in America to the hard-won triumphs of today (the opening of the Marial Bai secondary school). The powerful story that emerges is a testament to both the senselessness of war and the resilience of the human body and mind. Deng is a speaker of bottomless compassion, and of hope and integrity—a man whose unforgettable life has humbled and enlightened thousands around the world.
Related Speakers View all
---
Tonisha Pinckney

Empowerment Beyond Victimization - Author of I AM MO...

AC Green

NBA Champion Miami Heat and Lakers; Community Youth ...

Charlie Alejandro

Motivational Speaker, Writer, Actress & Radio Talk S...

Debra Peppers

Emmy Award-Winning TV Host; Motivational Speaker and...

Preston Keith Fox

THE ANTI-MOTIVATIONAL-MOTIVATIONAL SPEAKER

Paul Carrillo

Co-founder and Executive Director Southern Californi...

John Hodge

Dr. John W. Hodge is President of Urban Learning and...

Montel Williams

Emmy Award-Winning Talk Show Host Best Known For "Th...

Melvin Adams

Former Harlem Globetrotter with a Passion for Reachi...

Heath Calhoun

Alpine Skier & Veteran of the United States Army

Rodney S. Jones

Teaching you "Corporate Swagger" for today's businne...

Michael McCain

Awakening Millions To Their Potential -Author, Coach...

Mak Man

Dynamic Motivational Speaker and Published Author . ...

Clayton King

Pastor, Founder & President of Clayton King Ministries

Tom Thelen

Founder of the Victimproof Bullying Prevention Progr...

John Di Frances

Speaking to audiences real needs.

Mo Stegall

Global Brand Ambassador, Motivational Speaker, Bests...

Rich Ruffalo

Ranked as the Top Male Blind Track and Field Athlete...

Josh Davis

5-Time Olympic Medalist & Motivational Speaker

Dr. Ben Carson

Secretary, US Department of Housing and Urban Develo...
More like Valentino