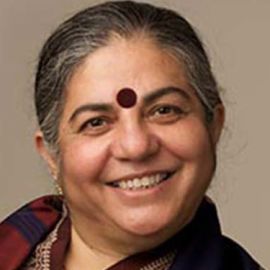 Vandana Shiva is a world-renowned environmental leader and thinker in league with the likes of Ralph Nader and Jeremy Rifkin, who for the past three decades has strived to be the change she wants to see. When she found that science and technology primarily served the interests of the rich and powerful, she left academia to establish the Research Foundation on Science, Technology, and Ecology - a public interest research organization. Likewise, when she found that global corporations wanted to patent seeds and crops, she launched Navdanya - Hindi for "nine seeds" in reference to the nine crops that make up India's source of food security - to protect biodiversity, defend farmers' rights, and promote organic farming.
Shiva is the author of many books, including Soil Not Oil: Environmental Justice in an Age of Climate Crisis and her latest, Staying Alive: Women, Ecology, and Development. Along with Nader and Rifkin, she is a leader in the International Forum on Globalization. She has addressed the World Trade Organization summit in Seattle and the World Economic Forum in Melbourne. Shiva has received the Alternative Nobel Prize Right Livelihood Award and was awarded the Sydney Peace Prize for her commitment to social justice. Time magazine recognized her as an environmental hero and Asia Week has called her one of the five most powerful communicators in Asia.
In inspirational keynotes, Vandana Shiva shares her journey through environmental activism, from promoting tasty, healthy, and high-quality food for consumers to advocating for farmers' rights and biodiversity.
Speech Topics
---
Soil Not Oil: Environmental Justice in an Age of Climate Crisis
In this revelatory talk based on her book of the same name, environmental leader and keynote speaker Shiva illustrates to audiences the undeniable connection between industrial agriculture and climate change. She looks to the small, independent farm as the answer in moving away from dependence on fossil fuels and globalization, citing their inherent productivity, biodiversity, potential for social justice, and resilience and versatility in battling such obstacles as disease, drought, and flood. With "Soil Not Oil," Shiva acts as your bridge to understanding how we can feed the planet in a socially just, environmentally sound way.
Water Wars: Pollution, Profits & Privatization