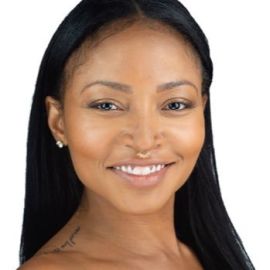 Vanessa LeMaistre's path has been unconventional. Broken from years of childhood sexual assault, not having a father to protect her and an ultimate lack of self-worth, she woke up at the age of 25 as a lost soul, having dated a mix of men, including prominent celebrities who didn't respect her worth. Deciding to wake up and step into her path, Vanessa began to practice yoga and spiritually enlighten herself through a series of texts, before suffering a tragic loss of her son, Kamden at 9 months. Throughout her journey, Vanessa, a shaman, provides inspirational insight on topics of motivation, grief & loss, psychedelic advocacy, Diversity & Inclusivity, and spirituality.
Vanessa is a scholar and has obtained a M.A. in Resilient Leadership which is a focus on sustainability and social justice. She is an author, a well-poised inspirational speaker, a shaman, philanthropist, advocate and an entrepreneur.
Vanessa's goal in her speaking career is to diversify the speaking platform with her presentations and to represent other POC (People of Color,) women.
Videos
---
Speech Topics
---
Inspirational, Motivational, Spiritual, Overcoming Adversity, Getting Through Grief and Loss, Believing in your Soul, Resilience, Diversity & Inclusivity, Accepting Others, Self-Love, Psychedelic Advocacy, Psychedelic Experiences
Related Speakers View all
---
Jessika Rovell

Attorney, Naval Intelligence Officer, and Sexual Vio...

Montel Williams

Emmy Award-Winning Talk Show Host Best Known For "Th...

Caitlyn Jenner

TV Personality, Olympic Gold Medalist & Iconic Trans...

Kelley Gunter

Author, Speaker and Mental Health Advocate

Simone Biles

Most Decorated Gymnast Ever & Record Holder for Most...

Joseph Covelle

Speaking From the Heart To Help Change Minds

Ann Marie Mac Donald

Certified World Class Professional Speaking Coach, C...

Charlie Alejandro

Motivational Speaker, Writer, Actress & Radio Talk S...

Dr. Janet Taylor

Self Care & Wellness Activist, Psychiatrist, Author ...

Mark Anthony McCray

Entrepreneur, Speaker, Writer, Credit Repair Guru an...

Mike Schlappi

Paralympic Medalist

Liz Nead

Executive Business & Life Coach

Kyle Newman

Live and lead untamed and unafraid

Candace Reese

The CEO Pundit: Empowerment Speaker, Inspirational C...

Zaahir Hendricks

Dr. Zaahir Hendricks, 'Dr. Z' has Been Helping Empow...

Andrea Raquel

Trained Broadcast Journalist / Marketing Pro & Exper...

Michele Reiss, PhD, RN, CS

Expert on Grief and Bereavement; Psychotherapist, Ed...

Dan Savage

Advice Columnist & Host of the "Savage Lovecast" Pod...

Chad Hymas

World-Class Wheelchair Athlete & Best-Selling Author

J.R. Martinez

Actor, Best-Selling Author, Motivational Speaker, Ad...
More like Vanessa