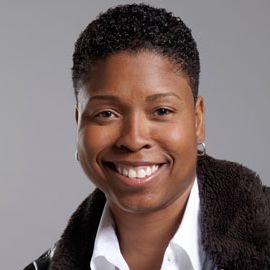 Vernice "FlyGirl" Armour
First African-American Female U.S. Combat Pilot & Author of "Zero to Breakthrough"
Former combat pilot, former police officer and world renowned keynote speaker, Vernice FlyGirl Armour has been featured on OPRAH, CNN, MSNBC , FOX and others and presented to hundreds of organizations including Walmart, Bank of America, Shell, T-Mobile.
With her inspirational leadership keynotes and consulting, FlyGirl commands corporate and Tech-centric executive audiences across the globe, FlyGirl's most requested keynotes are: A NEW Conversation, Rules of Engagement, Gutsy Moves and Something Goood's Gonna Come Outta THIS!
Whether in the stage as a keynote speaker or beyond the podium in a fully customized consulting engagement, Vernice advises, facilitates and helps navigate during these unprecedented times.
Leveraging her Get Gutsy mindset, Vernice propelled herself from beat cop to combat pilot in a record-breaking three years and became America's First African American Female Combat Pilot.
A Tennessee native and graduate of Middle Tennessee State University, FlyGirl holds two honorary doctorates, was a Diversity Liaison Officer to the Pentagon for Headquarters Marine Corps and is a member of the COMCAST/NBCUniversal Joint Diversity Council. She has received numerous awards as a pioneering pilot, to include her commanding role in Science, Technology, Engineering and Mathematics (STEM). She was the Marine Corps' first African American Female pilot, first African American woman on the Nashville Police Department's motorcycle squad, a Camp Pendleton Female Athlete of the Year, two-time titleholder in their Strongest Warrior Competition, and a running back for the women's professional football team, the San Diego 'Sunfire.' She is working on her next book, The Gutsy Move, and her signature book, Zero to BreakthroughTM was published by Penguin in 2011.
In 1993, the Sara Lawrence-Lightfoot Chair, an endowed professorship was established at Swarthmore College; and in 1998, she was the recipient of the Emily Hargroves Fisher Endowed Chair at Harvard University, which when she retired, in July of 2019, became the Sara Lawrence-Lightfoot Endowed Chair, making her the first African-American woman in Harvard's history to have an endowed professorship named in her honor.
Lawrence-Lightfoot did her undergraduate work in psychology at Swarthmore College (1962-1966) and received her doctorate in the sociology of education at Harvard in 1972.
Speech Topics
---
Zero to Breakthrough: How a Breakthrough Mentality Creates Breakthrough Results!
The constrictions of a "Zero Mentality" cost companies lost productivity and lost revenue. When teams get stuck and unable to break through barriers, opportunities don't go away, competitors simply take advantage of them. Give your team the boost they need with Vernice "FlyGirl" Armour's seven steps from the "Zero to Breakthrough Success Plan." Armour shares her experiences as a police officer, combat pilot, and entrepreneur to illustrate what propelled her to EXCELerated results, breakthrough barriers, and create breakthrough opportunities. These steps can be harnessed and unleashed by anyone with the determination and desire to excel.
Cleared Hot!
Employee engagement, customer engagement, team engagement, personal engagement. No matter what area an organization is strategically trying to improve, individuals have to be engaged and execute in order for the plan forward! The key is giving the permission to engage from the inside out. Once that happens, your organization will be CLEARED HOT! There's no secret...a solid flight plan is the key. Give your attendees a fast paced message that will show how them how to harness the power of a "Breakthrough Mentality" mindset, lead through mentorship, leverage functional and individual diversity as a strategic advantage and create breakthroughs for their teams with five simple steps.
Who Needs a Runway? Take Off from Where You Are!
The bottom line is that we have to move into action from where we are! Unfortunately, many people become paralyzed in the preparation phase. Decide what you want, put your stake in the ground and execute! FlyGirl calls this making a commitment to the commitment. Give your organization the boost they need to come together as a team, understand how their objectives support the overall strategy and accomplish the mission, achieving the desired Breakthrough Results!
This speech will give your attendees an invigorating perspective that reveals how to:
Infuse passion in your life professionally and personally! Recognize and utilize the skills and talents of everyone around you. Lead a Zero to Breakthrough life with a "Breakthrough Mentality" as the foundation. Unleash your full potential, no matter where you are personally starting from.
Driving Diversity Deep into the DNA of Your Organization: One Mission, One Goal, One Team
In this speech, Vernice "FlyGirl" Armour—a former diversity officer for Headquarter Marine Corps and liaison to the Pentagon—reveals what it took to help a 200,000-personnel organization get back on track. She explains how, when you bring people together, it is normal to have differences and similarities that result in tension and complexities, but that what is key is how you manage that diversity.
The leader will discover how to: Know your people and harness the power, skills, and talents of the team. Unleash the full potential of diversity to impact the bottom line. Effectively tap into the power of the Employee Resource Groups (ERGs). Teach everyone to be an ambassador for diversity. Create a culture that values and respects all team members: One Mission, One Goal, One Team!
Related Speakers View all
---
Carey Lohrenz

First Female F-14 Fighter Pilot in the U.S. Navy, T...

J.R. Martinez

Actor, Best-Selling Author, Motivational Speaker, Ad...

Daymond John

"Shark Tank" Investor; Founder & CEO of FUBU; Presid...

Jocko Willink

Retired Navy SEAL Officer & Author of "Extreme Owner...

Lisa Leslie

WNBA Champion, Olympic Gold Medalist & Author of "Do...

Shawn Achor

Harvard Professor, Researcher & Positive Psychology ...

Elaine Welteroth

New York Times Best-Selling Author, Award-Winning Jo...

Robyn Benincasa

World Champion Adventure Racer & Best-Selling Author

Col. Nicole Malachowski, USAF (Ret.)

Combat Veteran, First Female Thunderbird Pilot, Whit...

Magic Johnson

Basketball Hall of Famer, Entrepreneur, Philanthropi...

Dominique Dawes

Olympic Gold Medal-Winning Gymnast, Former Co-Chair ...

Leland Melvin

Engineer, Former NASA Astronaut & Former NFL Wide Re...

Randi Zuckerberg

CEO & Founder of Zuckerberg Media; Bestselling Autho...

Chris Gardner

CEO, HappYness; Entrepreneur; International Best-Sel...

Melissa Stockwell

First Lieutenant (Retired) & Three-Time Paratriathlo...

Adrian Gostick

Founder of The Culture Works & Bestselling Author of...

Josh Linkner

Five-Time Tech Entrepreneur; Hyper-Growth CEO; NY Ti...

Abby Wambach

6-Time U.S. Soccer Athlete of the Year; Two-Time Oly...

Molly Bloom

Entrepreneur & Best-Selling Author of "Molly's Game"

Eduardo Briceño

Growth Mindset and Improvement Expert; Co-Founder & ...
More like Vernice