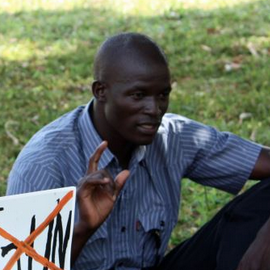 Victor was born on 16th September 1981, a second born twin to his peasant parents of Lango ethnic tribe, from Lira district in northern Uganda. Grew up in his village of Abia, like most of the children there, Victor spent his childhood in the conflicts. A grassroots activist, a human rights advocate, a globally recognized young man who demonstrated strength and courage and now one of the success stories of the most resilient young men who took upon his childhood challenges as an opportunity that reshaped him to bring positive change. In northern Uganda, many horrors have been told of the actions of the Lord's Resistance Army in Uganda; Victor lived them, and chose to stand up for peace when it was not popular. "I have always told my fellow young people, that the war has been for too long; devastating and we have all experienced the bitter results. Even if we have pains, we don't have to be one".
Instead of picking up a gun to avenge his lost family members, being paralyzed by grief or feeling hopelessly disadvantaged by the destitution of growing up in the refugee camp, Victor rose to these challenges and crafted an alternative vision of hope in the face of overwhelming despair. He dropped out school from Primary 2 and stayed in the refugee camp for 3 years without studying. After a bit of stability, he resumed schooling and skipped studying both 3rd and 4th grade and went straight to join 5th Grade of his Primary Education. This was an incredible and very impressive leap, and determined to study his primary education for only 5 years instead of 7 years, and he surprisingly became a star-student by even scoring the highest grades to join college, and eventually completed the Undergraduate degree. "I told my mom that I have to study to the next level with every little opportunity, meaning I can't repeat a class because it's not a step forward"
Victor's motivation is driven by his most salient qualities of compassion for others and deep sense of empathy. His leadership potentials have taken him to record-height from his war-ravaged region to the highest echelons of his national government, the African Union, the NATO and the United Nations. In 2010, during the ICC review conference in Uganda, Victor through his organisation (AYINET) organised the International War Victims Football Match in Uganda, to mobilise the global support for the victims of war worldwide. The football match was played Mandela International Stadium, Kampala by the UN Secretary General H.E Ban-Kimoon, Uganda's President Museveni, Ambassadors and top dignitaries of the United Nations, alongside war victims brought from Uganda, DRC, West Africa, Darfur among other "I am glad I rose above my challenging walk of life to my talent. I want to use my energy towards uplifting other people. It's my joy to see a sense of calm and felling of hope and dignity restored in the eyes of unusually happy".
Victor is both a victim of war crimes and an inspirational leader who brings hope for a more peaceful and vibrant future for not only Uganda, but Africa. A victor against all odds, Victor overcame many painful childhood challenges to become one of Africa's foremost dynamic visionary youth leaders. In 2011, after years of great community works supporting the victims of war, his distinguished work was identified by the United Nations, and was nominated for Arch Bishop Desmond Tutu's African Young Leaders award.
From deep in Abia, Lira district, one of the most conflict-shattered communities of northern Uganda, a young man who never wore shoes until he was 14years. The son, who suffered from malnutrition, grew up eating one-meal-a day and for several years. Having suffered and survived from tropical disease and outbreaks ranging from meningitis, malaria and Kwashiorkor among others. Today, he is recognized and awarded the Most Prestigious Arch Bishop Desmond Tutu's Award, a recognition given to only select Young African leader who have demonstrated leadership for community transformation.
Working with the Victims
Victor is the founder and the head of the African Youth Initiative Network (AYINET), an independent National NGO in Uganda, that has since 2005, has been working in the conflict affected northern Uganda, with specific focus on addressing the harmful effects of armed violence, by empowering victims and survivors to manage conflict and prevent future violence, as well as promotes solidarity for healing, stability and development. The specific areas have been Provision of Rehabilitation as a Form of Remedy for War Victims – Delivering Justice for the War Wounded (physically and emotionally). The approaches seeks to improve the health, living conditions and human rights of people who are victims of serious crimes of international and national law that suffer physical and mental injury as a result of those violations and abuses, and who are in critical need of medical and psychosocial support. It's victim-centered and victim-responsive.
Engaging and Empowering Youth as Leaders, Youth at Risk and Youth as Game Changers. This seeks to promote responsible and effective youth leadership to build cultures of peace, tolerance and human rights in Uganda. It involves the youth-specific approaches to post-war reconciliation, conflict transformation and peacebuilding programs; designed to help the bright, resilient young people from extremely challenging backgrounds to develop into compassionate, innovative problem-solvers. Strengthening youth organizations as bridge-builders (across borders, ethnic barriers, cultures or social classes) within communities.
Victor is often heard saying, "what has happened in northern Uganda over the last 20 years is shocking and unbelievable, but it has happened", and at AYINET, we strongly believes that for a sustainable peace to happen, human physical and emotional pains must be controlled. Our mission now is to help rebuild the Communities with Credible Leadership that Represent the Culture of Human Rights. AYINET is now the leading organisation in northern Uganda, engaging and working together with the communities affected by the war to deliver lifesaving health assistances and help to promote tolerance, support the family of the missing/enforced disappearance people, work towards national reconciliation and peacebuilding.
Today, together with my team we work with the communities affected by the war. "I meet and hold in-depth discussions with victims and these help me to help them help themselves. The feelings of these wars are painfully burning to those people directly and indirectly and hurt by this war. One young girl described her parents and others being killed, cooked and other abductees were forced to eat their bodies. She told me: "Every time I try cooking using the pot, I see my parents inside the pot." She has wept too bitterly and suffered too much, and it's sad to witness many people like her whose situation only worsens without assistance. It haunts me that I have been unable to help only few thousand people like this young girl escape circumstances that leave them vulnerable.
It has been and will continue to be a tremendous honor and privilege to lead and be part of AYINET since its founding in 2005. AYINET the team of the most dedicated young people; nearly all of them are direct war victims who grew up in the IDP camps. Even though they struggled growing up amidst conflicts, their sufferings didn't crush them completely. They have instead demonstrated unmatched strengths; more inspired and now joined hands with courage, compassion and determination to rebuild their communities and lives.
My most trying moment was 5 years since my brother as abducted and he has never been seen again, in one moment during an interview with a formerly abducted child. I discovered that this person was one of the ex-combatants commanded by General Otti Vincent to tie up my brother during his abduction. To date, he doesn't know that it was my brother who he was talking about to me. I felt tortured, but I never told him and never will, and not even any one from my family will get to know him. It was very hard for me to concede this, but I feel that this ex-combatant is innocent since he was forced to do that. After struggling with what to do after knowing my brother's captor, the best i could do was to recruit him to work with me. He is one of the great staffs in AYINET. Bringing him on board and to work with has really helped me to heal and i was able to move on without anymore sad feeling about him.
On whether or not to forgive the LRA: It's very difficult to forgive those who abducted and are keeping your family member, and those who continue to rape and kill the innocent people. The victims are in quivering anger against the LRA, and people should do all it takes to free those children in captivity. Bring them back home, their families always have sleepless nights imagining what life they are living in the jungle.
With a history defined by courage, compassion and determination, a confirmation that all odds are gone; all are yesterdays and I have tried to live a life driven by worthy causes. I repeatedly asked myself when I was a little boy living in the refugee camp that "What would I do differently if I had a chance to be a leader, hero, and champion the next time" These are many of the questions so many of my friends and even younger generations who are working tirelessly for the same cause do ask every day. The answer is; we all have desire and wish to achieve our legitimate needs and deepest desire for the good of humanity. Fully aware about the series of conflicts in Uganda have created a huge sense of alienations, the biggest task ahead is engaging the victims and survivors of conflict in all the processes. I will continue to meaningfully engage as a civil society leader on the continent, and work towards helping others move beyond seeing justice as only the prosecution of key perpetrators, and to understand that social justice, in part, means attention, remedy, redress and care to victims who continue to suffer from multiple forms of injustices.
Our post conflict recovery programme seeks for the future of peace, justice and reconciliation in Uganda, with specific focuses on responding to the generational impact of conflicts; especially by addressing the enduring legacies of past injustices. AYINET will continue to actively participate or even take lead in conducting initiatives intended to prevent, to heal and to provide a new hope for the future; a move that will create new horizons for sustainable peace and justice, not only in Uganda but a model for Africa at large, and other parts of the world who continues to endures violent conflicts.
Videos
---
Speech Topics
---
Victims participation in Transitional Justice
Rights of victims of war crimes, crimes against humanity and genocide
African Governance and Political Leadership
Related Speakers View all
---
Bandi Mbubi

Founder, CongoCalling - Director of MannaCentre - Tr...

Dr. Scilla Elworthy

Founder of the Oxford Research Group

Van Jones

CEO of REFORM Alliance, CNN host, Emmy Award-winning...

Bill Cosby

Influential Comedian and Actor; Starred in "The Cosb...

Sir Richard Branson

Businessman & Founder of Virgin Group

Kumi Naidoo

Executive Director African Civil Society Centre

Frederick Matthews

Examiner .com Contributing Writer; Panelist WJCT Fri...

Rasheed Ogunlaru

Coach - Speaker - Author

Tonisha Pinckney

Empowerment Beyond Victimization - Author of I AM MO...

Bryan Stevenson

Founder & Executive Director of the Equal Justice In...

Akbar Gbajabiamila

Inspirational Former NFL Player & Broadcaster

Mo Stegall

Global Brand Ambassador, Motivational Speaker, Bests...

Matthew Bishop

Managing director, Rockefeller Foundation and Former...

Noam Chomsky

Professor of Linguistics and Philosophy at MIT & For...

Ishmael Beah

Storyteller from Sierra Leone, Activist & Author Kno...

Jeff Jarvis

Leader in the Development of Online News & Blogging;...

Montel Williams

Emmy Award-Winning Talk Show Host Best Known For "Th...

Archbishop Desmond Tutu

Nobel Laureate & Human Rights Activist

Tavis Smiley

Broadcaster, Author, Publisher, Advocate, and Philan...

Judge Greg Mathis

Civil Rights Activist, Television Personality
More like Victor