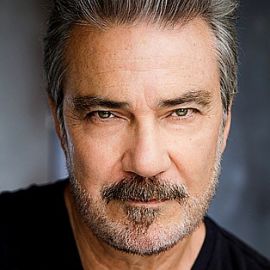 A veteran film star, best-selling author, renowned advocate for violence prevention, and the first Cuban-born football player to land a tryout with the Miami Dolphins, Victor Rivas Rivers has come a long way since being an abused, angry gang member. In fact, given his violent upbringing, few of those achievements were ever likely. If not for individuals in his community who were willing to take a stand on his behalf, Rivers doubts he would be alive today. In his beautifully crafted memoir, A Private Family Matter: A Memoir, and the upcoming sequel, A Public Family Matter: Journey of An Accidental Activist, Rivers shares his remarkable life story with the world. Now one of the most well-known domestic violence activists, Rivers uses his voice to advocate for the safety all women and children.
So how did Rivers break the cycle of violence? At age 12, Rivers visited his local police department to report a lifetime of crime inflicted upon himself, his mother, siblings and pets. Though the officers were horrified by the abuse, they could do little to stop Rivers' father. The torture perpetuated behind closed doors, they said, was "a private family matter." Finally, at age 15, Rivers took then-unprecedented legal action against his father and went to go live with a series of foster families, who spurned his transformation from rage-filled gang member to senior class president. Many of his "angels," as he calls them, were also educators. From his eighth grade teacher who literally fed him when his father instituted a starvation diet at home to his high school coaching staff who refused to let him quit the team and drop out of school, these adults gave Victor the confidence to ultimately earn a full football scholarship at Florida State University and a stint in the NFL. After being dubbed "The Longest of Long Shots" by the Miami sports media, Rivers pursued another long shot in Hollywood. In one more unlikely turn, Rivers has since attained a global following with roles in over two dozen movies, including The Mask of Zorro and The Hulk, as well as on multiple TV series, including LIFE, Law & Order LA, and Star Trek.
A masterful storyteller whose topics are as diverse as his background, Victor Rivas Rivers is deeply passionate about combating stereotypes and cultural prejudice. He shares his strategies for challenging these stereotypes with a wide range of audiences. As one of the few male voices speaking out against domestic violence, Rivers also seeks to raise awareness and activism of related forms of abuse, along with ways that individuals and communities can do more to end violence. A compelling, inspiring speaker whose hope, humor, and honesty shine through every presentation, Victor Rivas Rivers is "a big man with an even bigger heart and soul."
Videos
---
Speech Topics
---
A Private Family Matter
Cuban-born Victor Rivas Rivers tells the heartbreaking, harrowing, and ultimately triumphant story of his escape from what he calls the "war zone" of family violence. Much has changed over the years since 12-year-old Rivers, covered in burns, bruises, and welts, sought help from law enforcement but was turned away because it was then seen as a "private family matter." Today, the good news is that there are now shelters, hotlines, and legislation. The bad news is that family violence continues to be the most underreported crime in America, as it thrives in an atmosphere of silence, shame, and denial. This is much more than a family matter, it is a worldwide epidemic. In this presentation, Rivers educates and inspires those who know little about domestic abuse, as well as those who know the issue well. By sharing his story, Rivers passionately shows audiences how domestic violence can happen anywhere, and how we must all stand together to stop it.
How Are the Children? Why Domestic Violence Is Everyone's Issues
In this presentation, keynote speaker Victor Rivas Rivers asks the question, "How are the children?"—a phrase derived from a traditional Masai tribal greeting. The message behind this greeting is that if the children are well, then so is the entire community. Rivers uses his personal story of surviving an abusive home to address a host of issues that impact children throughout their lives. While acknowledging strides made by child advocates in a variety of settings, this presentation is a call to action for all members of the community to seek a much-needed coordinated response to violence—so that when asked how the children are doing, our society may collectively answer that the children are thriving.
I Am the Child That the Village Raised: How Teachers, Coaches & Schools Saved and Transformed My Life
Why does veteran film actor Victor Rivas Rivers speak out against child abuse and the impact that witnessing domestic violence has on children? Because of a special boy he knew. A boy whose first memory was of being thrown from his high chair by his abusive father. The boy was beaten, burned, tied up, locked in closets, starved, and kidnapped. That boy was Rivers himself. But thanks to those he calls "angels" in his community, he was taken in as an unofficial foster child and given the tools to transform from gang member to senior class president — what he calls his "survival tool box." The Cuban-born, best- selling author and activist also helps shine a light on the work of advocates and educators who care for children and teens. He addresses ways that our education system can better confront family violence, child abuse, bullying, and teen dating violence. Rivers connects the power of mentorship to the hopeful potential of breaking the cycle of violence in our world.
MAN UP: How Males of All Ages Offer A New Solution to An Old Problem
To worldwide fans, Victor Rivas Rivers may be best known for his portrayals of bad guys in movies. But in real life, he is one of the good guys — a leading male voice on the issue of ending violence against women and children. So why is a Hollywood "heavy" speaking out to redefine what it means to be a "real man?" Because of the domestic violence that took place in his own home while growing up. He also speaks to address ways boys and men can become more involved in taking a stand against misogyny. Drawing from lessons learned from the sports world, Rivers — an offensive lineman who played for the FSU Seminoles before a brief stint in the NFL— explores what it means to be a male role model on all fields of endeavors. Most boys and men are good men, he believes, but they can do more to "man up" as leaders in the movement to end all violence.
Crossing Borders: Lessons of a Latino Man
Today, Cuban-born film star Victor Rivas — who 30 years ago changed his name to Victor Rivers to avoid being typecast in Hollywood — knows what it means to struggle against misconceptions and stereotypes. In this presentation, Rivers recounts his journey to find his place not only as an actor, but also as an activist in the movement to end domestic violence. This candid presentation looks at new opportunities for redefining what it means to be a "macho" man in today's world, and what it means to be an immigrant in an increasingly multicultural America. "Crossing Borders" celebrates the power of diversity and Hispanic heritage, while acknowledging new opportunities for Latinos at a time of growing political and economic clout.
Books
---