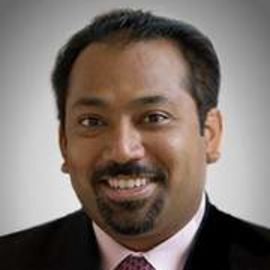 Vijay Vaitheeswaran is an award winning journalist and global correspondent for The Economist. He is currently the China Business Editor based in Shanghai. He is the author of a best-selling book on the future of global innovation, published by Harper Collins, entitled "Need, Speed and Greed: How the New Rules of Innovation Can Transform Businesses, Propel Nations to Greatness, and Tame the World's Most Wicked Problems".
Videos
---
Speech Topics
---
Need, Speed, and Greed: The Future of Global Innovation
Over the past few decades, globalization has led to one of the world's most profound and powerful innovation revolutions. However, the benefits of all this progress have not been shared equally. The wealthy now are the economic elites who mastered the new rules of global innovation – even as the middle class is being squeezed by the new global realities, and this is all just during the first phase of the revolution. As it gives way to a much greater transformation, America and other rich societies must find a path to inclusive growth or else risk being left behind by history.
In presentations, Vaitheeswaran discusses the central political and economic question of our age: How can the extraordinary benefits of the innovation revolution be shared more equitably among all of society? He addresses what these changes mean for businesses and societies the world over, offering the essential insider's guide to this new world of innovation. He discusses what drives human progress and what makes companies successful, saying that the challenges we face today require a more disruptive and swift approach to innovation than ever before. It's not about technology, creativity, or new products but rather new ways of thinking. This means that the best ideas can come from the most unlikely sources. Drawing on the best of the academic and field work in this emerging area, Vaitheeswaran inspires and empowers his audiences to improve their lives, their work, and even the world.
Energy in Today's World
With his extensive experience covering energy topics for the Economist,authoring two books on the subject, and chairing the World Economic Forum's Global Agenda Council on energy, Vijay Vaitheeswaran tackles the topic of energy. Covering the politics, economics, business, and technology issues, he helps audiences understand what the world's energy situation is, how it affects their country, and what the future will look like in terms of energy (in)dependence and how it affects regional strategic partners and geopolitics.
Doing Business in China
Does China have what it takes to transform from the cheap workshop of the world to the cutting edge of innovation? Will the country's stubborn adherence to state capitalism continue to deliver benefits at home that outweigh the growing backlash overseas against 'China Inc?' Will America's crackdown on Huawei and Chinese industrial espionage lead to meaningful protection of intellectual property and a safer business environment – or could it instead unleash a dangerous wave of techno-nationalism? Could Europe, which usually favors soft power, take a harder line against China than America when it comes to ensuring fair rules for trade? Vijay Vaitheeswaran, the Economist's China business and finance editor and Shanghai bureau chief, offers audiences sharp and unexpected insights drawn from his work on the frontlines of global busines