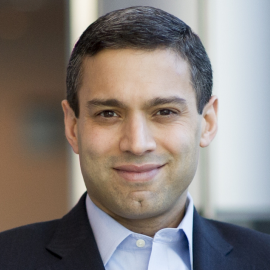 Vikram Mansharamani first gained widespread attention with his book Boombustology: Spotting Financial Bubbles Before They Burst. Since then he's gone on to show business leaders and investors how to look at the world differently in order to manage risk and navigate radical uncertainty. His strategies help them peer into the future on crucial areas like China, food, the global economy, Africa, housing, investing, financial cycles, energy, and much more. So valuable are his insights that LinkedIn named Vikram #1 on their 10 Top Voices for Money, Global Economics, and Finance for both 2015 and 2016. Worth magazine listed him on their "Power 100" list for 2017 - one of the 100 most powerful people in global finance.
Vikram believes that the future doesn't have to surprise us – and won't – if we regularly step away from our expertise and look at the world through multiple lenses. He calls this the generalist's mindset. When encountering information that seems irrelevant most people think, "So what?!" Generalists think instead, "Isn't that interesting," and look to connect disparate dots. When they do, the conclusions they draw and decisions they make may be very different from the more narrow-focused "experts." Vikram shows audiences practical ways to use this approach to spot opportunities and reduce risk.
From 2009 until 2017, Vikram was a Lecturer at Yale University where he taught three popular classes: "Financial Booms and Busts," "Economic Inequality," and "Adventures in Business Ethics." He is now a Lecturer at Harvard's John A. Paulson School of Engineering and Applied Sciences where he teaches a course called "Humanity and Its Challenges." His research is focused on navigating complex uncertainties and risk. Vikram Mansharamani is a global equity investor with more than 20 years' experience investing in public and private markets. He served as Managing Director of SDK Capital (and its predecessors) and today manages the Kelan Global Opportunities Fund, a global thematic investment partnership founded by Vikram and some of his clients.
Vikram is currently a regular contributor to Worth magazine and a columnist for the PBS NewsHour. He has also contributed to Bloomberg, MarketWatch, CNBC, Forbes, Fortune, The New York Times, The Wall Street Journal, The Atlantic, YaleGlobal, The South China Morning Post, The Korea Times, The Khaleej Times, and The Daily Beast, among others. Vikram contributed the summary chapter for the book A Force for Good (2015) synthesizing lessons drawn from the collection of essays written by the world's most prominent thinkers on the role of finance and capitalism in today's increasingly interconnected and unequal world. He is a frequently sought-after speaker by a wide range of organizations. And while corporations from virtually every industry have sought his insights, he continues to have a very strong following in the investment community.
He regularly speaks with those focused on allocating large pools of capital. Audiences of sovereign wealth funds, family offices, endowments, foundations, and registered investment advisors have found tremendous value in his unconventional thinking.
As a consultant Vikram helps clients analyze the business impact of global trends, with a particular emphasis on economic, political, and social risks that might generate instability. He conducts many executive education seminars for senior leadership teams on how to integrate disparate (and seemingly contradictory) information into actionable analysis to drive business decisions. His thematic analysis and risk management is always focused on identifying opportunities within the risks.
He currently serves on the board of the Africa Opportunity Fund (LSE: AOF), is a strategic advisor to Peter Kiewit & Sons, and has helped numerous other Fortune 500 boards and leaders. He earned a Ph.D. and MS from the Sloan School of Management at MIT, an MS in Political Science from MIT, and a BA from Yale University, where he was elected to Phi Beta Kappa.
Videos
---
Speech Topics
---
"The Generalist Advantage: Going Beyond Expertise"
Blinded by expertise and single-minded focus? It happens. But in a fast-paced world driven by complex and diverse factors, connecting the dots is often more important than developing the dots. Vikram Mansharamani shows why generalists are better-suited to navigating uncertainty in this environment than specialists; he provides audiences with real tools to help them avoid tunnel vision and think beyond their area of expertise. The talk is based on Mansharamani's much-discussed HBR blog post, All Hail the Generalist, one of the site's most-read in 2012.
Entertaining and empowering, with examples drawn from finance, politics, agriculture, medicine, and education, Mansharamani helps people manage risk and anticipate the future with intriguing specifics to convince the audience of his generalist approach.
"Global Prosperity -- Why Everything is About to Change"
As the middle-class booms in emerging nations, a global consumption boom is likely to have an unprecedented impact on a wide range of commodities -- food, fuel, precious metals -- that will impact the global standard of living. The result will be geopolitical and economic uncertainty. Vikram Mansharamani untangles these dynamics through easy-to-understand, entertaining, and engaging analysis that evaluates the effect of a ballooning middle-class on an unlikely collection of industries -- from education and entertainment to defense, finance and healthcare. Mansharamani's insights help audiences look differently at the nature of global prosperity and how it may shape their business and their future.
"The End of Cheap Food -- A Global Forecast"
Food is emerging as one of the futures most volatile assets. Shifting political, economic, climatic and societal change all factor into the equation. Vikram Mansharamani applies his multi-lens bubble-spotting approach to the key drivers of food prices in a global marketplace. He suggests that the era of cheap food is over and describes the geo-political and geo-economic ramifications of such developments -- from Wall Street to Pudong. Audiences will leave with an understanding of the dynamics of land grabs, water scarcity, and the implications of food (in)security for national defense.
"The Global Economy -- An Unconventional Look"
Europe falling apart? China collapsing? Treasury bubble popping? Japan economic implosion? Social networking bubble? Alternative energy dynamics creating geopolitical unrest? Vikram Mansharamani applies a unique combination of practitioner experience and academic perspective to help audiences navigate the seemingly unending cross-currents of global economic, financial and political developments. While audiences often find themselves agreeing with Mansharamani each step of the way, they're frequently surprised by what turn out to be unconventional conclusions.
"Spotting Bubbles Before They Burst"
In a globally dynamic environment, boom and bust cycles are more frequent than in the past. It seems there's always something that has reached unsustainable levels. The trick, of course, is recognizing it and taking action before the bubble bursts. In direct contrast to the views espoused by most academics, Vikram Mansharamani makes a persuasive case that it is possible to identify financial (and other) bubbles before they burst. He draws on entertaining and engaging examples from art markets, architecture, and popular culture -- as well as economics and politics -- and powerfully demonstrates that you do not need to be an expert to effectively anticipate the future. Audiences walk away empowered to think independently and to connect obvious dots to generate not-so-obvious conclusions.
ZOOM OUT! - THE GENERALIST ADVANTAGE
Every day, we are confronted with radical global uncertainty - political, economic, technological, societal, and market forces. To cut through the noise and confusion, we have increasingly come to rely on hyper-specialized experts to help navigate these changes. There's no doubt specialization has helped us solve important problems, but has the pendulum swung too far? Vikram Mansharamani thinks it has. He offers scores of compelling real-life examples that show how being too focused can lead us to miss the most important signals –the ones we're least primed to see. Vikram advice is counter-intuitive. He advocates opening up to get a broader view. He calls it a generalist's mindset. Generalists win by zooming out and paying attention to more than their area of expertise. When most people encounter seemingly irrelevant information, they think, "So what?!" Generalists think, "Isn't that interesting!" When they connect those disparate dots, generalists often arrive at very different conclusions from the so-called "experts." This speech gives audiences powerful tools to better anticipate the future.
Books
---
News
---
Column: What's missing in our economy? Inflation
The labor market is tightening. Wages are rising. And yet, despite very aggressive monetary policy efforts, United States central bankers have been unable to hit their inflation target. For more than four straight years, the Federal Reserve's preferred measure of inflation has been below its target of 2 percent. This has happened despite an explosion of assets on the balance sheet of the Federal Reserve, which rose from 6 percent of GDP to 24 percent between 2008 and 2016.
Related Speakers View all
---
R "Ray" Wang

Founder, Chairman & Principal Analyst at Constellati...

Richard Florida

Leading Urbanist, Economist & Author of "The Rise of...

Geoff Colvin

Editor & Columnist at Fortune Magazine; Author of "H...

Sallie Krawcheck

Founder & CEO of Ellevest; Author of "Own It: The Po...

Joseph Stiglitz

American Economist, Professor at Columbia Universit...

Jason Schenker

Top-Ranked Economist, Best-Selling Author & Presiden...

Barney Frank

U.S. Congressman (1981-2012); Chairman, House Financ...

Josh Linkner

Five-Time Tech Entrepreneur; Hyper-Growth CEO; NY Ti...

Andrew Fastow

Former CFO of Enron; Expert Keynote Speaker on Finan...

Jim Carroll

One of the World's Leading Global Futurists, Trends ...

Jeremy Rifkin

Leading Global Technologist, Futurist, Authority on ...

Erik Qualman

Top Digital Transformation Expert, Futurist & Bestse...

Anil Gupta

Leading Expert on Strategy, Globalization and Emergi...

Mike Walsh

CEO of Tomorrow; Global Nomad & Futurist; Bestsellin...

Peter Diamandis

Founder & Executive Chairman of the XPRIZE Foundatio...

Ian Bremmer

Political Scientist, Author, Entrepreneur & Lecturer

Michael Mauboussin

Wall Street Investment Strategist & Head of Global F...

Ben Stein

Political Economist, Commentator, Author & Actor

Daymond John

"Shark Tank" Investor; Founder & CEO of FUBU; Presid...

Ray Kurzweil

Chairman of Kurzweil Technologies, Inventor & Futuri...
More like Vikram