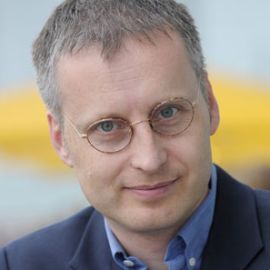 Viktor Mayer-Schönberger is an expert on the role of information in the networked economy, discussing how big data is going to changes how people live, work, and think. He is also a prolific author and the professor of internet governance and regulation at the Internet Institute at Oxford University. He has been studying data privacy, governance in virtual worlds, law and entrepreneurship, e-government, and big data and is an advocate of the right to be digitally 'forgotten' in the form of expiration dates for personal information. An expert on information law and regulation, he advises businesses, governments, and international organizations on the new economy and information society issues.
Viktor Mayer-Schnberger is co-author (with Kenn Cukier) of the business bestseller Big Data: A Revolution That Will Transform How We Live, Work and Think. Acclaimed for his ground-breaking research into the role of information in the networked economy, Mayer-Schnberger is a visionary thinker about information innovation and governance, data privacy, memory and forgetting in a digital age, electronic government, and of course big data.
He is Professor of Internet Governance and Regulation at Oxford Universitys Internet Institute and a faculty affiliate of the Belfer Center of Science and International Affairs at Harvard University. He has published eight books, including the awards-winning Delete: The Virtue of Forgetting in the Digital Age and he is the author of over a hundred articles and book chapters on the information economy.
A frequent public speaker, and sought expert for print and broadcast media worldwide, he has been featured in New York Times, Wall Street Journal, Financial Times, The Economist, Nature, Science, NPR, BBC, The Guardian, Le Monde, El Pais, Die Zeit, Der Spiegel, and WIRED.
Videos
---
Speech Topics
---
Big Data: A Revolution That Will Change How We Live, Work, and Think
In his best-selling book Big Data, Mayer-Schönberger tackles what big data is, how it will change our lives, and what we can do to protect ourselves from its hazards. "Big data" refers to our burgeoning ability to crunch vast collections of information, analyze it instantly, and draw from it sometimes profoundly surprising conclusions. Data's value has changed; it used to be that organizations collected data for a specific purpose, gathering as little as necessary because it was so expensive. Now affordable and easily analyzed, data can be collected without a specific goal and is leading organizations to surprising insights and advances. In this presentation, Mayer-Schönberger argues that big data analytics are revolutionizing the way people see and process the world – and each other. A revolution on par with the Internet, it changes the way we think about business, health, politics, education, and innovation. He explains why big data is so powerful (it is more effective than random data sampling) and how it also poses fresh threats, from the inevitable end of privacy as we know it to the prospect of being penalized for things we haven't even done yet. In a talk about the next big thing, Mayer-Schönberger helps audiences understand what they can expect from the vast amounts of information we gather and develop a data strategy for their organizations.
Information Privacy: Memory and Forgetting in the Digital Age
An advocate of the right to be 'forgotten' in the form of expiration dates on personal information, Mayer-Schönberger looks at the surprising phenomenon of perfect remembering in the digital age and reveals the importance of the human capacity to forget. While digital technology empowers people as never before, the perfect record it creates holds unforeseen consequences. In this talk, Mayer-Schönberger explains why information privacy rights and other fixes cannot help us and proposes an ingeniously simple solution – expiration dates on information – that may. He also explains how big data can help protect privacy in this increasingly digital age, as it can be used to identify and analyzing trends without accessing a person's sensitive identifying information.
Cyber Security: Strategies for the Networked World
An expert on the role of data information in the networked economy, Mayer-Schönberger looks at strategies organizations and individuals can employ to protect themselves from cyber threats, where most vulnerabilities lie, and how this issue will affect relationships between individuals, organizations, and nations in the years to come.
Innovation through Information Flows