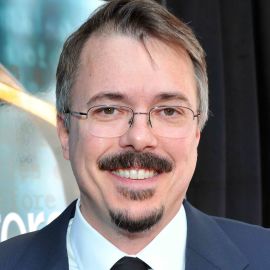 Vince Gilligan was born in Richmond, VA, and raised in Farmville and Chesterfield County. He received the Virginia Governor's Screenwriting Award in 1989 for his screenplay "Home Fries," which was later turned into a film starring Drew Barrymore and Luke Wilson.
As a writer and executive producer on "The X-Files," Gilligan shared Golden Globe Awards in 1995, 1997 and 1998 for Best Dramatic Series. His other credits include the Fox Television series "The Lone Gunmen," which he co-created, and the features "Hancock," starring Will Smith and Charlize Theron, and "Wilder Napalm," starring Debra Winger and Dennis Quaid.
After writing and directing the "Breaking Bad" pilot, Gilligan received the 2008 Writers Guild Award for Episodic Drama and accepted a Peabody Award honoring the show's first season. In 2012, the Writers Guild honored the show once more with both Episodic Drama and Drama Series Awards, and in 2013 awarded the show with the Drama Series Award once again. "Breaking Bad" earned Emmy Award nominations in 2008, 2010 and 2012 for Outstanding Directing for a Drama Series and in 2009, 2010 and 2012 for Outstanding Drama Series, was named one of the Top 10 Programs of the Year in 2008, 2010, 2011 and 2012 by the American Film Institute, and hailed in 2009 as "the best of the 21st century" by Stephen King.
He lives in Los Angeles with his girlfriend, Holly.
Related Speakers View all
---
Matthew Luhn

Former Pixar Animator, Story Artist, Creativity Expe...

Jay Shuster

Art Director & Production Designer at Pixar Animatio...

Erik Wahl

Internationally Recognized Graffiti Artist, Entrepre...

Kari Byron

Host of Discovery Channel's "Mythbusters" & Author o...

Baratunde Thurston

Futurist Comedian, Writer & Cultural Critic

Uri Levine

Entrepreneur & Co-Founder of Waze

Jason Silva

Emmy-nominated TV Personality; Futurist; Host of Nat...

Damon Horowitz

Philosophy Professor & Serial Entrepreneur, Former I...

Anna Gunn

Emmy Award Winning Actress Best Known for "Breaking ...

Tyler Perry

Actor, Writer, Producer, Comedian & Director; CEO of...

Peter Diamandis

Founder & Executive Chairman of the XPRIZE Foundatio...

Bryan Cranston

Actor, Author & Activist; Best Known for Playing Wal...

Patty McCord

Expert Human Resources Consultant, Author & Former C...

Ryan Murphy

Writer, Producer

D.B. Weiss

Executive Producer & Writer, "Game of Thrones"

Terence Winter

Emmy Award-Winning Writer, "Boardwalk Empire," "The ...

Ben Casnocha

Award-Winning Entrepreneur, Executive in Silicon Val...

Anthony Zuiker

Emmy Award Nominated Writer, Creator, Executive Prod...

Spike Lee

Academy Award-Winning Writer, Producer, Actor & Dire...

Dr. Michio Kaku

World-Renowned Futurist & Theoretical Physicist
More like Vince