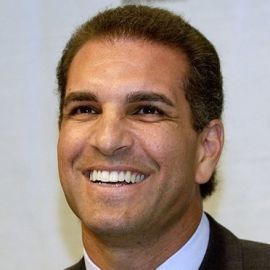 Vinny Testaverde is a former American college and professional football player who was a quarterback in the National Football League for 21 seasons during the 1980s, 1990s and 2000s. Testaverde played college football for the University of Miami, where he was an All-American and won the Heisman Trophy in 1986. Testaverde was the first overall pick in the 1987 NFL Draft, and played professionally for the Tampa Bay Buccaneers, Cleveland Browns, Baltimore Ravens, New York Jets, Dallas Cowboys, New England Patriots and Carolina Panthers of the NFL. He played in two Pro Bowls (in 1996 with the Baltimore Ravens and 1998 with the New York Jets) in twenty one seasons in the NFL.
He accepted an athletic scholarship to attend the University of Miami, where he played for the Miami Hurricanes football team from 1983 to 1986. As a senior in 1986, he was a consensus first-team All-American and won the Heisman Trophy, on his way to becoming the Hurricanes' all-time leader in career touchdown passes with 48. He was inducted into the University of Miami Sports Hall of Fame in 1998. On May 7th, 2013, Testaverde was also inducted into the College Football Hall of Fame.
Testaverde was the first overall draft pick of the Tampa Bay Buccaneers in the 1987 NFL draft. He then played for the Cleveland Browns before moving to the Baltimore Ravens, with whom he made his first Pro Bowl appearance in 1996.
Testaverde played with the New York Jets from 1998 to 2001 and again in 2005. In between he played with the Cowboys in 2004. He also played with the New England Patriots, then ended his career with the Carolina Panthers. Testaverde holds several NFL records related to his longevity in the league, including the NFL record for having thrown a touchdown pass in 21 consecutive seasons, the most losses by a starting quarterback with 123, and throwing touchdown passes to an NFL record 70 different players.
Related Speakers View all
---
Doug Flutie

Former NFL Quarterback & College Football Analyst; A...

Drew Bledsoe

Football Quarterback; Played 14 Seasons in the NFL; ...

Danny Wuerffel

Heisman Trophy-winning Quarterback & Philanthropist

Gino Torretta

A 6-foot 3-inch, 205-pound senior, Torretta was the ...

Bill Parcells

Former NFL Head Coach & Pro Football Hall of Fame In...

Tony Dorsett

College and Professional Running Back, Heisman Troph...

Trent Dilfer

Retired NFL Quarterback & Former Football Analyst fo...

Marcus Allen

Heisman Trophy Winner; Set 12 NCAA records at USC

Matt Leinart

FOX Sports 1 College Football Analyst; Former Americ...

Desmond Howard

Former NFL Player; 1991 Heisman Trophy Recipient; Co...

Sergio Garcia

Professional Golfer, Winner of the 2017 Masters Tour...

Herschel Walker

Former NFL Running Back, 1982 Heisman Trophy Winner ...

Archie Griffin

President & CEO of Ohio State Alumni Association; Tw...

Tim Brown

First Wide Receiver to Win the Heisman Trophy and Na...

Troy Smith

Former Heisman Award-Winning NFL Quarterback

Cam Newton

American Football Player in the NFL; Former Quarterb...

Johnny Rodgers

Nicknamed "The Jet" for his rapid acceleration and s...

Tony Romo

Lead NFL Game Analyst at CBS Sports & Former Dallas ...

Joe Theismann

World Champion Quarterback, Broadcaster & Entrepreneur

Tony Siragusa

Former Professional Football Player & NFL Analyst
More like Vinny