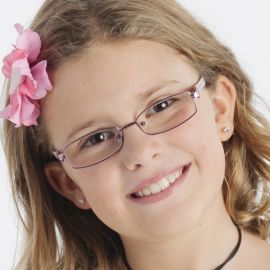 After seeing a photo of two enslaved boys her age and learning that "slavery did not end with Abraham Lincoln," 8-year-old Vivienne Harr said: "Compassion is not compassion without action. We need to do something." So, since children have done since time immemorial, she went with "the only business experience I had": a lemonade stand. But, little Vivienne had a big vision. She wanted to raise $100,000. She "made a stand" at her lemonade stand for 365 days straight, rain or shine, to "end child slavery." The world stood with her.
On day No. 52, New York Times, Pulitzer prize-winning columnist Nicholas Kristof retweeted Vivienne, and her moment became a movement. The New York Times, Bloomberg TV, The BBC World News, ABC News, NBC News, CBS News, Parenting Magazine, The New York Daily News, The Huffington Post, FOX, MSNBC, Yahoo News, MSN, AOL, Food & Wine, Town & Country, Real Simple and media outlets across the country and around the world from Australia to Brazil to France to Hong Kong have covered the Make a Stand movement.
On day No. 173, Mayor Michael Bloomberg welcomed Vivienne to Times Square to sell her famous lemonade. It was there that she reached her goal, donating $101,320 to Not For Sale, a leading anti-slavery organization. When her parents said: "You did it, honey. You're done," Vivienne said: "Is child slavery done?" They shook their heads. "Then, I am not done."
Vivienne continued her daily stand for a full 365 days, at which point she decided to bottle her organic, Fair Trade "lemon-aid"—becoming the first child in American history to bottle her lemonade-stand lemonade. She raised over $1 million to start Make a Stand, Inc. - one of the first Certified B Corps in America. Five-percent of all sales go to six leading organizations that do the most documented work in eradicating child slavery in the U.S. and around the world.
Vivienne has won numerous awards for her work, including the George H.W. Bush "Point of Light Award" and the "Crowdfunding Campaign of 2012." Town & Country recognized Vivienne one of "America's 50 Most Influential Philanthropists of 2013"; she is the youngest to make the list by 10 years. She is also an honorary member of the World Affairs Council after having introduced Twitter CEO Dick Costolo at his award dinner. As of December 5, 2013, Vivienne Harr is the youngest-ever featured speaker at a Ted Talk.
Make a Stand became a new way of doing business: A for-profit B Corporation striving to end child slavery. On November 12, 2013, The New York Times article "In a Lemonade Stand, The Transformation of a Corporation" positioned Vivienne's company as the poster child for social impact brands in America: "If done right, [Make a Stand] could not just raise money to end child slavery, but create a role model for nonprofits and all businesses." Make a Stand is served in 165 stores across the West Coast and at the food service programs at Twitter, Microsoft, Oracle, Intel, Netflix and others.
The children's book she illustrated with her mother is now available worldwide. A feature length-documentary film titled: #standwithme about Vivienne's story will be released in theaters across America in February 2014. Vivienne will also host a new network TV series tentatively-titled "Kid MissionPossible" (produced by Endemol) to air in 2014. She will be a speaker at Wisdom 2.0 Summit in February, 2014.
Of their roughly 230 million users, including A-list celebrities, humanitarian organizations and heads of state, Twitter gave Vivienne the honor (and it was a profound honor) of ringing the bell at their IPO in New York on November 7, 2013 because executives believed Vivienne is a symbol of how Twitter can be used to change the world.
Vivienne's new 501(c)3, The Make a Stand Foundation, seeks to deliver on Vivienne's vision: "I want to help free the 18 million children in slavery and keep them safe. Free and safe."
She has become a leading global voice in the fight against child slavery. She's just getting started.
Vivienne Harr just turned 10.
Related Speakers View all
---
Amanda Lindhout

Executive Director of The Global Enrichment Foundati...

Brown Johnson

Executive Vice President and Creative Director at Se...

Sherrie Westin

President of Social Impact & Philanthropy at Sesame ...

Maia Mitchell

Australian Actress and Singer; Disney's "Teen Beach ...

Raini Rodriguez

Disney Actress and Singer; Best Known as Trish on "A...

G. Hannelius

Child Actress, Singer, and Budding Fashionista

Dove Cameron

Disney Channel Actress & Singer; Best Known for "Liv...

Sophia Grace Brownlee

Youtube Sensation and Frequent Guest on The Ellen Show

Lisa Kristine

Fine Art Photographer Specializing in Indigenous Peo...

Chloe Lukasiak

Dancer, Actress, Model, Author, Cast Member of "Danc...

Jasmine V

American R&B and Pop Singer

Bella Thorne

Model, Actress & Author

Yael Cohen Braun

Co-Founder & Board Chair of F*ck Cancer; Founder of ...

Djimon Hounsou

Actor, Producer, Humanitarian, Founder of the Gate o...

Olivia Holt

Actress & Singer

Laura Marano

Teen Actress and Singer; Stars on Disney's "Austin &...

Ashley Benson

Actress, Best known for her role on "Pretty Little L...

Jessica Seinfeld

Founder & President of GOOD+ Foundation; Author of F...

Jennette McCurdy

Actress and Country Pop Singer; Known for her Nickel...

Debby Ryan

American Actress, Singer & Star of Disney Series "Je...
More like Vivienne