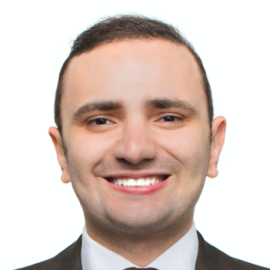 Vladimer Botsvadze
Globally-Renowned, Multi-Award Winning, Digital Transformation & Social Media Influencer, Fortune 500 Consultant, Thought Leader, Professor, TV commentator
Vladimer Botsvadze is a globally-renowned, multi-award-winning, digital transformation and social media influencer, Fortune 500 consultant, thought leader, professor, keynote speaker, and TV commentator. He has 15 years of marketing and tech experience working with the world's best brands to initiate change and drive growth. He has been called ''the world's best digital marketing consultant and speaker'', ''a visionary and an early adopter in the digital realm'', and ''a wizard at social media'' by his audiences. He's the first global influencer who achieved ''The Sevenfold Crown'' No. 1 Marketing, AI, Retail, Management, Sales, Digital Transformation, and Innovation global ranking by Thinkers360. He is ranked No. 2 Global Retail Tech Influencer by GlobalData. Onalytica included him among Top 100 B2B Marketing, Top 100 Digital Transformation, Top 100 Fintech, and Top 100 VR Influencers. He has won 200 global awards. He is among the world's Top 20 Social Media and Marketing Speakers by Social Media Club in 2020. Vladimer is ranked among the Top 350 Most Influential Investors and Entrepreneurs by Crunchbase alongside Ellen DeGeneres, LeBron James, Jessica Alba, and others. He is a speaker at Global Entrepreneurship Network where he inspires audiences to build their startups. Vladimer has risen to global prominence by becoming a top influencer on Twitter (56,600 followers), LinkedIn (24,200 followers) and Instagram (11,000 followers), a total of 125,000 engaged followers from 1142 cities and 185 countries across all his social media platforms. His work inspires 40 million people annually on Twitter where his insights impact global businesses. He has published some of the most shared and talked articles and social media posts. His work focuses on the intersection of storytelling, practicality, consumer behavior, and social media marketing.
Vladimer is widely recognized for his visionary leadership and trailblazing innovation. Through his consulting, speaking, teaching, startup advising, and mentoring services, companies have grown from a groundbreaking idea into the fastest growing companies. He has been recommended by the professionals from London Business School, Google, KPMG, MasterCard, AC Milan, Forrester Research, PepsiCo, Dell, Accenture, and other leading global brands. Top brands achieved $3.5 billion growth in revenue through Vladimer's practical marketing growth strategies. His clients attain record-breaking success and he has been interviewed by TV channels, radio shows, podcast episodes on topics related to social media and digital transformation. Vladimer is a member of CMO Council, IoT Council, IoT Premier League, Global Entrepreneurship Network, XR4ALL, Amsterdam Economic Board - Amsterdam Smart City, Sydney Startup Hub, Singapore Startup Hub, ResearchGate, D&AD, and Singularity University. He has been interviewed by Onalytica, Thinkers360, Emerging Europe, Kred, and Engati Engage. Vladimer has been recommended 31 times on LinkedIn by the world's leading brands and his results have always exceeded expectations. Therefore, his clients have reinvented themselves in the digital age, achieved record-breaking success and they are prepared for the connected future. Across the globe, he makes marketing more human and delivers powerful results, as a result brands become strong, smart, and strategic. Vladimer's keynote speeches bring you more new ideas and more sales.
Vladimer is leading a movement to help executives discover practicality in marketing and he has devoted his life to sharing his actionable tips on social media and digital marketing that help managers build their personal brands. He delivers keynote speeches at tech and marketing summits, advises Fortune 500 brands, mentors top executives, delivers lectures at Financial Times top 100 business schools, and advises startups worldwide. The world capitalizes on his extensive industry knowledge and some of the reasons why so many successful managers utilize his practical strategies when it comes to marketing, economics, retail, management, and artificial intelligence. He has worked on billion-dollar marketing projects with Fortune 500 brands and his practical marketing and social media strategies have inspired the top executives to quadruple their results.
As a tech speaker, Vladimer serves as an investor and advisor to companies. He also advises boards and executive teams of the world's most powerful brands and government agencies. Vladimer can also work on non-executive director roles for ongoing support and he enjoys coaching and mentoring individual executives. He has developed an outstanding stage presence who delivers inspiring talks. He helps brands, executives, and entrepreneurs see the future differently. He inspires audiences to think outside the box and sets a new standard on how brands maximize their success online. He is a renowned influencer and a frequent visitor to all continents where he is on a mission to make a difference and impact as many business owners as possible. Vladimer helps and inspires executives to prepare for the future of work. He assists entrepreneurs and managers in building future-ready organizations for the 21st century. He mentors executives with unique ideas to boost their impact and create lasting legacies. He delivers game-changing live and virtual keynotes to drive powerful changes. Whether it's a conference audience of 2,000, a masterclass of 30, or a virtual event with your remote workforce, Vladimer will leave audiences inspired and full of ideas. Vladimer supports the leadership team with real-world experiences. He offers a full range of services from game-changing trend analysis, to online training, executive workshops, virtual meetings, and intensive one-on-one mentoring If you're considering a virtual conference, online meeting, or webinar series, Vladimer has you covered. He delivers a customized keynote experience and he is a powerful storyteller.
Vladimer's motto is Henry Ford's quote: ''Coming together is a beginning; keeping together is progress; working together is success.'' Millions of people have utilized his strategies in New York, Los Angeles, Chicago, Toronto, London, Paris, Madrid, Milan, Berlin, Copenhagen, Stockholm, Istanbul, Doha, Dubai, Singapore, Shanghai, Tokyo, Singapore, and Sydney. As the world's No. 1 Marketing, AI, Sales, Retail and Management thought leader by Thinkers360, he is frequently invited to top business schools, organizations, conferences, and podcast episodes to deliver his talks. With an outstanding global audience of 125,000 people, game-changing projects bring him to inspire managers all over the world. He frequently visits the UK to speak at top universities to share his award-winning expertise with students. He's always ready to join conferences, panel discussions, and roundtables to inspire audiences with world-class insights on the latest trends. Business schools, Fortune 500 brands, and conferences stay ahead of the game because of his partnerships. Also, top brands achieve massive visibility and he works on influencer marketing programs with Fortune 500 brands. He is always driven to work with top executives to successfully contribute to their marketing goals. He has proven success in delivering world-class marketing strategies. Vladimer is ranked by Klear and Kred in the top 1% of global social media influencers. Millions of people around the world have recognized his inspirational insights. Millionaire entrepreneurs seek his advice and presentations, masterclasses and online publications turn managers into practitioners. Vladimer has been praised by American Airlines, Intel, and Jaguar for his unparalleled experience, unrivaled track record and unmatched professionalism. If you wish to maximize your success, he's always the right person to have him at your event, corporate meeting, or lecture to inspire your audience. Connect with Vladimer to learn how he can help grow your brand and book him for your next event or learn more about consulting, training, and startup advising services.
Videos
---
Speech Topics
---
1. Build Your World-Class Personal Brand
Accelerate Your Personal Brand's Growth Through Social Media
Learn global social media personal brand building strategies from Vladimer's first-hand experience. Understand how to create an engaging content. Explore what it means to be an influencer and understand the importance of networking and community building.
2. Drive Your Sales Growth Forward
Skyrocket Your Sales Growth in the New Economy
Learn drivers of performance mindset. Explore the keys to effective social selling. Conduct your own ''growth audit.'' Stand out and win through putting clients first.
3. Prepare to Win in a 2030 World
Embrace the Change in the Future Economy
Build high-trust, high-value relationships. Effectively use emerging technology to thrive. Understand the impact of social connections.
4. 3 Major Technologies That Will Play a Major Role in 2020
Maximize Your Business Success Through Integrating Emerging Technology Trends
AI will not only improve productivity, but also transform how brands create growth. Experience growth in your sales by integrating AR/VR into your business. 5G means richer content for brands and customers, which will drive global economic growth by creating 22 million jobs and enabling $12.3 trillion output of industry good and services.
5. Innovate Fast or Get Left Behind
Technology Will Disrupt Everything on the Horizon
Bookstores were first, then it was people who owned taxi services, which was followed by the hotel industry that was disrupted by Airbnb, and it will keep happening. Explore why voice assistants will dominate this decade. Understand the importance of convenience and speed in business.
Related Speakers View all
---
Joe Gebbia

Co-Founder, Chief Product Officer, Airbnb

Don Levy

Media, Entertainment, and Technology Executive & Adv...

Scott Galloway

Founder of L2 & Clinical Professor of Marketing at t...

Igor Beuker

World Authority on Marketing and Media

Esther Dyson

Executive Founder of Way to Wellville

Nick Westergaard

Chief Brand Strategist, Author, Educator

Thomas Crampton

Global Chair, Digital at Edelman

Marc Simons

Co-Founder of Giant Spoon

Kate Rutter

Co-Founder & Principal at Luxr; Expert in User Exper...

Hunter Walk

Currently, Partner at Homebrew. Previously served as...

Peter Thiel

Former CEO and Co-founder of PayPal; Technology Entr...

Brian Solis

Digital Analyst, Futurist & Author of "What's the Fu...

R "Ray" Wang

Founder, Chairman & Principal Analyst at Constellati...

Jeff Jarvis

Leader in the Development of Online News & Blogging;...

Will Cady

Head of Brand Strategy at Reddit

Nik Sharma

Head of DTC at VaynerMedia

Cynthia Johnson

Top Personal Branding Expert, Co-Founder of Bell +Iv...

Nina Yiamsamatha

Product Marketing Manager at Instagram

Rebecca Lieb

Strategic Advisor & Research Analyst at Kaleido Insi...

Jason Falls

Digital Strategist, Social Media Marketing Influence...
More like Vladimer