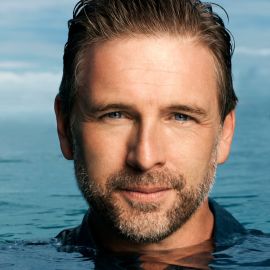 Dr. Wallace "J." Nichols is a scientist, wild water advocate, community organizer, author and dad.
He takes a slow, collaborative approach with leaders in businesses, government, non-profits and academia to inspire a deeper connection with nature and inventive solutions to pressing issues.
J knows that inspiration comes sometimes through adventures, or simply by walking and talking. Other times through writing, images and art. Science and knowledge can also stoke our fires.
But he also knows that what really moves people is feeling part of and touching something bigger than ourselves.
His research and expeditions have taken him to coasts and waterways across North, Central and South America, to Asia, Africa, Australia and Europe where he continually finds that the emotional connection to waters of all kinds--rather than force of finacial gain--is what keeps his colleagues and collaborators working hard to understand and restore our blue planet.
J is a Research Associate at California Academy of Sciences and co-founder of OceanRevolution.org, an international network of young ocean advocates, SEEtheWILD.org, a conservation travel network, GrupoTortuguero.org, an international sea turtle conservation network, and LiVBLUE.org, a global campaign to reconnect us to our water planet.
He has authored and co-authored more than 50 scientific papers and reports and his work has been broadcast on NPR, BBC, PBS, National Geographic and Animal Planet and featured in Time, Newsweek, GQ, Outside Magazine, Fast Company, Scientific American and New Scientist, among others.
Nichols earned his Bachelor's degree in Biology and Spanish from DePauw University, an Master's of Environmental Management in Environmental Policy and Economics from Duke University's Nicholas School of the Environment, and his PhD in Wildlife Ecology from the University of Arizona's School of Renewable Natural Resources where he received both a Marshall Fellowship and a Fulbright Fellowship. In 2010 he delivered the commencement address at DePauw University where he also received an honorary doctorate in science. In May 2014 he will receive the University of Arizona's Global Acheivement Award.
He advises a motivated group of international graduate students and serves as an adviser to numerous non-profit boards and committees as part of his commitment to building a stronger, more progressive and connected environmental community.
J lives with his partner Dana, two daughters and some cats, dogs and chickens on California's SLOWCOAST, a rural stretch of coastal mountains where organic strawberries rule, mountain lions roam and their motto is "In Slow We Trust". The Nichols chose to settle down in this area after trekking the entire 1,800 kilometer coast from Oregon to Mexico. "We like it here," Nichols said.
Lately J and his team are working on the Blue Mind Collective, merging the fields of cognitive science and aquatic exploration, and sharing their findings across many diverse sectors of society with the goal of increasing appreciation for healthy oceans and waterways. His book "Blue Mind" was published in summer 2014 by Little, Brown & Company.
Videos
---
Related Speakers View all
---
David Guggenheim

Marine Scientist, Conservation Policy Specialist & P...

Margaret Spring

Chief Conservation Officer and Vice President, Conse...

Paul Bunje

Senior Director, Oceans XPRIZE

Kelsey Leonard

Advocate & Expert on Water & Climate Justice for Ind...

Tim Flannery

Environmentalist, Explorer & Author

Bob Kopp

Climate Scientist, Geobiologist & Climate Policy Sch...

Asmeret Asefaw Berhe

Biogeochemist, Political Ecologist & Associate Profe...

Rhea Suh

President of National Resources Defense Council

Victoria Herrmann

Managing Director of The Arctic Institute

Boyan Slat

Inventor, Entrepreneur & Founder of The Ocean Cleanup

David Nemtzow

Building Technologies Office Director, Office of Ene...

Jennifer Ackerman

Award-Winning Author & Writer

Dr. Sylvia Hood Washington

Chief Environmental Research Scientist at Environmen...

Alasdair Harris

Ocean Conservationist & Entrepreneur

Kartik Chandran

Environmental Engineer & Associate Professor at Colu...

Buzz Thompson

Robert E. Paradise Professor of Natural Resources La...

Julia Roberson

Director, Strategic Communications and Ocean Acidifi...

Barry Gold

Director, Environment Focus Area, Walton Family Foun...

Steven Gaines

Dean, Bren School of Environmental Science and Manag...

Laurel Firestone

Co-Executive Director & Attorney at Law at Community...
More like Wallace