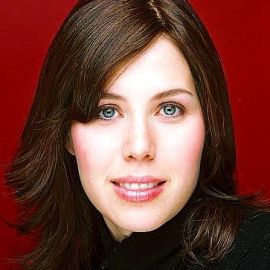 Topics
A Return to Modesty: Discovering the Lost Virtue
The Good Girl Revolution: Young Rebels with Self-Esteem and High Standards
Premise
With humor and piercing insight, Shalit invites us to look beyond the blush and consider the new power to be found in an old ideal. She maintains that the sex education curriculum forced on those of her generation from an early age is fundamentally flawed.
Biography
Wendy Shalit was born in Milwaukee, Wisconsin, and received her Bachelor of Arts in Philosophy from Williams College in 1997. Her essays on literary and cultural topics have appeared in the Wall Street Journal, The New York Times and other publications.
Her first book, A Return to Modesty: Discovering the Lost Virtue, was published by the Free Press in 1999.
The response from young women around the world prompted her to launch the group blog ModestlyYours.net, an online forum for women who don't have a voice in the mainstream media. Her second book, The Good Girl Revolution: Young Rebels with Self-Esteen and High Standards, challenges the "bad-girl script" fed to girls as young as age 4, and showcases a new generation of role models. According to Dr. Patricia Dalton, clinical psychologist in practice in Washington, D.C.:
"When Wendy Shalit wrote A Return To Modesty in 1999, she knew which way the cultural winds were blowing. Since that time, the sleaze factor in our culture has worsened in ways about which numbers of people now express dismay. But in her new book, Wendy Shalit has documented voices of real girls who are raising important questions about the culture around them. Many of these individual girls are taking action to counter this prevailing culture--putting a new slant on counter-cultural. The Good Girl Revolution profiles girls and young women who think for themselves. They are proud of who and what they are, and are making the choices that will allow them to continue to feel this way."
COMMENTS FROM CLIENTS
"I cannot express to you how grateful I am to you for coming and speaking last night. It was one of the best turnouts we've ever had for an event, and the audience was probably the most receptive I've ever seen. It was such a pleasure meeting you, and you have been such an inspiration to myself, and I'm sure everyone in that audience last night. "
Jenna Felts, Fordham University
Videos
---
Related Speakers View all
---
Xiuhtezcatl Martinez

Indigenous Climate Activist, Hip-Hop Artist, Author ...

Emma Gonzalez

Activist & Advocate for Gun Control

Alan Forrest Smith

Philosopher, Hair Specialist Known as "The Salon Punk"

André Hoffmann

President of Mava Foundation; Vice Chairman of Hoffm...

Bob Kulhan

Adjunct Professor of Business Administrations CEO, ...

Susanne Althoff

Veteran Journalist, Professor & Author

Michael J. Coles

Co-Founder of Great American Cookie Company & Former...

Erik Duffield

GM of Experience Management Practice & Asset Solutio...

Greg Jenkins

Founder & CEO of Greg Jenkins Consultant; Diversity ...

Roni Frank

Co-Founder & Head of Clinical Services at Talkspace

Evan Ehrenberg

Forbes 30 Under 30 in Healthcare; Cofounder, Clara H...

Sol Chen

Forbes 30 Under 30 in Healthcare; Cofounder, Clara H...

Isadora Ferraz Coelho

North America Partner Training Lead, Facebook

Aaron Pressman

Senior Writer at Fortune Magazine

Jane Wiseman

VP Original Series at Netflix

Nick Grad

Co-President, FX Networks

Eric Schrier

Co-President, FX Networks

Kent Alterman

President, Comedy Central

Tom Rothman

Chairman, Motion Picture Group, Sony Pictures Entert...

Jamie P. Merisotis

CEO of Lumina Foundation
More like Wendy