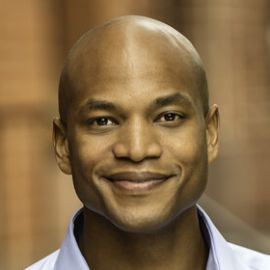 Wes Moore is the Chief Executive Officer of Robin Hood, one of the largest anti-poverty forces in the nation. He is a bestselling author, a combat veteran, and a social entrepreneur.
Wes' first book, "The Other Wes Moore," a perennial New York Times bestseller, captured the nation's attention on the fine line between success and failure in our communities and in ourselves. That story has been optioned by executive producer Oprah Winfrey and HBO to be made into a movie. He is also the author of the bestselling books "The Work," "Discovering Wes Moore," and "This Way Home."
Wes' next book, "Five Days," will be published by Penguin Random House later this year. It explores the uprisings in Baltimore in 2015 after the death of Freddie Gray in police custody through a kaleidoscope of perspectives and examines critical questions about the deeper causes of violence and poverty.
Wes grew up in Baltimore and the Bronx, where he was raised by a single mom. Despite childhood challenges, he graduated Phi Theta Kappa from Valley Forge Military College in 1998 and Phi Beta Kappa from Johns Hopkins University in 2001. He earned an MLitt in International Relations from Oxford University as a Rhodes Scholar in 2004. Wes then served as a captain and paratrooper with the U.S. Army's 82nd Airborne, including a combat deployment to Afghanistan. He later served as a White House Fellow to Secretary of State Condoleezza Rice.
Before becoming CEO at Robin Hood, Wes was the founder and CEO at BridgeEdU, an innovative tech platform based in Baltimore addressing the college completion and job placement crisis by reinventing freshman year for underserved students. BridgeEdU was acquired by Edquity, a Brooklyn-based student financial success and emergency aid firm, in June 2019.
Wes has also worked in finance as an investment banker with Deutsche Bank in London and with Citigroup in New York.
Wes has served on numerous nonprofit and social-impact boards and is a lifetime member of the Council of Foreign Relations.
The joy of Wes' life are his two children and his wife Dawn.
Speech Topics
---
The Other Wes Moore: One Name, Two Fates
New York Times best-selling author and youth advocate Wes Moore knows that being a leader, both in your personal life and in the business world, comes down to one thing: personal responsibility. Drawing on his experiences as a leader in the public and private sectors and in the military, Moore explains that embracing your own personal responsibility – and holding yourself accountable for your choices – is a quality that makes great "transformational leaders": leaders who create a vision, then inspire and empower those around them to execute that vision.
Responsible Corporate Citizenship & the Real-Life Ramifications
In this presentation, Wes Moore focuses on social innovation and corporate citizenship. How do we define a well rounded leader in this era? What should be his/her ethics, management goals, community responsibilities, and family focus? Most importantly, what are the benefits to be realized with this new kind of leadership?
Transformational Leadership: Evolve, Adapt, Inspire
To Wes Moore, leadership is not about assigning tasks or delegating – it is about inspiring those around you to achieve a greater good, while empowering them to take charge of the tasks at hand. Oftentimes, leaders get too caught up in the details while failing to see the bigger picture: that what makes a good leader is the ability to adapt and evolve, while cultivating employees to become successful and accountable without micromanaging them. In this presentation, Moore shares his personal story – how he overcame adversity and went on to become a highly successful leader in the public sector, private sector, and military – relating it to leadership audiences from all walks of life.
The Transformative Power of Education
Keynote speaker Wes Moore is committed to being a positive influence and helping kids find the support they need to enact change. Pointing out that a high school student drops out every nine seconds, he says that public servants – the teachers, mentors, and volunteers who work with our youth – are as imperative to our national standing and survival as are our armed forces. "Public service does not have to be an occupation," he says, "but it must be a way of life."
The Work: The Quest For Our Work That Matters
How do we find a sense of purpose and completion in our lives? For some it is very intentional, for some, by accident. Purpose can be found within the private, public, government, military and nonprofit sectors. But universally, people living with a sense of purpose have one thing in common: they live their lives for others. Wes Moore explores the quest for purpose through nine lives, and identifies how individuals can find a sense of completion in unique and unforgettable ways. By looking at the unsung heroes who live among us, we can better understand how each of us has the power to change the world.
Related Speakers View all
---
Hill Harper

Actor, Author & Philanthropist; Best Known For "CSI:...

Erin Gruwell

Founder & Executive Director of the Freedom Writers ...

J.R. Martinez

Actor, Best-Selling Author, Motivational Speaker, Ad...

Montel Williams

Emmy Award-Winning Talk Show Host Best Known For "Th...

Daymond John

"Shark Tank" Investor; Founder & CEO of FUBU; Presid...

Bakari Sellers

Author, Attorney, Political Commentator & Youngest A...

LeVar Burton

Literacy Advocate & Actor Known for "Roots," " Star ...

DeRay Mckesson

Civil Rights Activist & Host of "Pod Save The People"

Angela Davis

Feminist, Social Activist, Professor & Writer

Donna Brazile

Veteran Political Strategist, Bestselling Author, Fo...

Baratunde Thurston

Futurist Comedian, Writer & Cultural Critic

Nikki Giovanni

Poet, Educator & Best-Selling Author

Geoffrey Canada

Inner-City Youth & Education Advocate

Ice-T

Rapper, Record Producer, Actor Known for "Law & Orde...

Lisa Leslie

WNBA Champion, Olympic Gold Medalist & Author of "Do...

Van Jones

CNN Political Contributor; Author; Human Rights, Edu...

Charles Blow

Visual Op-Ed Columnist for The New York Times; CNN C...

Shiza Shahid

Entrepreneur, Technologist, Investor, Impact Leader ...

Stephen A. Smith

Sports Journalist, Analyst and Talk Show Host Known ...

Eduardo Briceño

Growth Mindset and Improvement Expert; Co-Founder & ...
More like Wes