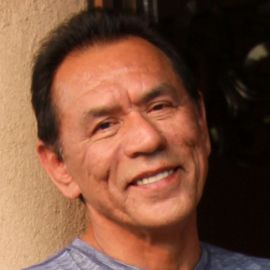 From small-town Oklahoma native to internationally acclaimed actor and musician, Wes Studi credits his passion and multi-faceted background for his powerful character portrayals that forever changed a Hollywood stereotype.
Drawing from his rich life experience, Studi moved audiences with unforgettable performances in "Dances with Wolves," "The Last of the Mohicans," "Geronimo: An American Legend," and "Heat," as well as James Cameron's "Avatar," Paul Weitz's "Being Flynn" and Scott Cooper's "Hostiles." Breaking new ground, he brought fully-developed Native American characters to the screen, and then took his craft a step further highlighting the success of Native Americans in non-traditional roles.
In 2019, he received the Academy of Motion Picture Arts and Sciences' Governors Award, an honorary Oscar statuette, given to honor extraordinary distinction in lifetime achievement.
In 2018, Studi, a Vietnam Veteran, was invited to present at the 90th Academy Awards. To a viewership of 26.5 million households, he introduced a video montage of military movies as a tribute to our veterans.
He was inducted in to the National Cowboy & Western Heritage Museum's Hall of Great Western Performers in 2013. Throughout his 30-year career he's won numerous awards, including several First Americans in the Arts awards and the 2009 Santa Fe Film Festival Lifetime Achievement Award.
Interestingly, acting was never a goal in Studi's youth. Unlike many actors who dive into performing at an early age, he discovered acting later in life.
The eldest son of a ranch hand, Wes Studi was born in 1947 in Nofire Hollow, in Northeastern Oklahoma. He spoke only his native Cherokee until he was 5, when he was enrolled in the Murrell Home to attend public school. He later attended the Chilocco Indian Boarding School in Northern Oklahoma, where he remained through high school graduation. Yet, unlike many fellow Native American students, he never forgot his language.
He joined the U.S. Army and while stationed at Fort Benning, Georgia, stories from returning Vietnam War veterans set his blood on fire. With only 12 months of his six-year service left, Wes volunteered to go to Vietnam. He served one tour in South Vietnam with the 9th Infantry Division in the Mekong Delta, living his own future war stories. At one point his company was pinned down in the Mekong Delta – and nearly killed – by friendly fire.
After an honorable military discharge, he returned home with a fire in the belly, and became seriously involved with Native American politics. He joined the American Indian Movement (AIM) and participated in the Trail of Broken Treaties protest march in 1972, where hundreds of Native American activists marched on Washington. He was one of the protesters who briefly occupied the Bureau of Indian Affairs Building there. In 1973, Wes participated in the occupation at Wounded Knee, South Dakota, for which he was arrested.
Studi now sees his political activism as a form of post-Vietnam catharsis. "I began to purge the bad feelings within myself," he says, adding that he joined the resisters because "I wanted to make myself a viable part of the machinery that affected my people."
Recognizing his current path could lead to self-destruction, he changed course and channeled his feelings toward positive change. Shortly after Wounded Knee, he moved to the Tahlequah, Oklahoma, where he worked for the Cherokee Nation, and helped start the Cherokee Phoenix, a bilingual newspaper still in publication today. During that time he put his linguistic skills to work and began teaching the Cherokee language in the community. Later attending Northeastern University in Tahlequah, he made further attempts at positive influence in his work with his people.
After college, Studi shifted his attention to running his own horse ranch and became a professional horse trainer. It was during this era that he began acting at The American Indian Theatre Company in Tulsa in 1983, where he found both the adrenaline rush he craved and the cathartic release he needed. "When you're able to release those feelings in an acting form, it's healthier than leaving them inside," he says of discovering acting.
Studi first took the professional stage in 1984 with "Black Elk Speaks" and has never looked back. As his success grew on stage, he expanded to productions for Nebraska Public Television in the summer of 1985. Not long after, he moved to Los Angeles, landing his first film role in "Powwow Highway" and making his TV debut in a small role in the ABC TV-movie "Longarm" in 1988.
In 1990, he portrayed a terrifyingly memorable Pawnee warrior in "Dances with Wolves." Two years later he landed the role of Magua in Michael Mann's "The Last of the Mohicans," the performance that put him on the map.
He drew on his own combat training, anger and sense of enforced isolation for his riveting depiction of the vengeful Magua. He soon became known for his film roles portraying strong Native American characters as he strove to portray them with poignancy and authenticity.
He went on to play the title character in the Walter Hill-directed film "Geronimo: An American Legend" (1993) alongside veteran actors Gene Hackman and Robert Duvall, for which he won a Western Heritage Award. He also made memorable appearances in such films as "Heat" (1995) as Al Pacino's partner, "Deep Rising" (1998) and "Mystery Men" (1999). In 2002, he brought legendary character Lt. Joe Leaphorn to life for a series of PBS movies produced by Robert Redford and based on Tony Hillerman's books "Skinwalkers," "Coyote Waits," and "A Thief of Time."
In 2018, Studi was invited to present a tribute to military veterans at the 90th Academy Awards. During his presentation, he shared the following in his native Cherokee language: "Hello. Appreciation to all veterans & Cherokees who've served. Thank you!"
Wes Studi's other notable film credits include: "The Only Good Indian," which he also produced, James Cameron's Academy Award-winning "Avatar," "Hostiles," "The New World," "Street Fighter," "Seraphim Falls," "Three Priests," and such prestigious television movies as "Crazy Horse," "Comanche Moon," "Streets of Laredo," "Broken Chain," "Bury My Heart at Wounded Knee" and "Bandland." His television credits include Showtime's "Penny Dreadful," "The Mentalist," "Hell on Wheels," and General Abner in "Kings."
At home, Studi's artistic talent extends well beyond acting. He's a skilled stone carver, working primarily in soapstone and other soft stones. He's also an accomplished musician. Playing bass and guitar he fronts the band Firecat of Discord with his wife, singer Maura Dhu, primarily performing original music. Firecat released their first self-titled CD in 1998, touring the U.S. in 2000. Their music was also featured in the short film Bonnie Looksaway's "Iron Art Wagon," which Wes directed.
Additionally, he wrote two children's books, "The Adventures of Billy Bean" and "More Adventures of Billy Bean" for the Cherokee Bilingual/Cross Cultural Education Center. In 2006, Wes was honored with the Golden Boot Award.
Studi remains a passionate activist and academic. He's taken a national leadership role in the promotion and preservation of indigenous languages, acting as the spokesperson for the Santa Fe-based Indigenous Language Institute, and working as a language consultant on several films, including "Avatar" and the PBS documentary "We Shall Remain." He's also active in encouraging the next generation of filmmakers and performers, providing mentorship and participating in apprenticeship programs.
Wes Studi and his wife Maura live in Santa Fe, N.M. They have one son, Kholan. Wes also has a son, Daniel, and a daughter, Leah, from a previous marriage.
News
---
Meet Wes Studi, a charismatic late-blooming actor | Newsday
Wes Studi was a late bloomer. The American Indian actor, 70, a Cherokee from Oklahoma, didn't appear in his first film until he was in his 40s. But since then the charismatic performer, a Vietnam War vet and former rancher, has mesmerized audiences with his portrayals of American Indian warriors ("Dances With Wolves,"  ...
Related Speakers View all
---
Evan Adams

Physician; Former Actor/Playwright/Producer

Chaske Spencer

Actor and Activist Born of the Lakota Sioux Tribe an...

Martin Sensmeier

Actor, Known for "The Magnificent Seven"

Booboo Stewart

Actor Best Known for Playing Seth in "The Twilight S...

Mahershala Ali

Academy Award Winning Actor, Known for "Moonlight" a...

Diane Guerrero

Immigration Reform Activist & Actress Known for "Ora...

Regina Hall

Actress Known for "Scary Movie," "The Best Man" & "A...

Tyler Blackburn

Actor Best Known for his Role as Caleb Rivers on the...

Justice Smith

Film & TV Actor; Best Known for "Paper Towns," "Jura...

Carl Franklin

Actor, Director & Producer Known for "Devil in a Blu...

Graham Greene

Native Canadian Actor Known for "Dances with Wolves"...

Hugh Grant

British Actor and Film Producer Known for His Roles ...

Charles D. King

Entrepreneur, Investor, Activist, Producer, CEO of M...

Royce Mann

Poet, Actor, Activist & Filmmaker

Camila Mendes

Actress Known for Portraying Veronica Lodge in "Rive...

Rick Famuyiwa

Director, Producer & Screenwriter; Known for "The Wo...

Danny Pino

Actor, Known for "Law and Order: SVU" and "Cold Case"

Bill Skarsgård

Actor & Producer

Daniel Kaluuya

British-Ugandan Actor Known for "Get Out," "Black Pa...

Ruben Santiago-Hudson

Award-Winning Actor, Director, and Playwright; Best ...
More like Wes