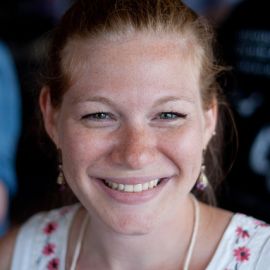 Whitney Hess helps creative leaders choose empathy to evoke the genius in everyone. Her life's mission is to put humanity back into business.
Since 2013, Whitney has coached more than 75 teams and individuals at leading companies around the world. With her structured guidance and compassionate support, her clients connect with their audience's needs and their own needs to develop better strategies for long-term success.
She lives this work first-hand. After more than a decade as a high-profile user experience consultant to Fortune 500s, early-stage startups, and world-renowned institutions, Whitney transitioned to coaching to make an even greater impact. Her holistic, multidisciplinary approach combines Integral Coaching, nonviolent communication, social and emotional intelligence, mindful self-compassion, Eastern philosophy, and whatever she learns next.
Whitney writes on her blog Pleasure & Pain, co-hosts the podcast Designing Yourself, and speaks at conferences and corporations worldwide. She holds a Masters in Human-Computer Interaction from Carnegie Mellon University, and became a Certified Integral Coach through New Ventures West in 2014. In 2015, she earned her Professional Certified Coach credentials from the International Coach Federation.
She and her sailor-chef Fredrick live aboard s/v Jenny, their 1980 Endeavour 37′ sloop, currently docked in San Diego, CA. They are in the early stages of planning their circumnavigation.
Videos
---
Speech Topics
---
Do You Speak Jackal or Giraffe? Resolving Conflict at Work
Join this interactive session and discover the Empathy First method for peaceful teams. Whitney Hess, User Experience Coach, will show you how to apply Nonviolent Communication to everyday work conflicts we all experience. Find out if you're stuck in judgments and blame getting in the way of effective collaboration, and learn how to create better relationships with clients, colleagues, and yourself.
Emphasis will be on practical ways to give and receive empathy, and simple techniques that help us take responsibility for our own feelings and needs. All attendees will receive free handouts tailor-made for this audience.
Come to this session with prepared questions about the causes of conflict in the workplace. You can ask her anything! She will also share many of her own personal experiences and insights to guide and inspire you.
Takeaways: - Exposure to the basics of Nonviolent Communication - An understanding of how judgments, criticism and blame cause conflict and hurt productivity - Clarity on why practicing empathy is important to effective teamwork - A simple technique anyone can use to practice empathy for ourselves and others - The desire to keep practicing, and an awareness of where to continue this learning
Being Integral: Developing You
It's a given that much of our success depends on our ability to foster meaningful relationships with our colleagues and customers. But what about our relationship with ourselves? When we ignore our emotions, act against our values, and become indifferent to our surroundings, we lose who we really are and run a much greater risk of not achieving our clients' goals (and our own). In this talk, Whitney will explore how presence, adaptability, empathy, and influence can be our most effective design tools. And she'll address how to cultivate these qualities through intellectual, emotional, and physical practices we can integrate into our everyday routines.
Related Speakers View all
---
Jonathan Sandys

Speaking on the life & leadership of my great-grandf...

Paula McDade

Women's Empowerment & Leadership Speaker, Bestsellin...

Dayna Sessa

Founder & CEO Datanomy; Health Analytics Pioneer & E...

Brandon Farbstein

At just 17, this internationally-acclaimed advocate ...

Bill Wooditch

Founder, CEO, and president of The Wooditch Group

Grace LaConte

Expert in Workplace Equity, Risk Management Expert &...

Kristie Kennedy

Women's Worth & Wellness Expert, TEDx Audacious Lead...

Nicole Yeary

Founder & CEO of Ms.Tech

Suzanne Adams

Best-Selling Author & Transformational Coach

Silvia Garcia

Founder and CEO of Happiest Places to Work

Jessika Rovell

Attorney, Naval Intelligence Officer, and Sexual Vio...

Gary Greeno

Motivational Speaker, Coach, Educator

Marie Forleo

Life Coach, Motivational Speaker, Author and Web TV ...

Dr. Janet Taylor

Self Care & Wellness Activist and Psychiatrist

Christopher Dessi

Chris Dessi is CEO of Silverback Social. He is a per...

Tracy Lewis

Christian Author, Speaker, and Teacher

Priscilla Presley

Ex-Wife of Elvis Presley, Actress, CEO & Co-founder ...

Becky Halstead

First Female Graduate of West Point to Reach General

Emory Austin

Authority on Leadership, Change & Customer Service

Stacy Allison

Businesswoman, Adventurer, Author & Motivational Spe...
More like Whitney