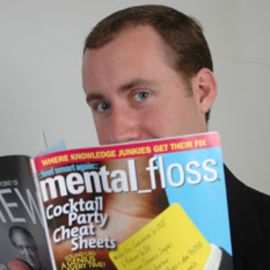 Will Pearson
Will Pearson is not your typical 26-year-old.
He's the co-founder of mental_floss, the quirky magazine that teaches you everything you should have learned in school but didn't, and wunderkind behind the fast-growing mental_floss brand that now includes a series of books, a trivia board game and popular Web site.
Whether your audience is corporate executives, small business owners or MBA students, they're sure to profit from Will's reality-tested insights on achieving business success.  Unlike many consultants or academics who have never met a payroll or actually managed a  business in their lives, Will draws on the real-world lessons that he's learned over the past five years as he built his rapidly-growing media company:  Mental Floss LLC.      
In addition to the magazine, Mental Floss has created a series of best-selling books (Condensed Knowledge, Forbidden Knowledge, and Instant Knowledge) with HarperCollins, and a new high-octane trivia board game. Will's practical tips are borne out of taking a dorm room idea and growing it into a multimillion dollar business in just a few short years.  His presentation is perfect for any business that's looking for a competitive edge.      
A magna cum laude graduate of Duke University, Will is smart and firmly rooted in the real world.  In 2001, while still a student at Duke, Will and co-founder Mangesh Hattikudur launched mental_floss magazine, which has quickly become a "must-read" for anyone who wants "to feel smart again."  Since its launch, the magazine has received rave reviews from national media, including Newsweek, Entertainment Weekly, The LA Times, and Washington Post.  A frequent guest on CNN Headline News with more 100 appearances, Will has also become a highly-sought after radio personality.      
In his presentation, Will gives many practical tips that will touch key elements of business success, including:
-How to raise money
-Choosing the right advisory board
-Picking partners and forming joint alliances that are win-wins
-Guerilla marketing that works    
-Growing your brand:  what works and what doesn't work
-Delivering outstanding customer service
-Why a good law firm must be part of your business plan
-Developing an exit strategy for your business
-Ignore the internet at your own peril
-Can a virtual company approach work for you
-The challenges of managing rapid growth      
Will's presentation style is pure mental_floss:  often irreverent, frequently terribly funny and always chock-full of solid information in bite-size chunks.  He, of course, can tailor his message to the individual needs of your audience, but he can't do boring.  Or too self-important.
Related Speakers View all
---
Chris Skinner

Independent Commentator on the Financial Markets; Bl...

Jeff Jarvis

Leader in the Development of Online News & Blogging;...

Soraya Darabi

Renowned Digital Entrepreneur; Social Media Pioneer

Grant D. Fairley

Inspirational Speaker and Teacher, Executive Coach &...

Jeff Tobe

Customer Experience Expert

Richard Laermer

Author of the Trendspotting Books

Sally Hogshead

Marketing, Persuasion & Personal Branding Expert; Au...

Joel Zeff

National Speaker and Emcee, Workplace Expert, Author...

Tim Sanders

Bestselling Author, Technology Pioneer, Expert on Co...

David Pogue

Host of NOVA ScienceNow & Yahoo Tech Columnist

Amanda Gore

CEO of The Joy Project; Author & Psychologist; Emoti...

Rick Brinkman

Dealing with People You Can't Stand

Michael Aun

Speaker, Author, Businessman, Actor

Monica Phromsavanh

CEO & Co-Founder of ModaBox

Steve Gutzler

Steve Gutzler is one of the nation's premier thought...

Scott Howe

CEO ACXIOM

Grant McCracken

Author & Cultural Anthropologist

Fred Graver

Twitter, Head of TV

Bonin Bough

Former Chief Media & eCommerce Officer at Mondeléz I...

Victoria Labalme

Strategic Performance Coach, Performing Artist & Spe...
More like Will