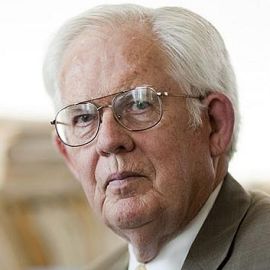 William A. Niskanen
Chairman of the CATO Institute
William A. Niskanen has been chairman of the Cato Institute since 1985, following service as a member and acting chairman of President Reagan's Council of Economic Advisers. Niskanen has served as director of economics at the Ford Motor Company, professor of economics at the University of California at Berkeley and Los Angeles, assistant director of the federal Office of Management and Budget, a defense analyst at the Rand Corporation, the director of special studies in the Office of the Secretary of Defense, and the director of the Program Analysis division at the Institute of Defense Analysis. He has written on many public policy issues including corporate governance, defense, federal budget policy, regulation, Social Security, taxes, and trade. Niskanen's 1971 book Bureaucracy and Representative Government is considered a classic. His most recent book is After Enron: the Lessons for Public Policy. Niskanen holds a B.A. from Harvard and a Ph.D. in economics from the University of Chicago. The University of Chicago recently honored him with a lifetime professional service award.
Related Speakers View all
---
Mahathir Bin Mohamad

Former Malaysia Prime Minister

Clay Laugier

Social Entrepreneur & Start-Up Mentor

John Zogby

Trendspotter & Leading Pollster

Sung Won Sohn

Businessman and Economist

Mitt Romney

Former Governor of Massachusetts, 2012 Republican Pr...

Jim Carroll

One of the World's Leading Global Futurists, Trends ...

Richard Ruback

Willard Prescott Smith Professor of Corporate Financ...

Seth Lipsky

Legendary Figure in Contemporary Journalism; Authori...

Svitlana Kolomiyets

Lawyer,Innovations Development Foundation

Hilde Duijn

Business Development Manager Organization: Royal H...

Tim Rutten

Marketing and Sales Manager, New Business Developmen...

Andrea Yriberry Saavedra

Founder,SoyMarca

Ben Knelman

Founder, CEO ,Juntos Finanzas

Harold Mateo

VP of Strategy & Business Development,RSC Global Ho...

Sena Luis David

Senior Market Risk Specialist,Superintendence of Ban...

Rosario Elina

Deputy Director of the National Accounts Department,...

Takashi Kawazoe

CEO Carepro

Nadia Zeine

Managing Director of BrandEffect and Founder of Wish...

Abdulla Ali Al-Kuwari

Investment Analyst,Qatar Holding

Xicani Godínez López

Movimiento Carta de Recomendación./ Letter of Recom...
More like William