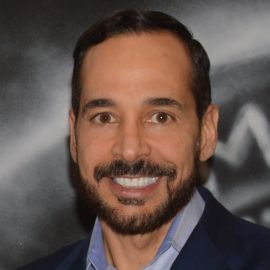 William Arruda is a motivational speaker, author, entrepreneur and the world's leading authority on the topic of personal branding. He has been at the forefront of the field since its inception, teaching everyone from young adults to senior executives how to harness the power of authentic personal branding.
William is the bestselling author of the definitive books on personal branding: Career Distinction and Ditch. Dare. Do! His newest book, Digital YOU, takes his proven strategies to exciting new levels – helping readers translate their real-world brand for the digital world. He combined his 20 years in corporate marketing with a Master's degree in Education and genuine passion for human potential to launch Reach Personal Branding. As Reach's CEO (Chief Encouragement Officer), William has consulted with the world's leading brands including American Express, BP, Coca Cola, Google, Gucci, Microsoft and Target to build innovative employee development programs to engage and inspire top talent. He's also the co-founder of CareerBlast.TV – a video learning program focused on personal and digital branding. He created 360Reach – the personal branding survey which has been used by nearly two million professionals and the Reach Personal Branding Certification Program which has certified over a thousand career and executive coaches in 49 countries in his methodology.
William has appeared on the Discovery Channel, NPR, and BBC TV and has been featured in 1000+ publications including Time, Inc, Fast Company, the New York Times and the Wall Street Journal. he regularly shares his thoughts on workplace trends and the future of personal branding in his Forbes column, which has attracted over 12 million views. His mission is to share the power of personal branding with professionals around the globe through motivational speeches and interactive learning programs. He's proud to have delivered more personal branding keynotes to more people in more countries than anyone on earth.
Speech Topics
---
Building Brand YOU! Three Steps to a Winning Personal Brand
Personal branding is increasingly recognized as a must-have skill for every leader.
It's about being yourself – your best self – in support of your career, your team and your organization. In this highly interactive, informative and actionable presentation, William takes you through his proven, three-step personal branding process so you can learn the secrets of building and communicating your winning personal brand. This inspiring presentation is ideal for customer-facing employees, leaders and emerging leaders. It enables them to increase their confidence and use their innate strengths to build strong and enduring relationships. It's also perfect for consultants and small business owners who must build their brands so that they can stand out from the competition and engage their ideal clients. Personal branding provides the sense of stability; empowerment, value-creation and recognition leaders need to succeed in today's increasingly dynamic marketplace.
Digital YOU — Build Your Brand in Bits and Bytes
Today, if you don't show up in Google, you don't exist. Building your personal brand on the web is not only important to career success, it's critical to being able to do your job, lead your team and support your company. In this presentation, William explains the social branding phenomenon and provides the roadmap for building a powerful online presence – taking advantage of all the social media tools available. Having a virtual brand that reinforces and extends your real-world brand helps you increase job performance. William shows you how easy it is to use LinkedIn, Instagram, Twitter, YouTube, Blogs and other social media to grow your brand and increase the value you deliver to your employer. He takes the mystery out of social networking and shares his secrets for the easiest and most effective ways to build your brand in bits and bytes. The result: You gain competitive advantage, grow your network, expand your leadership presence and increase your influence.
Be LinkedIn or Shut Out
Be lazy, be an imposter and be secretive — just some of the counterintuitive but wildly valuable advice you will experience in William's keynote focused on the power of LinkedIn. In a world where people learn about you online before meeting you in person, LinkedIn has become the most powerful online tool for expressing your personal brand. Not having a LinkedIn profile sends a message that you aren't serious about your career; but just having a profile is not enough. You need to understand how to use LinkedIn to manage your career and deliver greater value to your team and your company. You need your profile to stand out from myriad others to attract the attention of decision makers. You need a connection strategy that will rocket you towards your goals. And you need to know how to integrate LinkedIn into your comprehensive social media plan. This innovative presentation gives you critical tools you can use to build a stellar profile and use LinkedIn to expand your thought-leadership, build and nurture your network and enhance your performance at work.
Related Speakers View all
---
Michel Neray

Principal, The Essential Message: Learn To Different...

James D. Roumeliotis

Entrepreneurial adviser, instructor/lecturer, Public...

Christi Tasker

Social Media Branding Queen and Keynote Speaker

Ron Broussard

Author, Founder & CEO of STRETCH YOURSELF

Prof. PETER FISK

GAMECHANGERS ... Inspirational leadership that drive...

Lisa Van Allen

Executive Coach and Spiritual Director to Mission-Dr...

Dr Bart Sayle

Transforming Culture, Innovation, Sustainability and...

Dr. Nido Qubein

Award-Winning Speaker and Author, President of High ...

Jeffrey Gitomer

World-Renowned Sales & Customer Service Innovator

Krista Neher

Marketing Strategist, Bestselling Author, Internatio...

Nicholas de Wolff

Digital Media & Brand Strategy; Economic & Social Tr...

John Di Frances

Speaking to audiences real needs.

Helder Falcao

"PALOP"| Portuguese & English Speaker | Business Net...

Denyse Drummond-Dunn

Catalyzing Customer, Consumer Centricity, for Vision...

Tim Rooney

Helping Businesses Grow Profitably and Maintain a Wi...

Roger Harrop

The CEO Expert, Former CEO of Forbes

Douglas Vermeeren

Top Business and Personal Performance Speaker

Tim Sanders

Bestselling Author, Technology Pioneer, Expert on Co...

Barbara Corcoran

Real Estate Entrepreneur & Mogul, Angel Investor, Au...

Michelle Courtney Berry

NLP Master Coach & Practitioner for Health and Welln...
More like William